October 4, 2019
Tacos, Tex-Mex & Everything You Need to Eat in Texas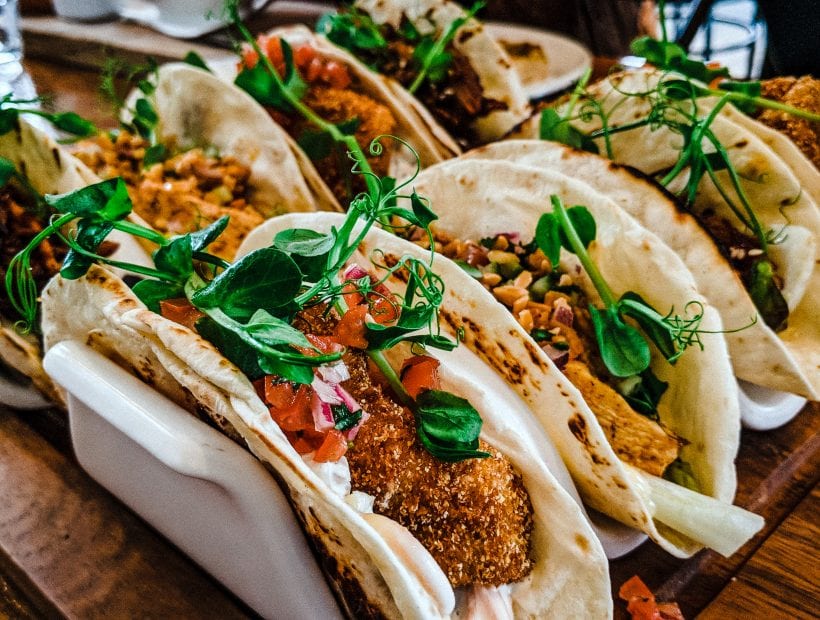 They say the best way to experience a culture is through its food. While we're not sure who "they" are, we will absolutely give all the food a try! Adventure is at the heart of travel nursing; immersing yourself in local life, and there's no better way to do that than through local cuisine.
Tacos, Brisket, Tex-Mex & Where Our Travel Nurses Eat in Texas
They also say that everything is bigger in Texas. After talking to our nurses and reading about delicious food, we're pretty sure you'll need a Texas-sized appetite if you take an assignment in Texas. Oh, you're still looking for a winter assignment? We're confident you'll be calling your recruiter to go to Austin, El Paso, or any city in the Lone Star State after reading this. If you're not a TNAA traveler yet, start here!
Travel Nurses Food Recommendations: We're Talking Tacos
As we explore BBQ, traditional Mexican, and other Texas favorites, look for local guides to the best tacos. Why? Well, because we firmly believe that tacos are the almighty food group, from spicy breakfast chorizo with a fried egg to zesty fish tacos. The taco even has it's own emoji. As usual, our nurses are chiming in with their favorite Texas tastes.
Dallas Food Recommendations
Known as The Big-D, Dallas is the prime destination for all things BBQ. Brisket, pulled pork, slow-smoked, you name it. But more than that, Dallas chefs are all about unconventional twists on classic Texas cuisine. Looking for Instagram-worthy fare? Start here. From Deep Ellum to Greenville Avenue, start your tour of Dallas eateries here.
Life isn't always about tacos, but it should be: Top Tacos of Dallas 
Ally & Zane, ICU Travel Nurses
Gas Monkey Bar & Grill: Get the brisket grilled cheese, and you will find heaven. 
El Fenix in downtown Dallas: Tex-Mex, the "Tex" is there for a reason because this is where it all started. It's not Ari-Mex or Cali-Mex. It's Tex-Mex. And El Fenix is where it's at.
Whataburger: Choose Whataburger any day, all day. Breakfast, lunch, dinner, hangover, or whatever, it'll take care of you.
Buc-ee's Gas Stations: They're mini grocery stores with their products that are amazing. Read why they're the best here.
H-E-B: The grocery store to put all grocery stores to shame. Trust me.
Rodney, Med-Surg Travel Nurse
Cane Rosso in Deep Elum: They have a life-changing pizza! 
The Common Table in Uptown: It's a must for brunch. Trust me.
Austin Food Recommendations
A true foodie's haven, Austin provides the opportunity to explore the range of unique communities that keep Austin weird. Known as a food truck hub, this city offers a wide variety of unique spots. It's also the place where several James Beard Award-Winning chefs and nominated chefs experiment with ever-changing menus and non-traditional flavor combinations. We received a lot of feedback from our nurses, so without further ado:
It's beginning to look a lot like tacos: Austin's Best Tacos 
Amy, Tele Travel Nurse
P. Terry's: If you happen to be in Austin and don't want Whataburger, then you're in luck. P. Terry's is an Austin chain that has high-quality ingredients sourced locally. Rainier always has the special sauce added to his burgers. We also like to get a cookie with our order and split a root beer shake between the two of us.
Salt Lick: There are several great places to eat Texas bbq in Austin. Our absolute number one place to go is Salt Lick in south Austin. They have all the staples of great bbq. I love their brisket, and Rainier can't ever turn down ribs.
Spider House Café: Near the University of Texas is a cool place to get a cup of coffee called the Spider House Café; this is a place we frequented after many late-night concerts or early mornings for a pick me up. The big plus here is that they have a patio that's dog-friendly!
Via 313 and Home Slice: When it comes to pizza, you honestly can't go wrong with either of these places. Rainier prefers Home Slice, which many Austinites would agree with him, but Via 313 is what I consider my personal favorite out of all my travels. You need to try it and see for yourself.
Ramen Tatsu-Ya: The first time I ever had ramen was here at Tatsu-Ya. The broth from their Mi-So-Hot ramen is EXCEPTIONAL, and the pork is ever so tender. This restaurant is a must-stop for us every time we come into Austin.
Lick – Ice Cream: Their dairy is locally sourced, and they have intriguing rotating flavors along with their everyday flavors. Remember, y'all, there's always room for dessert!
Where to Eat in Houston
As the most diverse cities in America, you can trust the food to be a reflection of that. Think international influences from the immigrant populations that have settled here. Between big oil companies, medical communities, and its proximity to both Louisianna and Mexico, you can expect a diverse influence on local fare. It's an eclectic array of borrowed flavors that somehow simply works; creating a unique food culture all its own.
Inhale tacos, exhale negativity: Houston's Best Tacos
San Antonio Food We Love
San Antonio makes its mark by bosting a variety of culturally-rich foods. Heavily influenced by its proximity to Mexico, you can expect touches of tradition throughout the culinary scene, like handmade tortillas. But we think it's the collection of eateries catering to a variety of dietary needs and restrictions that make it an extraordinary place. If you typically turn your nose up at vegan food, you may miss out on flavorful options that represent the international flavors that make up this Texas town. Need vegan recommendations? We've got you covered here.
A well-balanced diet is a taco in each hand: San Antonio's Best Tacos 
Kristy, NICU Travel Nurse
LuLu's Bakery: LuLu's has cinnamon rolls the size of your head! Two of us tried to conquer it, and we couldn't finish it!
Off-the-Chain Texas Chain Restaurants
While you can find these are chains in most cities, if you're working in Texas, you have to try them at least once because all of them come from the great state of Texas!
Rainier, Tele Travel Nurse
Whataburger:  You can have almost any kind of burger your heart desires here. Fries and onion rings are equally delicious for sides. While you're indulging yourself, go ahead and grab a milkshake to help wash it all down. My personal favorite is the Patty Melt!
Torchy's Tacos: Is it Travo Tuesday? Who cares?! Torchy's is worth it any day of the week. They have tacos with flair and flavor that will make you want to come back and try them all. I always gravitate towards a Brushfire and a Trailer Park extra trashy. And always order chips and queso!
Chuy's:  If you want Tex-Mex, you have to go to this sit down casual restaurant. They have delicious entrees such as Amy's favorite Chicka Chicka Boom Boom! And before you ask for your check, please help yourself to a delicious dessert of either a Tres Leches cake or sopapillas. If you can't decide between the two, just get both!
Rudy's BBQ: You're probably thinking, "Why a bbq chain?", especially in the great state of Texas. The bbq here is excellent no matter what you get. This a great place to start for your introduction into Texas bbq before the locals start to point you towards their favorites in the city you're in. And for the love of food, get yourself some cream corn when you're here