September 22, 2022
Must-Visit Cities with Amazing AAPI Heritage
Several cultures with centuries-old histories can be found in the United States. The Asian American population, in particular, represents 18.9 million people, or 5.7% of the U.S population. 
The AAPI (Asian American and Pacific Islander) community itself is rich and diverse in culture, with incredible food, art, music, and films that all can enjoy. Across the U.S., you'll find amazing cities that offer rich AAPI heritage and culture. Keep reading to discover the must-visit cities supporting the AAPI community! 
San Jose, California
San Jose has a vibrant Asian American culture. In fact, the largest population of Vietnamese people outside of Vietnam is believed to be in San Jose's Little Saigon neighborhood.
View this post on Instagram
The Lunar New Year is a popular time to visit San Jose. During the Lunar New Year (known as Tết in Vietnamese), the community celebrates with firecrackers, red envelopes, and family gatherings in the hopes of good fortune and prosperity. 
You can also check out The San Jose Viet Museum, located near Little Saigon, which exhibits the history of the local Vietnamese-American community. 
One of the few remaining Japantowns in the United States is also in San Jose. Visitors are welcome to visit the San Jose Buddhist Church Betsuin during the annual Obon festival in the late summer. Obon is a holiday celebrated in Japan and Japanese communities across the United States. The San Jose Obon Festival incorporates connections and themes unique to the Japanese community in San Jose and the heritage of Japanese-Americans in the area. 
Additionally, San Jose has one of the largest Filipino populations of any metro in the U.S. Each year, the Filipino American community hosts FAHM Jam, an event to celebrate culture and support Filipino-owned small businesses. 
Seattle, Washington
With major Japanese, Chinese, and Vietnamese community centers, Seattle's International District is a collection of prosperous Asian-American enclaves in the Emerald City. 
Seattle is also a great place to celebrate AAPI Heritage Month. The Seattle Center Festál series' celebration of Asian Pacific Islander Heritage Month (APIHM) was created in collaboration with the Asian Pacific Directors Coalition (APDC). This yearly festival uses art, music, and dance to present the cultures, customs, and histories of Asian Pacific Islanders. 
If you want to spend time learning about AAPI heritage, the Wing Luke Museum of the Asian Pacific American Experience is another great place to go. 
Honolulu, Hawaii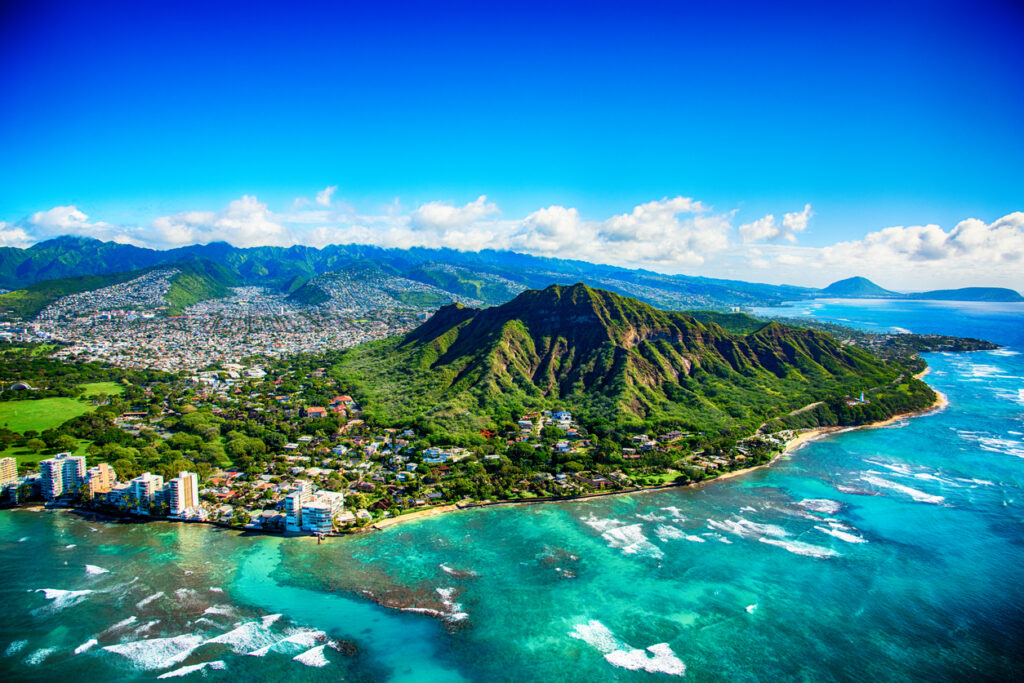 Pacific Islanders (specifically Hawaiians) were the earliest inhabitants of Hawaii, where the traditional ritual of hula is performed every night for tourists and natives. The Hawaiian language has been revived from the brink of extinction because of this. 
Additionally, Hawaii is home to sizable communities of other Pacific Islanders, mainly Micronesians and Polynesians from different parts of the Pacific, including Samoa, Tonga, Tahiti, and Guam. Hawaii also has a sizeable Filipino population representing Southeast Asia, and you can explore the culture at the Filipino Community Center. Altogether, these communities blend to create an incredibly diverse state of Asian American culture. 
Chinatown in Honolulu spans several blocks in the city's center and was established in the early 20th century. Along with dim sum and noodle shops, you'll also find fresh fruit stands, lei stands, and "crack seed" stores selling the island's favorite candies along Chinatown's small alleyways. Additional shops focus on Chinese medicine or other imported knick-knacks. 
Houston, Texas
Texas has one of the largest Asian American populations in the country, and the city of Houston does an incredible job celebrating and supporting the AAPI community.
View this post on Instagram
Due to Houston's rapidly increasing South Asian population, a significant Indian and Pakistani-American neighborhood was designated the Mahatma Gandhi District (also called Hillcroft or Little India) in 2010. In addition to various restaurants specializing in South Asian cuisine, the area is home to the India Culture Center and a variety of South Asian stores selling gold jewelry, Indian clothing, and Bollywood movies. Many of the eateries here serve South Asian cuisine in its original, authentic form. 
Houston also has a large Vietnamese population, and there are several opportunities to dive into the culture. The Vietnamese Culture and Science Association hosts events throughout the year to celebrate the community's literature, art, food, and more. 
To recognize AAPI Heritage Month, the Houston Public Library partners with Young Audiences of Houston, Asia Society Texas, and OCA-Greater Houston to host a free event called the AAPI Festival. This festival showcases how Asian American communities have contributed to the diversity and unity of American culture. Stunning dance performances, bilingual story times, crafts, AAPI storytelling, and more are available. 
Portland, Oregon
Portland has a historic Chinatown in Jade District. Visitors can explore the Chinatown Museum or take in the Ming Dynasty-inspired Lan Su Chinese Garden, which also commemorates festivities during the Lunar (Chinese) New Year. 
Within the Jade District, Chinese and Vietnamese communities have established themselves and shared their culture and food with the neighborhood. Chinese bakeries, dim sum, and banh mi shops are everywhere. 
The Jade International Night Market in Fubonn Shopping Center is a well-liked summer attraction, and for a good reason. Every August, the event brings in over 25,000 attendees to watch dragon dances, be entertained by cultural performances, enjoy all types of cuisines, and shop. The event lasts two weekends and was developed by the neighborhood to strengthen its sense of community and share its vibrant culture with the rest of Portland. 
Get Ready to Explore
The U.S. is rich in Asian American culture and traditions. The Asian American and Pacific Islander experience is unique in that it includes people from various countries who speak different languages and practice different religions. 
Are you ready to explore a city full of Asian American culture? Get started as a TNAA traveler.