January 26, 2023
Beautiful Places in New York State You Have to See
When you think of New York, places like Times Square, Grand Central Station, the Statue of Liberty, and Central Park are probably some of the first places that come to mind. But there is much more to the Empire State beyond the Big Apple. If New York is the destination of your traveling healthcare assignment, take some time to explore these beautiful places in New York.
Things to do in Upstate NY
Whether you are an outdoor enthusiast or simply love a great view, Upstate New York hosts scenic landscapes and stunning New York nature you don't want to miss.
Visit Niagara Falls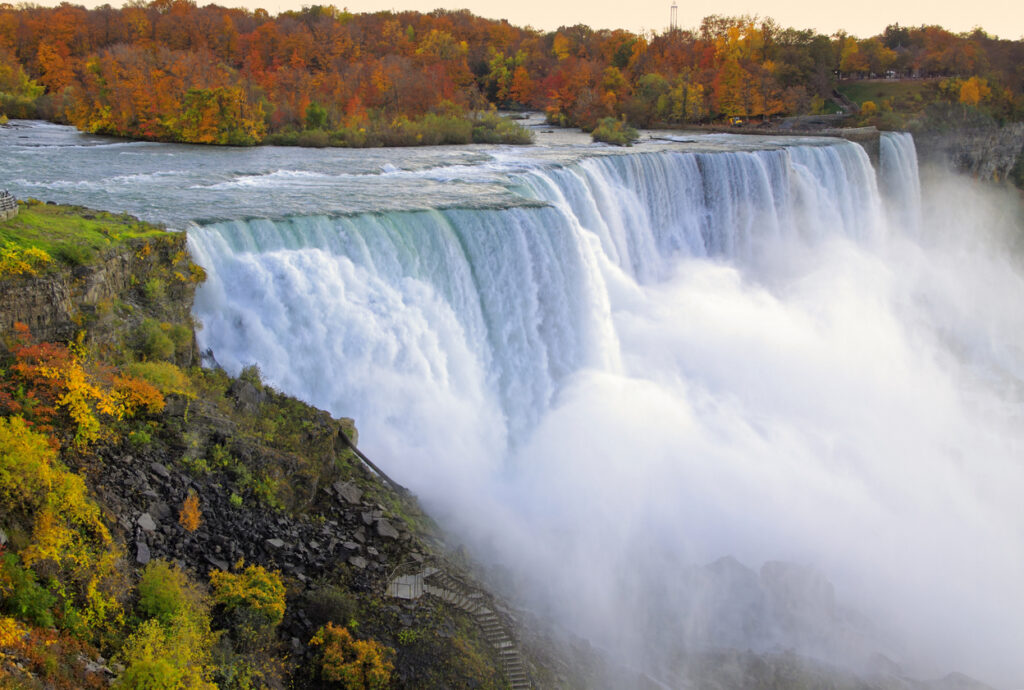 Situated on a 400-acre landscape with stunning views, hiking trails, shopping, and dining, the iconic Niagara Falls is a must-see for anyone traveling to New York. Get up close and personal to the falls with a Cave of the Winds tour (open year-round!) or take the Maid in the Mist boat tour. Plan your visit when one of their fireworks or illumination displays are scheduled for an even-more spectacular visit.
Explore the Adirondack Mountains
If you are looking for the best of New York nature, the Adirondack Mountains should be at the top of your list. This gorgeous region spans over six million acres and offers opportunities for everything from camping to wildlife observation. Take in the views while hiking around areas such as Lake Placid, Lake Champlain, or Lake George, or head out to the High Falls Gorge for a breathtaking 30-minute walk exploring the Adirondack's rugged beauty.
For those who enjoy adventure, a raft float tour of the Ausable Chasm or a ski or snowboard trip is a great way to see the beauty of the Adirondacks while enjoying an adrenaline rush. 
Explore the Finger Lakes Area
Aptly named for the 11 "finger-like" lakes that span the area, the Finger Lakes area is another can't-miss destination for stunningly beautiful places in New York. Whether you visit for a day trip or a weekend getaway, this area offers a lot. Hiking, biking, boating, fishing, camping, and even winter sports make this area a popular spot for folks who enjoy the great outdoors.
Check out Watkins Glen State Park for waterfalls and gorges – just a short two-mile hike here boasts 19 waterfalls.
Letchworth State Park is known as the "Grand Canyon of the East," and for a good reason. Sixty-six miles of forested hiking trails offer spectacular views of the Genesee River, cutting through cliffs as high as 600 feet, plus three waterfalls.
And if you like to chase waterfalls, Taughannock Falls State Park has got you covered. An easy 1.5-mile hike gets you to this 215-foot spectacular waterfall.
Discover the Catskills
Yet another scenic destination you'll want to check out is the Catskills. This region is known for a wide range of activities, including camping, hiking, fishing, scenic drives, mountain biking, and more. Family-friendly (and dog-friendly!) activities are abundant, plus there is lots to do for those who enjoy more extreme outdoor sports.
Hunter Mountain is a great place to visit throughout the year. Here you'll find epic ski and snowboard runs in the winter, and on weekends in the summer, you can take the ski lift for breathtaking views of the Northern Catskill Mountains, the Berkshires in Massachusetts, and Vermont's Green Mountains. You can also get adventurous and try out the zip line.
Be sure to explore the protected wilderness in Catskill Park, a state park and one of two areas in New York designated as "Forever Wild." The park hosts meadows, wetlands, forests, and lakes, so finding beautiful scenery is just a matter of keeping your eyes open on the trail. And keep your eyes peeled for wildlife like black bears, deer, porcupines, and hundreds of bird species that make this area home.
Hidden Gems in New York
With so many popular destinations, you can't go wrong looking for beautiful places in New York. Here are a few hidden gems in New York if you're looking for spots a little less crowded along the way:
High Falls – Hudson Valley: This 150-ft. waterfall is the highest in Columbia County. Well worth the short hike to take in the view.
Hyde Hall Bridge – Glimmerglass State Park: Built in 1825, this is the oldest covered bridge in the United States. Located in Glimmerglass State Park, there's an abundance of hiking and other activities in the area.
Selkirk Shores State Park: With camping, swimming, hiking, and other outdoor recreation all at your fingertips, this beautiful state park is great for meandering wetlands and meadows or taking in a gorgeous sunset over Lake Ontario.
Most Beautiful Places in NYC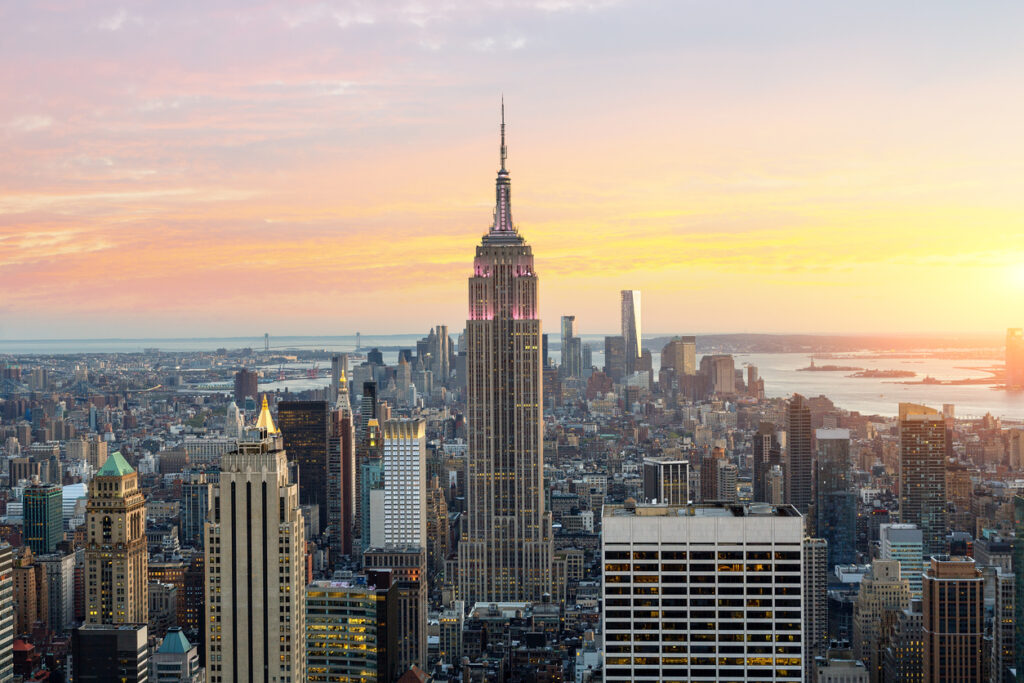 Whether your assignment has you staying in New York City or not, you won't regret exploring the City That Never Sleeps. NYC boasts some of the most famous landmarks in NY and offers some of the best shopping, dining, history, and art imaginable. And while the scenery may not feel as expansive as the places mentioned above, the city has a unique beauty and charm. Here are some of the most beautiful places in NYC:
Statue of Liberty
A tourism favorite, the Statue of Liberty is an iconic symbol of spirit and hope. Take a boat across the New York Harbor to Liberty Island to see the statue up close and personal and visit the Statue of Liberty Museum. You can also take in the view from the Battery Park viewpoint without leaving Manhattan.
Central Park
NYC's 843-acre iconic Central Park is home to gorgeous gardens, meadows, woodlands, ponds, statues, and monuments. Explore on your own or through one of the many guided tours offered by the park. From Wein Walk to McGowan's Pass, Belvedere Castle to the Butterfly Gardens, the best of New York nature will greet you right in the heart of NYC.
The Top of the Rock
The view from the top of Rockefeller Center – a.k.a the "Top of the Rock®" – can't be beaten for stunning city views. See NYC from one of three viewing levels. They offer indoor and outdoor viewing spaces, but for that epic 360-degree view, you'll need to head to the open-air roof of the 70th floor. While you're there, check out the rest of Rockefeller Center's attractions.
Times Square
View this post on Instagram
The hustle and bustle of Times Square is a must-see in NYC. While there may not be natural beauty as you'll find in NYC's parks and views, the lights and excitement of Times Square display a beauty all their own. And while dining and shopping are abundant here, the best way to treat yourself in this part of town is to take in a Broadway play. There's never a shortage of theatrical plays, musicals, and shows for family-friendly or adult-night-out tastes.
New York City Architecture
NYC has an abundance of stunning architecture. Grab a taxicab or take a walk to see these unique places. No NYC architecture tour would be complete without mentioning the Chrysler and Flatiron Buildings, and Trinity Church and St. Patrick's Cathedral are two stunning churches with rich histories. The Dakota, the Apthrop, and the San Remo will give you a taste of what luxury apartments in Manhattan are like, and don't miss the Brooklyn Bridge, Williamsburg Bridge, and the Manhattan Bridge.
Hidden Gems in New York City
Whispering Gallery – Grand Central Station: You'll want to bring a companion when visiting this architectural phenomenon. Located just outside the Grand Central Oyster Bar and Restaurant, these beautiful archways allow you to whisper a conversation with someone in the opposite corner from you.
Smallpox Hospital – Roosevelt Island: Clad in ivy, this ruin was once the Roosevelt Island Smallpox Hospital, serving as a treatment center on the frontlines of the deadly pandemic. Now a city landmark, it is set to serve as a memorial site for the COVID-19 pandemic.
These are only a few of the many beautiful places in New York. Whether you get off the beaten path, take a scenic drive, or wander through the city, your travel healthcare assignment to New York will provide you with beautiful scenery and unforgettable adventures. 
Ready to make New York your next travel healthcare destination? See the jobs we have available in New York.