August 19, 2019
Emotional & Physical Challenges of Nursing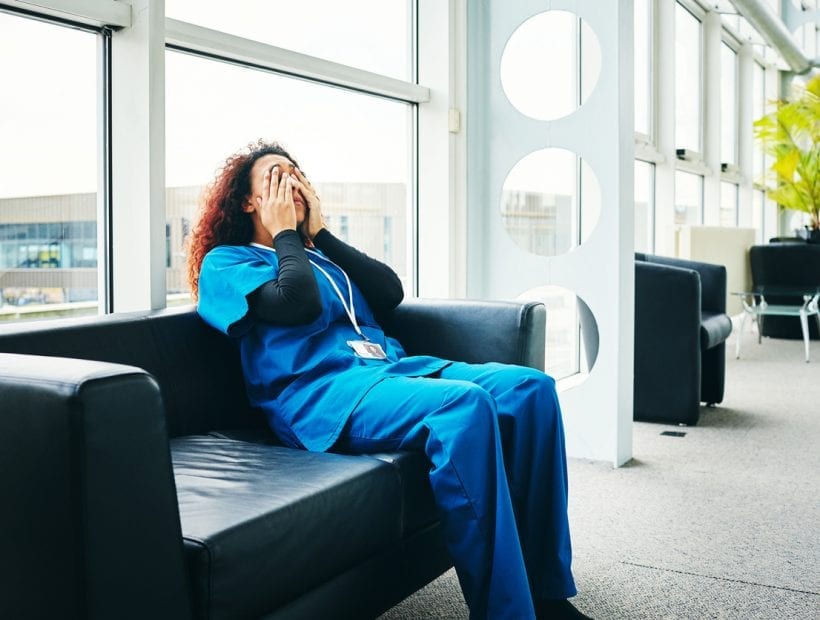 How to Protect Yourself From the Emotional & Physical Challenges of Nursing
Many of our nurses start travel nursing to grow their careers. They're able to learn new skills, adapt to different environments, and build their resumes with some of the country's most prestigious hospitals. But what happens when something on the assignment goes wrong? Travel nurses can find themselves in a position where their health, safety, or licensure is put at risk. Thankfully, TNAA's Clinical Department is equipped to help nurses protect themselves from these situations.

Workplace Violence in Nursing
Issues of workplace violence in nursing are on the rise. A quick scan through online travel nurse communities will provide ample examples of nurses on the receiving end of physical attacks. Whether it's a confused patient or an angry family member, attacks against nurses are becoming more and more common. While some states have legislation that makes physical assaults on nurses a felony, there is no one-size-fits-all solution. Director of Nursing at TNAA, Misty Sawyer, encourages travelers to reach out to their travel agency's clinical department. While the nurse should go directly up the chain of command to their charge nurse or nurse manager, their agency's Clinical Department will want to monitor how the hospital is handling the situation. It's crucial for travelers to familiarize themselves with their hospital's security procedures. The Joint Commission has also issued a Sentinel Event Alert bringing awareness to workplace violence and outlines actions healthcare settings can take to create safer work environments.
Recognizing and Preventing Bullying in Nursing
Nurse bullying happens to travel and staff nurses alike. It's an unfortunate side to nursing that over 85% of nurses will experience in their career. The American Nurses Association (ANA) defines bullying as "repeated, unwanted harmful actions intended to humiliate, offend and cause distress in the recipient." Travel nurses can find themselves in a pattern of having to prove their worth, but this "rite of passage" treatment isn't just harmless fun when it causes distress in the recipient. If you feel that you're experiencing bullying, read these tips from our Clinical Department on how to handle it. Nurse.org and nurse influencer, Nurse Blake, have created a campaign against the old adage, "nurses eat their young" with Nurses Support Their Young — and we're so on board for it! Check out TNAA traveler @offtheclocknurse advocating for her fellow nurses.
View this post on Instagram
Sign the pledge and support your fellow nurses! Share a photo about why you signed and tag us in your photo — use the hashtag #NursesSupportTheirYoung & #TravelwithTNAA
Floating and Protecting Your Nursing License
Floating naturally makes a lot of travelers a little worried. Travelers are sent to hospitals to help short-staffed facilities so it should come as no surprise that travel nurses are often the first to be asked to float when a unit needs help. However, travelers should only be floated to a unit that is within the scope of their skills. For example, ICU nurses have all the knowledge base of MedSurg nurses and should be able to do the job. The biggest issue is typically ratio: an ICU nurse going from 2 patients to 6 can be stressful. "Follow the chain of command by speaking with your charge nurse," Misty encouraged, "if you feel the [ratio] is unsafe, contact us immediately." She went on to emphasize that the goal is for each nurse traveling with TNAA to feel confident in their role and that Clinical will work with them to ensure they can stay on contract — but not at the expense of their license. If you're on contract, you're encouraged to be your own advocate when it comes to protecting your license. If you feel your license is at risk, or have any questions, your recruiter can give you the right contact info for your clinical specialist. In emergencies, contact 800-240-2526.
Bad Days and Mental Health Resources for Travel Nurses
The emotional burden of nursing is real. Maybe you stayed late for a difficult patient. Perhaps a beloved patient had a significant setback. Or maybe, you had a patient die. There is camaraderie amongst nurses, and sometimes it helps to talk to someone who truly understands the job. While the focus of our Clinical Department is to keep travelers on contract, they're also RNs who are – in the words of Misty – in the job of empathy and here if you need them. All of our travelers are also given contact information for our company chaplains.
Whether it's talking you through facility or area safety protocols to providing study guides for facility exams, you have a team behind you to set you up for success and support you throughout your assignment.