January 6, 2022
A Guide to New England for Healthcare Travelers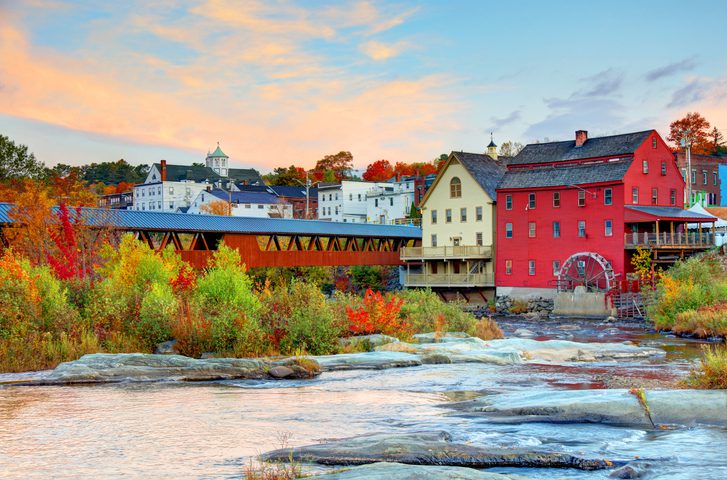 New England is known for its charm and seasonal attractions. The region is packed with history, nature, and cultural attractions that make for an unforgettable assignment. We love that New England boasts four distinct seasons so no matter when you go, you'll be able to explore. From whimsical winter getaways to coastal summer escapes, there is no place quite like New England.
Connecticut
Why We Love It
It's the perfect combination of history and adventure. Whether you prefer an assignment where you can explore the outdoors or you want city life, Connecticut has something for you. From seaside towns to Yale's campus, you'll have a plethora of free — yes, free — tours at your fingertips. Oh, and here's a DIY Gilmore Girl's guide too.
Where To Go & What To See
New Haven
A great way to discover this town's rich history is through a Yale University Tour. The free tour highlights the history, art, architecture, and student life that has shaped the area. New Haven is home to a host of activities along its shorelines and the state's largest shoreline State Park. You can also explore Long Island Sound via boat. But we love all the events and festivals: Cherry Blossom Festival, Dragon Boat Races, Pirates Day, and more.
View this post on Instagram
The Connecticut Beer Trail
Connecticut used its industrial past to promote a new agritourism adventure. The state's old mills, often located riverside, are now powering breweries. Former train stations now house taprooms, and a 1909 post office is now a pub brewery. The trail will take the thirsty healthcare traveler to a host of award-winning breweries and brewpubs — like the Kent Falls Brewing Company, which is the state's first farm brewery on a 52-acre working farm. 
View this post on Instagram
 Bridgeport
Known as the home to the renowned circus promoter, P.T. Barnum, Bridgeport offers travel nurses and allied travelers a wealth of attractions from shoreline parks to fascinating museums. We chose Bridgeport due to its unique cultural draws as well as its numerous parks. After a long shift, stop by Seaside Park for a vendor-free getaway of soft sand and the sound of waves. In town, be sure to visit Captain's Cove, a colorful collection of shops along Black Rock Harbor. Here you'll find hole-in-the-wall eateries and the Nantucket lightship. It's also home to a sizeable Juneteeth Parade.
View this post on Instagram
Litchfield Hills
One of the most beautiful areas in New England, the Litchfield Hills region is full of adventure. Think rolling hills, historic homes, and romantic inns. The area is home to a 70-year-old ski destination offering 112 skiable acres above Cornwall. The region also is home to a state forest offering rafting, canoeing, and fly fishing. You might be familiar with Cornwall as there are three surviving covered bridges, built as early as 1762. So grab your ski gear, camera, and adventure-loving travel friend and head to the Litchfield Hills!
Mashantucket Pequot Museum & Research Center
This tribally-owned museum tells the story of Native American life and the natural history of New England. From the caribou hunt 11,000 years ago to the telling of the complicated story of what happened when European settlers arrived, you'll find it all in these award-winning exhibits. It's the largest museum in the world devoted to Native American life. Plan your trip here.
New Hampshire
Why We Love it
From picturesque seaside ports to stunning mountains, the Live Free state packs adventure. Plus, as the "Live Free" state, they offer tax-free shopping. Wait. What? You read that correctly – there is no tax on purchases. So from ice fishing and snowmobiling to maple sugaring, there is no shortage of unique experiences.
Where To Go & What To See
Hanover/Lebanon
As healthcare travelers, you likely know the major teaching hospital in this region, and it might even be on your bucket list of places to work! And it should be. Lebanon and Hanover offer abundant cultural life, a range of diverse restaurants, and pristine nature. You're just 15 minutes away from world-class opera and can't-miss attractions, like the Montshire Museum of Science. Since these towns sit on the Connecticut River, you can also enjoy kayaking and canoeing. Calling adventure-seekers: you can hike parts of the Appalachian Trail during warmer months and ski the mountains during the winter.
 Bretton Woods
If you're looking for a magical winter experience straight out of a Hallmark movie, this is your spot. Nestled in the White Mountains, you'll find a wealth of sports and recreation filled with hiking trails, Santa's Village, and scenic highways. From December through April, you can enjoy alpine skiing, nordic skiing (a.k.a. cross-country), tubing, or a canopy tour at the nearby Omni Resort. The resort goes the extra mile to ensure the most pristine trails and even does guided winter activities for all skill levels. Bonus: They offer sleigh rides around the grounds in the winter. Talk about magical!
View this post on Instagram
The Food Trails
If you want to know the best places to eat in any city, ask a travel nurse! New Hampshire offers several unique food tours. We're not just talking brewery and wine trails, although they have those too! There's an Ice Cream Trail that features 44 dairy and ice cream parlors. You can also treat yourself to a Chocolate & Martini Tour featuring handcrafted treats from talented mixologists. Oh, and there's the classic Wine & Cheese Trail that will take you through the beautiful surroundings of New Hampshire's vineyards.
Meredith
Nestled in the heart of the Lakes Region, this small town features historic sites, specialty shops, and all the outdoor adventures. With nine of the largest lakes in the state all situated around the Meredith area, you can count on all the water sports. Hikers have miles of trails and a wildlife sanctuary. During winter, there's ice skating, snowshoeing, ice fishing, ice sailing (we're not sure what that is), snowmobiling, and more at various mountain resorts. As a vacation hotspot, you can also count on great dining in a variety of unique settings — rustic barns, antique homes, renovated mills, and of course, lakeside.
View this post on Instagram
Portsmouth
Named one of 'America's Prettiest Towns' by Forbes, Portsmouth is a must-visit. The crown jewel is the 10-acre waterfront Prescott Park along with a living history museum we featured as a top holiday event. This historic city is one of the oldest in America, settled in 1623, so you can expect beautiful buildings and unique museums. The Seacoast area offers plenty of quaint towns leading to beaches, lighthouses, and all the perks of the harbor.
View this post on Instagram
New York
Why We Love It
There is something magical about New York City: the lights, the shows, and the energy. From TV shows to movies, the iconic backdrop of New York City has become a must-visit. But there's so much more of the state to see! We're talking mountains, farm-to-table restaurants, one-of-a-kind festivals, and so much more! 
View this post on Instagram
Where To Go & What To See
Buffalo
If you're looking for a winter wonderland, Buffalo should be first on your list. Think about all the winter sports! From snow-shoeing to tubing, family fun and adventure await. There's a weather phenomenon called lake effect snow, and it means that you're in for the best powder. The slopes at Kissing Bridge and Holiday Valley will be ready for cross-country skiing, snowshoeing, and schussing. There's also The Beaver Meadow Audubon Center, which offers an eight-mile network of trails across an over 300-acre preserve. Oh, and you can experience toboggan chutes, too. When you get off the slopes, be sure to check out all the Buffalo food scene has to offer and why it's considered a must-visit culinary destination.
View this post on Instagram
The Finger Lakes
As the temperature starts to drop, the Finger Lakes region starts to shine. Whether you want to hike or bike area trails, you'll see stunning fall foliage. Plus, all the yummy festivals: Naples Grape Festival, Big Flats Appleumpkin Days, Hop Harvest Festival, and many more! Once the snow starts falling, the region gears up for winter sports. With six downhill skiing resorts, you're sure to find an excellent place to relax on your day off. You can also snowmobile or snowshoe through open valleys and snow-filled parks.
Hudson Valley
If you're looking for a break from the city and a place to explore the roots of Americana, look no further than the stunning Hudson Valley. This 150-mile stretch extends from Manhattan to Albany. You can expect to find natural beauty and a booming agritourism scene. Known for its historical sites — like FDR Library, West Point, and world-class art institutions — the region's culinary attractions shouldn't be missed. As the first wine-producing area in the country, you can expect excellent wine trails. However, the craft brewery and distillery scene also offer experiences and tours. While many of the farm-to-table restaurants and working-farm experiences aren't ideal in the winter, the region offers several festivals throughout the colder months, like chili cook-offs and the Festival of Frost.
The Adirondacks
While the Adirondacks offer outdoor adventures galore, the famed area also boasts a vibrant agritourism scene. With craft breweries, distilleries, and wineries throughout the region, you can sip your way around the Adirondacks. Make it a double; you can sip and taste the area as many of the breweries partner with local chefs and restaurants to create custom pairing menus. Many chefs and eateries take pride in working with local foods that are deep-rooted in the tradition and heritage that is the Adirondack region. You can read more about local culinary adventures here!
View this post on Instagram
Pennsylvania
Why We Love It
What's not to love about Pennslyvania? From notable wine (hello, the state is ranked 5th in the number of grapes grown) to some of the most historically significant sites in our country. Adventure-seeking travel nurses and allied travelers will love that this state offers year-round activity with parts of the Appalachian trail, the Poconos Mountains, and Amish country fields that have been farmed for over 1,000 years. For the city dwellers, put the Steel City and the City of Brotherly Love on your list. You can walk in the footsteps of the greats, from Benjamin Franklin to Rocky Balboa. 
Where To Go & What To See
The Cities — Philadelphia & Pittsburgh
Yes, we put both of these iconic, historical, and must-visit cities together. Mostly so we could fit in the other gems of Pennsylvania because these cities both deserve to be explored. Up first, the Steel City of Pittsburgh. From Andy Warhol to Fred Rogers, you'll find all the cultural hot spots along the city's three rivers. But don't skip the food, as it's named an up-and-coming foodie destination. You cannot go to Pennsylvania without going to Philadelphia's Independence Hall. There's too much to list, so grab your cheesesteak, review your Betsy Ross history, and explore the City of Brotherly Love here.
View this post on Instagram
Gettysburg
While this small town delivers cozy mom-and-pop shops, charming inns, and farm-to-table eateries, it's most known for its ties to the Civil War. Among the historically significant sites, put the Gettysburg National Military Park on your list. While you could easily spend your entire trip exploring Civil War sites, save time for a photo at Sachs Covered Bridge.
View this post on Instagram
Lancaster
Let's explore the long, rich history of Pennsylvania Dutch Country. Briefly the capital of the American Colonies in 1777, you can expect a lot of history and not a lot of the hustle and bustle. In fact, Lancaster is the home of the Amish, making the region a must-visit to experience Amish cooking and crafts. Oh, and the area is considered an antique lover's paradise, which might not be appetizing for the minimalist travel nurse.
The Poconos
As soon as you cross under the Lehigh Tunnel, you'll find yourself surrounded by the steep mountains in this outdoor playground. Make a stop in Jim Thorpe, named one of the Most Beautiful Small Towns in America, and you'll be able to do it all: white water rafting, skiing, horseback riding, hiking, biking, fishing, and more. Take a look back in time with the multiple museums and historically significant entertainment.
Delaware Water Gap
Situated on 40 miles of the Middle Delaware National Scenic and Recreational River (phew, long name), this is a must-visit for adventure lovers. It features 27 miles of the Appalachian Trail and more than 100 miles of hiking trails along streams, ridges, and mountaintops. History buffs will also love the villages, structures, and landscapes from the valley's colonial past and fields that have been farmed for more than a thousand years!
View this post on Instagram
Maine
Why We Love It
The Pine Tree State packs a punch with virtually endless hiking trails, year-round outdoor activities, picturesque lobster villages, rocky coastlines, and Instagram-worthy lighthouses.
Where To Go & What To See
Acadia National Park
Tucked onto the coast of Maine, most of the park's 47,000 acres sit on Mount Desert Island. Make Bar Harbor your base point to explore breathtaking summits, hiking trails, and exclusive-to-Maine beauty. Here are a few of the must-see destinations in Acadia National Park.
Georgetown Island
One of the most popular seaside getaways, Georgetown Island packs adventure and seclusion in a picturesque setting. From Reid State Park to Five Islands Lobster Co., you need to put this island on your list. Oh, and did we mention the magical treehouse?
View this post on Instagram
Portland Head Light
You've seen the photos all over. This iconic lighthouse, constructed in 1787, originally used whale oil to light its lamps (we're not even sure we wanted to know that). Today, the lighthouse beckons visitors to its rocky shoreline and iconic silhouette.
Maine Island Trail
If you're ready to see the Maine coast uniquely, you need to check out this 375-mile water trail. Wait, water trail? Yes, you read that right. It's a trail for small boaters extending from the New Hampshire border to Canada. It connects 200 wild islands and mainland sites open for day use or overnight camping. If you want to tackle this stunning trail, we recommend you follow this guide.
Portland's Old Port
Calling all foodies! The city's shopping center and creative hub are conveniently where you'll find Maine's top farm-to-table restaurants, breweries on breweries, and the best boutiques.
View this post on Instagram