August 30, 2022
Physical Therapist Career Guide: Become a PT
Physical therapists are healthcare specialists who help patients regain mobility and function following an injury or illness. They improve patients' quality of life with exercises, hands-on care, and education. Physical therapy is a rewarding career option, especially for those passionate about helping people and leading an active lifestyle.
If you're considering working in healthcare as a physical therapist, you may have a few questions. In this guide, you'll learn the following:
Part 1: What is a Physical Therapist?
Part 2: How to Become a Physical Therapist
Part 3: How Much Do Physical Therapists Make?
Part 4: Physical Therapist Jobs
Part 5: Who to Follow and PT Resources
Part 1: What is a Physical Therapist?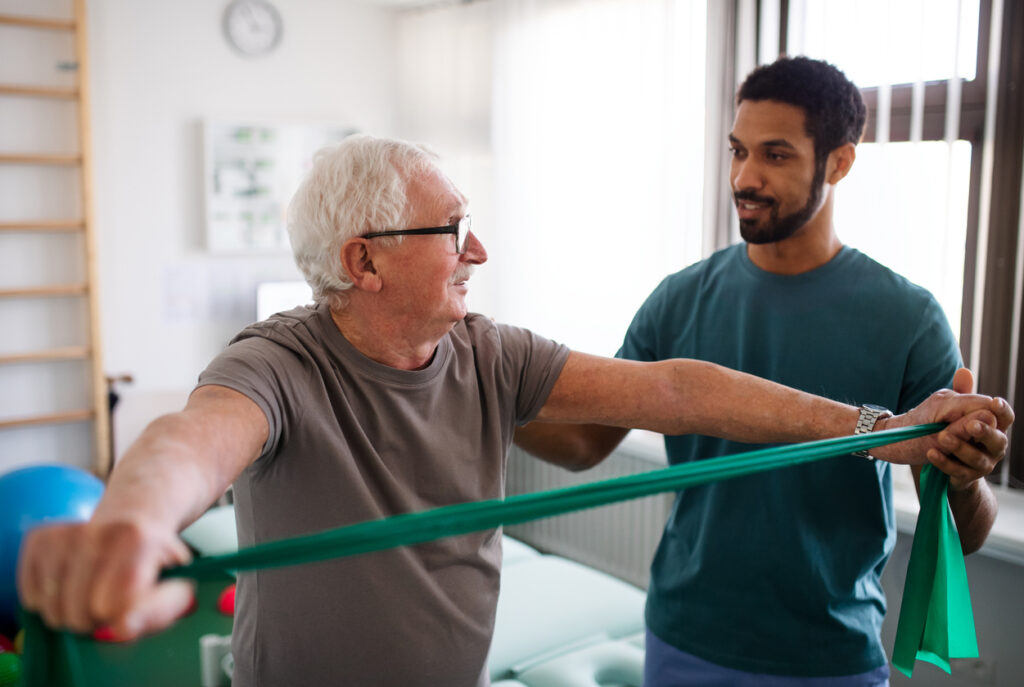 Physical therapists (PTs) are doctorate-level healthcare experts who treat patients of all ages, helping them regain mobility, recover from an injury or surgery, restore function, prevent future injuries, and manage pain. They may treat people because of an injury, disability, or other health condition, but people also see a physical therapist for help leading a healthier, more active lifestyle.
A physical therapist begins treatment with an examination of their patient and develops a treatment plan based on their diagnosis. Treatment plans may include manual (hands-on) therapy, exercise, stretching, neuromuscular reeducation, or modalities such as ultrasound or electrical stimulation. However, treatment plans are specific to each patient's needs. Therefore, a physical therapist must be highly skilled and knowledgeable about what treatment option will work best for their patient.
Physical therapists work in various clinical settings, including hospitals, outpatient clinics, nursing homes, patients' homes, sports and fitness facilities, schools, workplaces, and virtual settings.
Part 2: How to Become a Physical Therapist
If you are wondering how to become a physical therapist, you will need to follow these steps:
Step 1: Earn Your Doctor of Physical Therapy Degree
The first step is to earn your Doctor of Physical Therapy (DPT) degree from a program accredited by the Commission on Accreditation in Physical Therapy Education. DPT programs are typically 3-4 years in length. Approximately 80% of your physical therapist schooling is in a classroom or lab and 20% is in a clinical setting. Your clinical rotations will allow you to apply what you've learned in a clinic, make connections in the field and help you decide in which clinical setting you would like to work. 
 During your DPT program, you will study many subjects including, but not limited to:
      biology/anatomy

      biomechanics

      exercise physiology

      kinesiology

      neuroscience

      pathology

      physiology

      sociology
 Most DPT programs require a bachelor's degree, although some offer alternative admission options. Check the requirements for each program for which you plan to apply. Pay attention to any required pre-requisite courses you may need to take. Obtaining a bachelor's degree in a field related to health sciences, exercise, or sports is helpful.
Step 2 – Obtain Your Physical Therapy License
 Once you graduate from a physical therapy program, you need to obtain your physical therapy license by doing the following:
 Apply for a license with your licensing authority. Licensure varies across states. Be sure to review the requirements for your jurisdiction.

Register for and pass the National Physical Therapy Examination (NPTE) through the

Federation of State Boards of Physical Therapy (FSBPT)

. This exam tests your knowledge of physical therapy and is necessary for receiving your physical therapist license.
Most states require physical therapists to meet continuing education requirements every two years. This ensures physical therapists are up-to-date with current standards and trends within the profession.
Optional – Clinical Residency, Fellowship, and Board Certification
 In addition to the above steps, you may want to consider completing a clinical residency program or fellowship program. These can help further your career through additional coursework, training, and clinical experience.
You can also become a board-certified clinical specialist through the American Board of Physical Therapy Specialties (ABPTS). They offer 10 specialist areas for board certification:
 

cardiovascular and pulmonary

 

clinical electrophysiology

 

geriatrics

 

neurology

 

oncology

 

orthopedics

 

pediatrics

 

sports

 

wound management

 

women's health
 However, board certification is not required to practice in a specific area.
Part 3: How Much Do Physical Therapists Make?
Given the educational and licensure requirements for becoming a physical therapist, you may wonder, 'How much do physical therapists make?'
According to the Bureau of Labor and Statistics, in 2021, physical therapists earned a median salary of approximately $95,000 per year. However, your salary amount depends on many factors such as geographical location, experience, and clinical setting.
Part 4: Physical Therapist Jobs
If you're thinking of becoming a physical therapist, rest assured this career path has a promising future. In 2020, there were approximately 239,000 open jobs, and the profession has an expected growth rate of 21% between 2020-30, much faster than average. About 15,000 job openings are expected each year to meet the growing demand for physical therapists and replace those who leave the field to retire or pursue other career opportunities.
You can add to your resume and life experience by becoming a traveling physical therapist. Browse our physical therapist jobs and start your TNAA application to pursue a career that moves you.
Part 5: Who to Follow & PT Resources
 American Physical Therapy Association (APTA):
Podcasts:
Instagram Hashtags — follow these hashtags to find relevant content shared by physical therapists:
#physicaltherapy
#physicaltherapist
#ChoosePT