October 15, 2019
Kicking off #TNAAgivesback With a Cause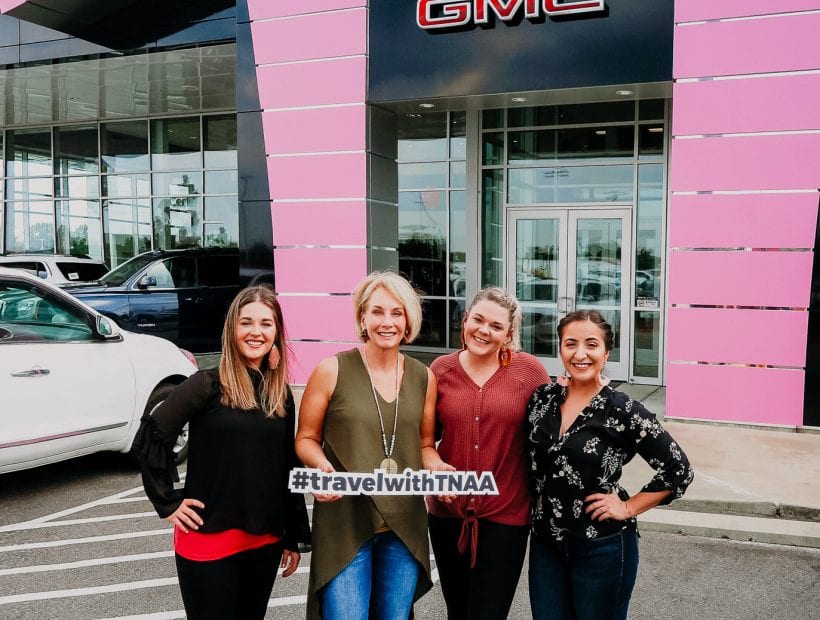 Please note: This giveaway is closed.
TNAA recognizes the dedication and hard work that you put forth in your career as a travel nurse. While our goal is to support our nurses along every step of their journey, we understand that you often embark on adventures alone. 
You make sacrifices, change lives, and show compassion to strangers – every single day. Your journey inspires us, and we want to thank you. That's why #TNAAgivesback focuses on giving back to the industry that we love, by impacting the lives of travel nurses.
We asked ourselves how big of an impact we could make through giving. And while the options are endless, we kept coming back to the journey. That's where we focused our efforts. October 2019 through February 2020, we will be holding weekly and monthly drawings. Weekly giveaways can be entered simply by following us on Facebook and Instagram, and following the instructions posted. Prizes will vary. Four Ultimate Prize Package giveaways will include travel nurse necessities, including a new vehicle, to get you to your next assignment. See how to qualify at the bottom of this page.
Not already traveling with TNAA? Start here to be matched with an experienced recruiter & start your journey.
As many of our nurses know, we call Arkansas home. And in Arkansas, when you think of giving, Susie Everett comes to mind. For several years, Susie's family dealership, Everett Buick GMC, has given away a vehicle at Glitz and Garland, which benefits the Saline Health Foundation. Susie, like TNAA, believes that having reliable transportation is key to day-to-day living and can greatly enhance a person's life and lifestyle.
Meet Susie 
Susie Everett is many things: wife, mother, grandmother, business owner, philanthropist, 2-time breast cancer survivor, and nurse. You can read more about Susie's story here.
Often recognized in Central Arkansas, Susie is the face of her family's car dealership. Susie's nursing career includes earning her nurse practitioner's degree in 1980.  Soon after graduating, Susie and her husband started their family. She worked various part-time jobs from NICU to adjunct faculty for a nursing school. Throughout both her nursing career and personal life, Susie had a heart for promoting health care for underserved populations. In 1999, along with the assistance of many other caring individuals, Susie helped start the Christian Community Care Clinic, CCCC. This clinic provides care for those who do not qualify for state or federal assistance, yet cannot afford health insurance. Recently, the clinic celebrated its 20th year of service!
Breast Cancer Survivor
In 1997 Susie was diagnosed with breast cancer for the first time and again 4 years later. Today Susie celebrates 18 years as a survivor. Her faith served crucial in her cancer journey and has shown her purpose, giving back. Given her passion for supporting efforts to bring mammograms and other health initiatives to women who might not otherwise have it, we had to partner with her to kick off #TNAAgivesback
View this post on Instagram
Think Pink: Our Nurse Shares her History With Breast Cancer
Susie's story is one of faith and awareness. Her mission to help women access mammograms is shared by many of our nurses, like Ginny.
"On October 8, 1987, a two-year-old little girl lost her mother to breast cancer. That girl was me. My mother was a nurse, and when I was younger, I remember wanting to honor her by becoming a nurse as well. I went through my own grief journey of losing her, but today I have learned to carry her with me in my daily life as a nurse. I have done many types of nursing and have had the opportunity to work with oncology patients for about eight months in my travel nurse journey. At that time, I was able to give love to mothers, sisters, and friends that were going through the same tough journey that I know she went through.  I know that my heart for nursing and patients mirrors my mother's heart. In the stories I have heard about her, I know that she was one of the kindest souls that there ever was. I strive to love and care for people the way she would have."
"I am a huge advocate for breast cancer awareness and health, as well. I encourage women to get mammograms, as I had to start when I was just 28 years old as my mother's diagnosis came at the age of 37. Men also need to do self-checks, as they are not exempt from getting breast cancer even though it isn't talked about as much. Self-checks are essential to catch the deadly disease early on and to give everyone a chance of living long and healthy lives. I support the research on breast cancer and pray that in my lifetime that I see a cure."
How to Qualify for #TNAAgivesback & the Ultimate Prize Package Giveaway
Through giving, we hope to inspire our nurses and the travel nursing industry. This industry promotes freedom, adventure, and provides highly-skilled nurses to patients in need all over the country. We want to be a part of that journey. As you follow along during these next few months, we hope to inspire the spirit of giving.
Qualifying for the Ultimate Prize Package is simple.
Start a new assignment
Extend an assignment
Refer a friend who starts an assignment
Giveaway packages will vary, depending on sponsorships. Prizes will include a new vehicle, 2019 model year or newer; cash prize; flowers; and an assortment of gift cards and/or sponsored gifts from promotional partners. Your recruiter will provide additional details and stipulations. Total giveaway value up to $25,000. Ultimate Prize Package Giveaway winner will be responsible for all taxes/fees associated with winnings.