August 12, 2022
Top 5 TV Nurses We Can't Stop Watching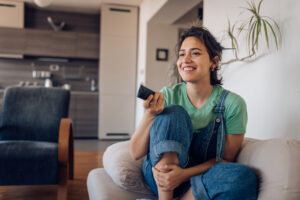 TV show nurses are often very realistic characters who show the ups and downs of a nurse's lifestyle. While there have been shows about nurses that sensationalize the profession, some great series, like Nurse Jackie, are relatable and dramatic. The best characters demonstrate that nurses are caring, strong, and complex – just like everyone else.  
Want to watch these five TV nurses? Find the shows on a streaming service available to you!
1. Jackie Peyton –
Nurse Jackie
With a bit of a drug, adultery, and occasional ethical problem, Nurse Jackie is arguably one of the best TV nurses of all time. The character does a great job at proving even people with the best intentions can sometimes go off track. Edie Falco stars as Jackie Peyton, an emergency department nurse in New York City who struggles in her personal and professional life. The show has earned numerous awards and nominations, including a few Emmy awards. Thanks to brilliant writing and storylines that reflect the drama of real life, this nurses TV show and its title character prove that a person who wants to save others may face demons of their own.
2. Casey Acosta –
New Amsterdam
While head ER nurse Casey Acosta, played by Alejandro Hernandez, is a supporting character on New Amsterdam, he's much more than a sidekick to physician Lauren Bloom. He breaks misconceptions about gender roles in medicine and fully embraces his nursing career. Acosta is a fantastic representation of someone bucking stereotypes while breaking misconceptions and demonstrating how important nurses are to the medical field, despite being part of a group of TV show nurses. He's an authentic and dynamic character who masterfully aids patients and often lightens the mood.
3.  Claire Beauchamp Randall Fraser –
Outlander
Outlander may not be a nurses TV show, more focused on the romance between Claire Beauchamp Randall Fraser and James Alexander Malcolm "Jamie" MacKenzie Fraser and a trip back in time, but there's no doubt that Claire the RN felt a real call to nursing. Her training and knowledge in the medical field commanded respect in the 18th-century setting, allowing her to gain independence when it was rare for women to do so. Her familiarity with the healthcare industry, and her determination to hold her own with men during wartime service, definitely don't hurt when she finds herself surrounded by battling British and Highlander soldiers.
4. Samantha Taggart –
ER
ER, on air for 15 seasons, was a top-rated show with many TV nurses that kept viewers tuning in for the character storylines as much as for the medical dramas. One of them was Linda Cardellini, who played Samantha Taggart, a single mom who had her son at age 15. She came from a family of alcoholics and lifted herself to a successful career in nursing. This was not without drama, though, because Sam's balancing act through a series of crises revealed the depth of her character. Not only did her demand for respect as the main nurse keep us captivated, but her out-of-the-ER storyline was also just as compelling.
5. Carla Espinosa – Scrubs
The no-nonsense, straight-talking Carla (Judy Reyes) was the perfect balance to the rest of the goofy cast at Sacred Heart teaching hospital. More importantly, Carla represented a strong, confident, and capable nurse who challenged doctors and stood up for what she believed to be right. Reyes took inspiration from her sister, who is a nurse. She also trailed real nurses and took further inspiration from their strength and confidence. This real-life insight and inspiration make Carla one of the best TV nurses to ever grace the small screen.
These TV nurses have numerous challenges that keep their shows dramatic while creating must-watch TV. Their character flaws also help us remember that no one is perfect – an important thing to remember when we're tired, sore, and frustrated from a long shift. We love how these five TV nurses face life's lows and keep going, both in the hospital and out of it, because it proves that no matter what we're facing, we, too, can prevail.