August 16, 2016
Travel Nurse Lifestyle: What to See in Los Angeles, CA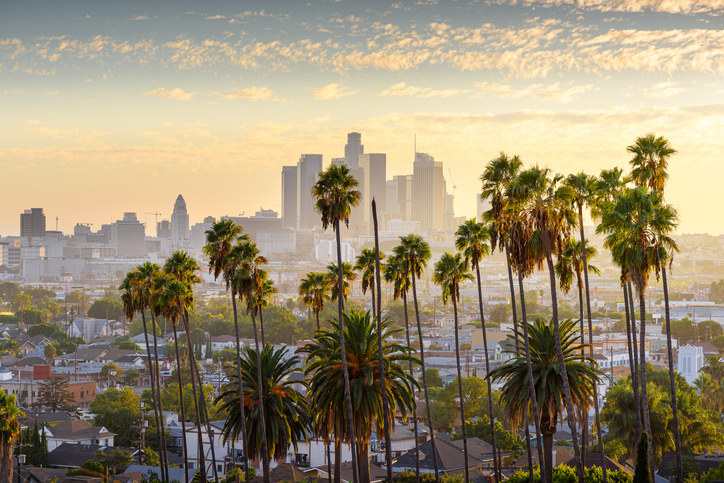 California's largest city is one of the most famous in the world, known for the glitz and glamour of the entertainment industry and the flashbulbs that follow the many celebrities who live there. The vast metropolis of Los Angeles offers so much to do and see, that it can easily start to feel overwhelming. With a little planning, you can make sure to see the city's iconic sights and leave the City of Angels feeling like an expert.
Window Shop 'til You Drop
Spanning just three blocks in idyllic Beverly Hills is one of the country's most well-known – and most expensive – shopping destinations. Rodeo Drive is a name synonymous with high fashion and features more than 100 stores by world-renowned designers. While a Rodeo Drive shopping spree isn't practical for most visitors, a stroll through the area is a must, as this famous street has been featured in so many popular movies. Most notably, Rodeo Drive was the backdrop for much of Julia Robert's classic film Pretty Woman. See the Beverly Wilshire hotel at the base of Rodeo Drive where much of the movie was filmed.
For a fashion experience that's slightly more within reach, check out the trendy boutiques on Robertson Boulevard. While this area does feature a number of high-end designer shops, you can also score one-of-a-kind finds in the local boutiques. Robertson Boulevard is also a perfect place for a celebrity sighting with many paparazzi waiting. Want a sure brush with a celebrity? Grab lunch at The Ivy where stars are seen regularly.
Catch a Game, Any Game
There's no shortage of professional sports teams in Los Angeles. With teams from seven leagues, including baseball, hockey, basketball, soccer, and football, everyone can get in on the excitement. Basketball fans can't miss the 17-time NBA champion Lakers which play at the Crypto.com Arena in Downtown LA. The franchise has been in LA since 1960 and has seen 26 NBA Hall of Fame players in that time.
Baseball fans can get the ultimate fan experience at Dodger Stadium. See one of the most celebrated teams in Major League Baseball in action during the regular season, or take a tour of Dodger Stadium to learn about the facility's storied past. Tours last approximately 90 minutes and include visits to the field, home dugout and press box.
Los Angeles is also home to one of the most decorated teams in Major League Soccer: the LA Galaxy. Though the team gained international fame for the 2007 signing of now retired David Beckham, Los Angeles' professional soccer history dates back to 1955 when the first team, the Los Angeles Kickers, was founded. See the Galaxy play today in Carson at the Dignity Health Sports Park.
Hit the Beach
In a city where the summer is endless, sunny days on the beach are a must. With Los Angeles County's beautiful pacific beaches numbering almost two dozen, you're sure to find the perfect spot in the sand. One classic LA beach experience awaits at Santa Monica Beach, just north of the historic Santa Monica Pier. This popular beach is two miles long, so there's plenty of room to soak up the sun or set up a game of volleyball.
For a people watching experience like nowhere else, head to Venice Beach, where a stroll up and down the boardwalk will almost remind you of a circus sideshow. Watch out for chainsaw jugglers and alligator wranglers as you walk past beachside shops and hot dog stands.
If a quieter beach is more your style, check out the more upscale Manhattan Beach. You may recognize the quaint-looking town next to the shore as it's been featured in many television shows. Along the beach you'll find volleyball courts and a specially designated body surfing area. Make sure to check out the Roundhouse Aquarium at the end of the pier, which features a touch pool full of sea creatures!
Have a Star-Studded Experience in Hollywood
Los Angeles' most famous district is thought by most to be the home of many movie stars and production studios, but by now much of LA's silver screen community has moved to neighboring communities. Hollywood is still a must-see for any visitor, as it is full of important history. With just a walk down Hollywood Boulevard, you can find your favorite star on the Walk of Fame or touch the handprint of some of Old Hollywood's most famous outside TCL Chinese Theater. Access to the forecourt showcasing the star's hand and footprints is free to visitors, but the historic theater also shows movies regularly and offers tours of the facility.
No visit to Hollywood would be complete without seeing the iconic Hollywood sign. While it's illegal to get too close to the 45-foot tall white letters, there are still plenty of good viewing options. For those who want to get up close and personal, hiking trails begin from Griffith Park and allow you to get a great view from behind the sign, looking down on the city. If you prefer a photo op with the front of the sign, there are a number of ideal spots around town to try.
If star sightings are high on your list of priorities, skip the star maps and take a studio tour, one of the best ways to get behind the scenes. Plus, there's a good chance you'll get to see a celebrity in action – even if that action is riding by in a golf cart. Check out some of the most popular studio tours from Warner Brothers, Sony Pictures, Paramount, and Universal. Another great way to spot celebrities is by being part of a studio audience for the taping of television show. This can take a little planning, so as soon as you know the dates of your visit, look up how to be part of your favorite show's audience online and sign up as soon as possible.
California Love
Other cities may try, but it's hard to beat the excitement, history and culture of LA. This mega-metropolis features so many cities, neighborhoods and districts that you'll never run out of things to explore. The hardest part will be deciding what to do first!