July 1, 2022
Things to Do While on Assignment in San Antonio, Texas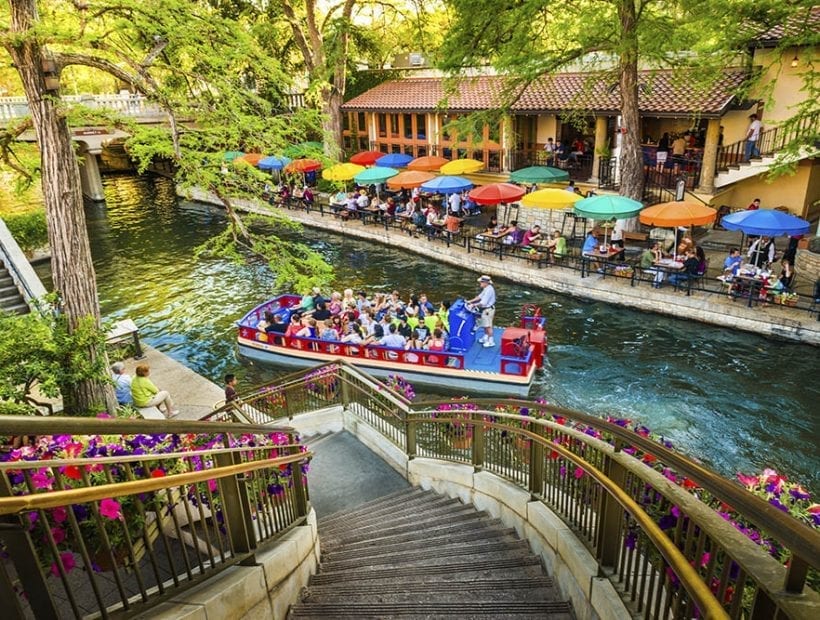 Welcome to Alamo city! San Antonio boasts famous history lessons and is a center for entertainment and culture. San Antonio is the second most populated city in Texas and, if you're calling it home, has a lot to offer from great places to barhops to an accessible art scene.
Take a Stroll Down the River Walk
The San Antonio River Walk is a must-do, as it is the #1 attraction in San Antonio and one of the most visited places in the world. Open to the public and free to visit, this 15-mile circuit is split into three sections: Museum Reach, Mission Reach, and Downtown Reach. The Downtown section has plenty of places to eat and shop. The Museum section includes museums, public works of art, historical landmarks, and much more. Lastly, the San Antonio Mission Reach is home to Mission San Juan, Mission Espada, Mission San José, Mission Concepción, and San Antonio de Valero, famously known as the Alamo. While the River Walk itself is free to visit, the cost of each attraction may vary.
During springtime, you can enjoy the Fiesta San Antonio and the River Parade with beautiful flowery floats cascading down the river. You can also take a tour boat on the river any time of year.
Indulge in Local Fare
When you live in San Antonio, you need to know your chili. Stop by the Institute of Chili food truck near the Alamo. Ana Fernandez, an artist and chef, took a recipe from the Institute of Texan Cultures' archives and slightly modified it. Her version of ground chuck with brisket topped with fresh and dried peppers is delicious. With yummy sides like corn bread and tamales, it really can't be beat.
Everything's bigger in Texas, right? Well, that adage is lived to the fullest at Pearl Brewery. It's a large brewery-turned-community space that hosts events, exercise classes and more. It's so big it can be seen from the highways downtown. They have food enthusiast Saturdays, a farmer's market and even yoga classes. You're sure to find something to your liking at this revitalized space.
If local goods are more of what you have in mind, stop by El Mercado, also known as Market Square. This is the place to mingle with the locals and find a bit of everything, from art to furniture to clothing, all located in downtown San Antonio.
Imbibe at Local Hotspots
Being the second largest city in Texas means there are plenty of bars, cocktail lounges and cantinas to check out. Any time of day, you'll be able to find a local watering hole.
• Mi Tierra Café and Mariachi Bar – If your shift ends at an odd hour and you want to go out, don't worry, this café and bar stays open 24 hours. Located in Market Square, this space has a huge selection of margaritas and more than 150 types of tequila. With musicians strolling around it's "a little loco and a lot of fun."
• The Esquire – What's cooler than celebrating the end of Prohibition by opening a bar? The Esquire was opened for that purpose in 1933. This swanky bar has the longest bar top in Texas, which extends more than 100 feet. The Esquire has been awarded for its cocktails and for being one of the Best Bars in America 2013 by Esquire Magazine (maybe they were just partial to the name?). You're sure to enjoy yourself with their delicious drinks and bar food.
• The Brooklynite – If you're a true cocktail lover, you'll find yourself at home at The Brooklynite. Founded in 2012 by Jeret Pena, an award-winning bartender, it modernizes classic cocktails with innovative twists.
Take a Step Back in Time
"Aye-yip Santa Anna, we're killin' your soldiers below
That men wherever they go will remember the Alamo"
–Jane Bowers
San Antonio is home to the famous Alamo Mission, which is the site of the 1836 Battle of the Alamo. Davy Crockett, Jim Bowie and 188 others fought the Mexican army for Texas' independence at the Alamo.
The mission has been restored and is the most famous site in San Antonio, making it a must-see during your time there. You can take a tour for free (it takes less than an hour) and stop by the gift shop for some historical memorabilia or great postcards to send to friends and family.
Appreciate the Art Scene
When you're on the River Walk, be sure to stop by the San Antonio Museum of Art, located in the Pearl Brewery. It has Egyptian, Greek and Roman antiquities as well as Asian and Latin American art. You can see contemporary art, American paintings and, if you get tired from walking around, you can stop for a bite at the café. Get there on Tuesdays after 4pm and Sundays from 10 am to noon for free admission.
The first museum of modern art in Texas, the McNay Art Museum is located in a beautiful Mediterranean-style mansion that houses more than 10,000 paintings and sculptures. This space initially specialized in European and American paintings, but now hosts major exhibitions and has a garden and lecture hall. Tickets are $20.
Return to Nature
HemisFair Urban Park was built in 1968 to commemorate the city's 250th anniversary. It has water gardens and other cool features, but the must-see is the Tower of the Americas. This iconic tower is the place to go for great views of the city from 750-feet above.
The Japanese Tea Gardens were once a rock quarry, but eventually grew into a beautiful tea garden. It has been updated as recently as 2007 with a $1.6 million renovation. It boasts a lush year-round garden with "shaded walkways, stone bridges, a 60-foot waterfall" and Koi ponds. Find your Zen in this beautiful space.
See the Best of San Antonio
San Antonio isn't just another Texan city. It has a rich history, plenty to do and lots of people. With its 1.4 million residents, there are many opportunities to meet new people and socialize, giving you every reason to experience the city and live it up in San Antonio.