May 16, 2016
Travel Nurse Lifestyle: What to See in St. Louis, MO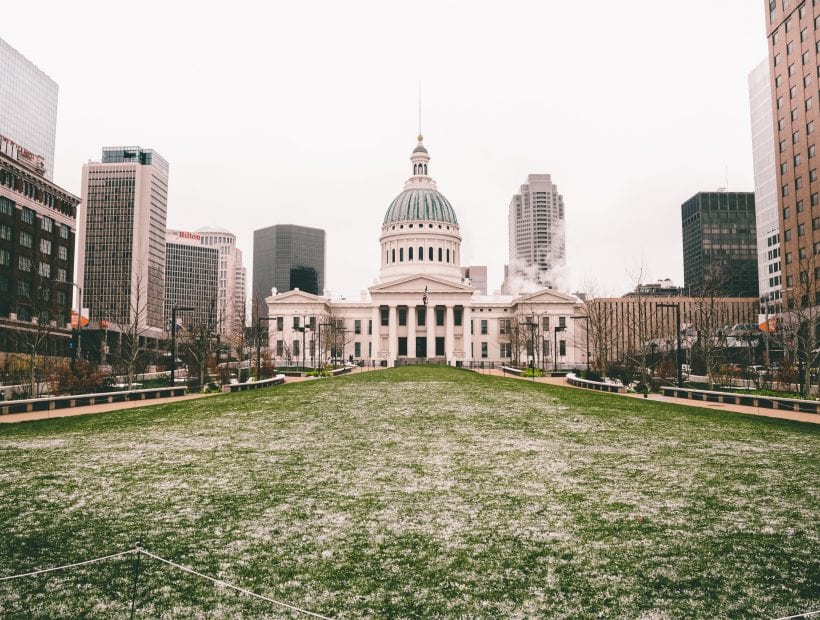 St. Louis, MO, is a bustling city that's sure to keep any visitor – or temporary resident – busy 24 hours a day. With all the restaurants, live shows, and must-see attractions at your fingertips, you'll never find yourself bored during your stay. Take the time to get out there and experience the things no other city can offer because they are distinctly St. Louis.
What Travel Nurses Should See & Do in St. Louis
Visiting the St. Louis Arch
You simply cannot go to St. Louis and not visit the Gateway Arch. This 63-story arch was built in the 1960s on the banks of the Mississippi River to celebrate St. Louis' role as a gateway to the West.
On a clear day, visitors can see up to 30 miles in each direction from the viewing windows at the top of the arch. Don't worry, you won't have to climb the 1,076 steps to get to the top – a tram system was installed in the arch to transport visitors to the amazing view.
You can also take a famous riverboat cruise from the arch grounds. This sight-seeing tour on a replica 19th-century paddlewheel riverboat cruises along the Mississippi River, giving you excellent views of the skyline. You can opt for an informational sightseeing tour or a breathtaking dinner cruise that will make you feel like you've been transported back in time.
View this post on Instagram
Experience St. Louis Food Culture
Any self-respecting foodie is excited to visit a new city because it means a whole new food scene to explore – and the Show-Me state doesn't disappoint.
Experiencing St. Louis BBQ is likely at the top of most foodies' lists. While the city certainly has plenty of options, you can't go wrong with a trip to Pappy's Smokehouse (which has received praise from the Travel Channel and Zagat) or its sister establishment Bogart's Smokehouse. Both restaurants routinely show up on "Best BBQ in St. Louis" lists.
Looking for a go-to brunch spot? The Scottish Arms has a traditional Scottish Pub atmosphere with a brunch menu that leans a bit on the heavier side, but it's the brunch drinks that make this a stand-out spot. The Scottish Arms' brunch cocktail menu features options like endless mimosas, beer-mimosas, a Bloody Mary made with peat-smoked single malt scotch instead of the traditional vodka, and a build-your-own Bloody Mary bar. Rooster, which has two locations, also sports an impressive cocktail menu, this time paired with crepes. Half of Rooster's brunch menu is dedicated to crepes, including breakfast, savory and sweet options.
For a standalone sweet treat, you only need to know two words: gourmet donuts. St. Louis is home to its very own local donut mini-franchise called Strange Donuts. With donuts ranging from your classic glazed to chicken and waffle donuts, this place is definitely worth stopping by. Be warned though, they open early and often sell out, so this will have to be a morning adventure.
But above all, you must visit The Hill.
Unique Nightlife for Travel Nurses
Looking to get out and enjoy the city's nightlife? St. Louis is home to its share of bars, music venues, night clubs, and other fun and interesting evening hotspots – whether you're looking for an all-nighter or just a few fun hours.
Blueberry Hill is your one-stop-shop for drinks, bar food, live music and a ton of pop culture memorabilia. Blueberry is packed with vintage lunch boxes, old posters, PEZ collections and collectables celebrating the likes of Chuck Berry, Elvis and Howdy Doody. The fun continues outside, where the St. Louis Walk of Fame stretches down the street. Blueberry Hill is also a good spot to try out some of St. Louis' local craft beer – the bar has 18 taps and actively supports local breweries.
If you're looking for a good way to bond with co-workers, stop by Pin-Up Bowling. It bills itself as "St. Louis' original bowling and martini lounge" and indeed sports an impressive list of cocktails, beer, wine, and even champagne. Pin-Up Bowing is open until 3 a.m. seven nights a week for a little late-night entertainment.
The Pageant is one of the city's top local venues to catch live music and comedy, and since you're never more than 70 feet from the stage you're all but guaranteed to have a good view. The Pageant's diverse lineup has something for everyone, from hot bands (of today and years past) to popular comedians and other fun events.
If you need to refuel after your night out, the Benton Park Café is open 24 hours on Fridays and Saturdays.
For the Sports Fans
Sports fans are well aware that there's nothing like a Card's game — catching a game is a must-do if you're on assignment in Missouri.
If you're in the city April through October you can catch a few St. Louis Cardinals games at Busch Stadium. The ballpark is right downtown and fairly new, but still boosts "retro-style" charm. The Cards are in the National League Central, meaning you'll see them playing the Chicago Cubs, Pittsburgh Pirates, Cincinnati Reds, and Milwaukee Brewers. Can't score tickets? You can still tailgate or join in on the fun at Ballpark Village!
If hockey is more your style, you can stop by a St. Louis Blues game from October through May/June. The arena is in the Scottrade Center, also downtown, about five blocks away from the ballpark. The Blues are in the Western Conference, Central Division, so you'll see the Chicago Blackhawks, Colorado Avalanche, Dallas Stars, Minnesota Wild, Nashville Predators, and Winnipeg Jets as visiting teams. Get ready to wave your towel and cheer, Let's Go Blues!
For Travel Nurses Who Love Outdoor Adventure
If you'd rather spend your free time enjoying the outdoors, this area of Missouri has several scenic options to explore.
Start in town at the St. Louis Zoo was named one of America's 10 Best Zoos by Fodor's in 2015. The zoo, which has been around since 1910, is home to more than 18,700 animals spanning more than 560 species. It's known for its naturalistic exhibits, so you're likely to see the animals active and enjoying their home.
Laumeier Sculpture Park (pronounced lao-meyer) is located a little way out of the city but is well worth the drive. Laumeier is one of the first sculpture parks in the country. This 105-acre open park features 60 large-scale sculptures and is free to stroll through year-around.
The Missouri Botanical Garden is the nation's oldest continually operating botanical garden and it's located right in St. Louis. The garden sprawls over 79 acres and is home to multiple specialty gardens, including a Victorian garden, an herb garden, a children's garden and a Chinese garden, among many others. Live music and other special events are hosted at the garden throughout the year.
View this post on Instagram
Ready to Take a Job in the Show-Me State? Search Missouri Jobs Here!