June 21, 2019
Intro to Travel Nursing: Support for a Successful Start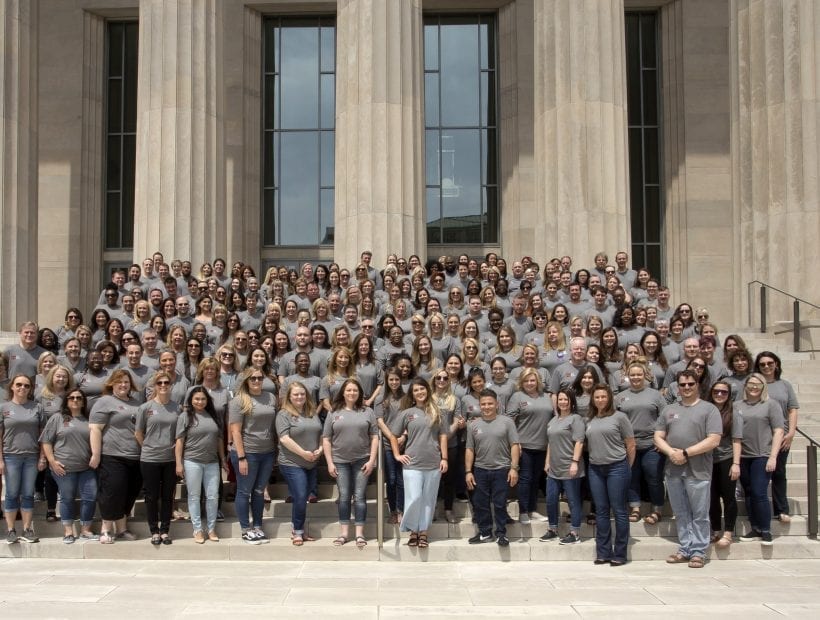 So you're thinking about traveling with TNAA. What next? How do you go from application to orientation at your assignment? We're going to explore the steps, the do's and don'ts, and discuss all your options along the way. Are you a seasoned traveler? While we're confident you'll learn something new, we want your best tips and tricks, too, so be sure to follow us on social media and give us your feedback!
Travel Nurse Credentialing: We're breaking down how travel nurses get the licenses they need to start their assignments on time. Plus, all other requirements, like physicals and titers.
Working With Your Clinical Team: TNAA's team supports all things nursing, like helping you study for tests, offering continuing education opportunities, and so much more.
In a previous post, we broke down our best-in-class benefits and what benefits come with your pay package. Now it's time to start getting all your credentialing ready for your assignment. While it can be daunting to look at everything needed, TNAA support staff brings unprecedented market knowledge to ensure you're able to start your assignment on time.
View this post on Instagram
Travel Nurse Credentialing
When you take an assignment with TNAA, we will pay the costs to get you to your job, our QA specialists will work behind the scenes to ensure everything is arranged. Your way is paid with TNAA. In fact, we've committed to making sure you can start your job worry-free. Travel nursing requires a lot of documents, organization, and planning. If that sounds overwhelming, don't worry. We've got you by covering the costs of:
Licensure &

Certifications

Physicals

Immunizations &

Titers

Background checks & drug screens

Fingerprinting
How to Get Your Travel Nurse License
Once you've booked with TNAA, you are assigned a licensing specialist who will start the process of ensuring you have the proper licensure to work. Think of them as travel agents preparing everything you need so you can arrive at your travel nurse job ready.
eNLC & Compact States
The NCSBN created the NLC, Nurse Licensure Compact, to allow nurses to be able to travel from state to state without having to pay to obtain temporary or permanent licenses. Unfortunately, not all states participate. TNAA has specialists dedicated to all things nurse licensure: staying updated on eNLC requirements and which states have pending legislation to join. You can find a map of states participating here. You will also be required to provide proof of residency in a compact state — like a driver's license, voter registration, and tax documents.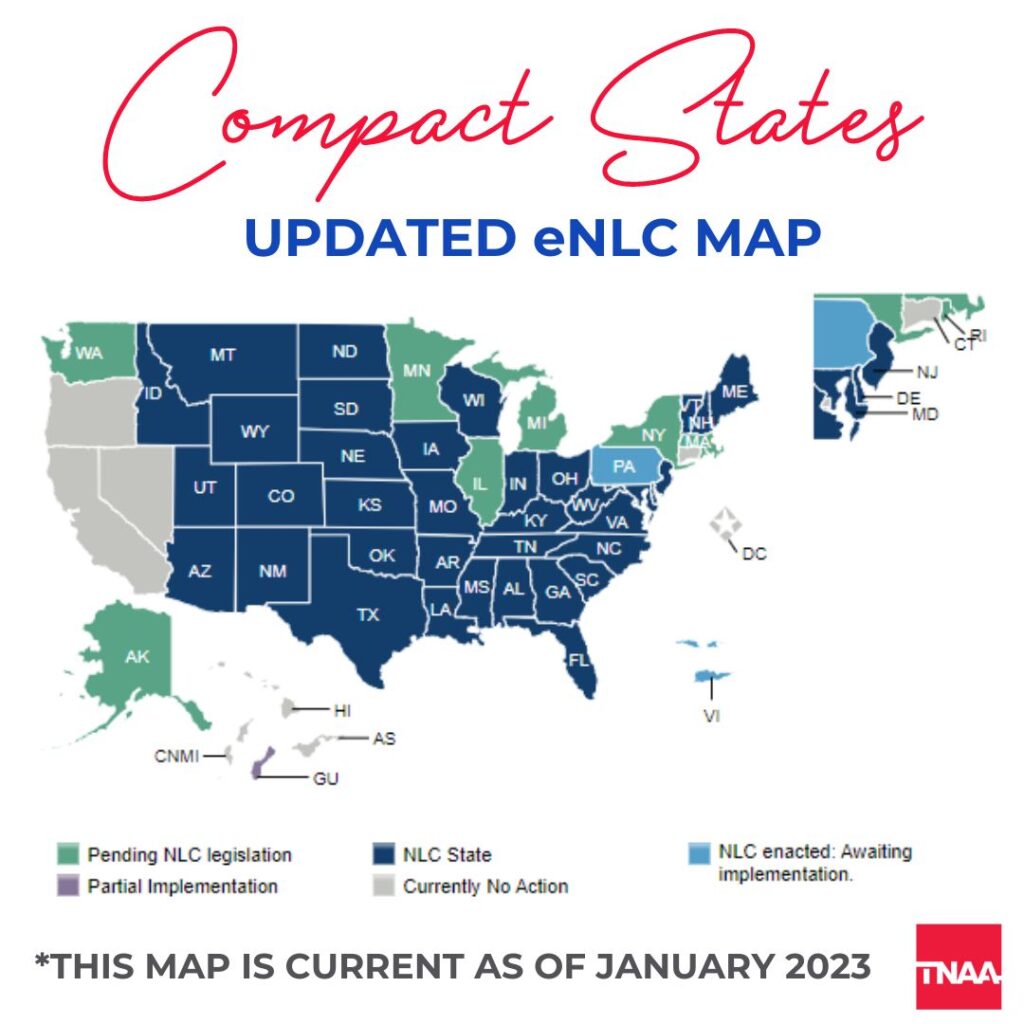 What About States That Don't Participate?
States that are not part of the Nurse Licensure Compact require a different process, and it can become expensive and time-consuming to obtain the proper licenses. But TNAA has you covered.
Utilizing a Temporary License
You may hear about "walk-through states" — these are states which give out a temporary license so you can immediately start working while pursuing a permanent license in that state. These temporary licenses are given to nurses who are planning to move to a state, already have a job, or are working on a permanent license. It allows staffing shortages to be filled quickly. TNAA will help you obtain your temp license, which should last the length of your assignment, while we help you obtain your permanent one.
I've Heard It's Difficult to Obtain a License in Some States.
States like California, Washington, and Illinois have a longer process, and for travel nurses, start time is everything. The process in states like these can take several weeks and may impede landing an assignment. Luckily, TNAA expedites the process through our valet program. Ask your recruiter if you meet the requirements for an expedited licensing program offered. Requirements may include already being booked for an assignment with your agency, a clean license with no disciplinary actions or convictions, and can be specialty-specific.
Working With Your Clinical Team
Your next stop is with your designated clinical specialist. Our clinical team is made up of registered nurses, just like you. Their job is to ensure TNAA nurses are set up for success and they do a good job. In fact, TNAA has termination and cancel rates of nearly 10% lower than the industry as a whole.
Continuing Education Benefits
We believe in offering premier services to our nurses through career-enhancing opportunities and unprecedented support. While you're on assignment with TNAA, you'll receive free access to CE Direct for license requirements. Our nurses also have the opportunity to earn their BSN with 100% tuition reimbursement through our RN to BSN program. Once you're booked, you'll receive calls from your clinical specialist to help prepare you for your job, from studying for facility exams to orientation prep.
Providing Clinical Support
We know that nursing can be an emotionally draining job. Our clinical team has been there, on the floor, and with the patients. Our nurses have a designated clinical specialist to help them 24/7. Read more about how nurses are supported on their assignments.