June 3, 2020
Travel Nurse Packing Tips and Checklist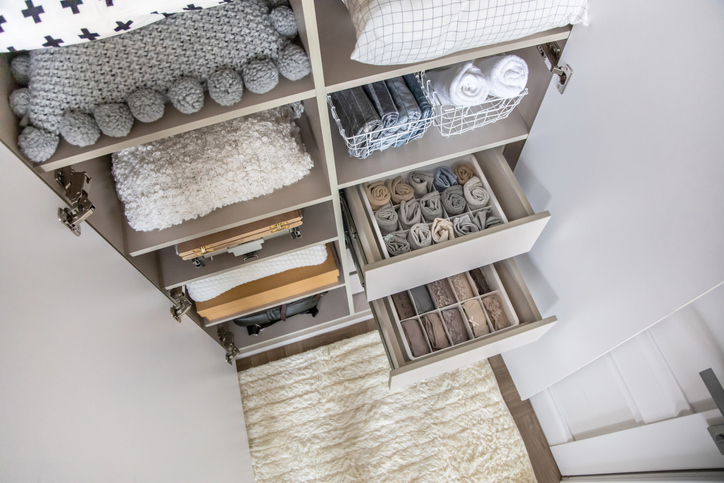 Staying organized at home isn't always the easiest task, and staying organized on the road in a new location compounds the challenge. On top of that, traveling health care professionals are extremely busy and sometimes have unusual work schedules. Under those circumstances, staying organized on the road as a travel nurse is no easy feat.
Keep these organization tips in mind as you pack for your next travel assignment.
Basic Packing Checklist
The most basic form of staying organized while on the road is using a checklist while packing. Since travelers are on the road often, make a checklist template so you can reuse everything.
Even if your living space is furnished, it's great to have personal items that make it feel more comfortable. Divide your checklist into categories that you can adjust for seasonal and regional travel as needed. Checklist categories should include:
Clothing

Work: Scrubs, shoes, nurse bag
Fun: Shirts, shorts, pants, etc.
Play: Outdoor gear
Essentials: Undergarments, socks, coat, sweater, rain jacket

Living Room

Blanket
Candle or scented plugin
Portable tall folding tray

Kitchen

Bottle opener or corkscrew
Travel mug or thermos
Slow cooker, instant pot, and/or air fryer

Bedroom

Air purifier
Pillowcases and sheets
Pictures of loved ones

Toiletries

Hair: shower cap, hair bonnet, scrunchies, blow-dryer, straightener, shampoo, conditioner
Dental: Toothbrush, toothpaste, floss, mouthwash
Hygiene: Razors, feminine/masculine products, skincare products

Electronics

Chargers
Headphones
Extension cords
Tablet, laptop, phone
After each assignment, revisit your checklist to see if there's anything that wasn't included that you wish you had or anything that you end up packing but usually don't need. You can also adjust your checklist template while on the road if you find yourself buying something you forgot to pack.
Limit What You Bring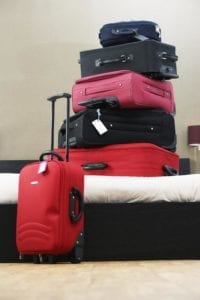 The less you travel with, the less you have to worry about keeping organized. While it's tempting to overpack, do your best to limit yourself to the essentials and a few special items. Be honest with yourself about what you're going to do and need while away and stick to the checklist you created with a few additions for special living situations, climates and anticipated events, trips or experiences.
Research your new living accommodations to determine if anything you typically pack can be left behind. Slim down your packing to a few choices of outfits, shoes and accessories – choosing neutrals or one color family will help you mix and match your items into several different looks and outfits. Once you've gathered everything you plan to bring, take a critical eye to the collection and edit out some items. Remember, if you forgot anything it's likely that you can borrow or buy it in your new city.
Always Pack the Same Way
Once you've established the items you always bring with you, settle into a packing routine. Always group items together the same way, put the same label on the box or pack certain items in the same bag every time. Once you've settled into a routine, packing will become faster and unpacking will be more organized as you'll quickly be able to sort and setup everything you brought.
Invest in Packing Cubes
Stay organized by separating items in packing cubes. You could also keep items that go in the same room in organizers or any other type of closing case, zipper bag or compartment container. Storing similar items in confined spaces is an easy way to always know where everything is. Plastic stacking drawers are particularly useful because the can be used individually or set up as a tower and come in small and large sizes to meet a variety of storage and organization needs. Label the face of the drawers or container lids to make it easy to tell the contents at a glance.
Keeping everything in containers is also helpful when packing – all you have to do is secure the containers shut and pack them in their designated bag or box. Then unpacking and setting up is quick and easy.
Keep a Pre-Packed Essentials Bag
The last thing you want to do is dig through boxes, bags or cabinets you don't remember how you organized because you need a new bar of soap, some cotton swabs, lotion, feminine products or another essential.
Avoid the panicked search by keeping an "essentials" bag packed at all times and kept somewhere you'll remember – like under the bathroom sink or under your bed. Keep any toiletry-type items you'd take with you on a weekend trip in this bag so backups are always quickly within reach. It's also a good idea to keep a few $20 bills in this bag in case of an emergency.
Having a pre-packed essentials bag ready to go has the added benefit of cutting down packing time if you decide to take an overnight trip.
Set Up Emergency Contacts
Being in a new city means you're cut off from familiar services and nearby help. Make a plan that you'll follow in the event of an emergency. Also, stay organized and safe by creating a new note or memo on your phone documenting any and all important local numbers. This should include:
Your apartment address and any important access codes
The phone number for your property manager or apartment complex emergency line
The phone numbers of any roommates or housemates
The phone number and address of your place of employment
Non-emergency police and fire department numbers
The number of a local taxi company
The number for a local emergency contact – ask a coworker or someone else you know in town if you can contact them in case of an emergency
Be sure your phone is locked with a pass code to keep strangers from accessing this private information if your phone is lost or misplaced. Also, remember to set up your emergency contacts on your iPhone or Android so that they appear on your lock screen.
Document Other Helpful Information
In addition to keeping vital contact and emergency information close at hand, it's helpful to make a note or memo of nearby locations you'll likely frequent. In this note include:
The address and hours of operation for your local grocery store
The address of the nearest Target, Walmart or other general goods store
The address and hours of operation of a local pharmacy
The addresses of a few of your favorite nearby fast food restaurants
The address and hours of operation of the closest laundry mat (if your living accommodations don't include laundry)
Keeping this information on your phone will make it easier to pull up an address while you're on the go instead of searching and guessing.
Take a Deep Breath
Feeling unorganized can lead to feelings of being stressed and overwhelmed, which drives us to want to avoid situations. When you're learning a new city, have a hectic schedule and are trying to settle into an apartment, the last thing you want is to feel overwhelmed.
Don't panic and don't resign yourself to living an unorganized travel life. Take a deep breath and follow these best practices and practical tips when planning your trip and while on the road to help keep your life, and space, organized and easy to navigate.