September 6, 2016
Traveler Test Kitchen – Chocolate Chip Cookie in a Cup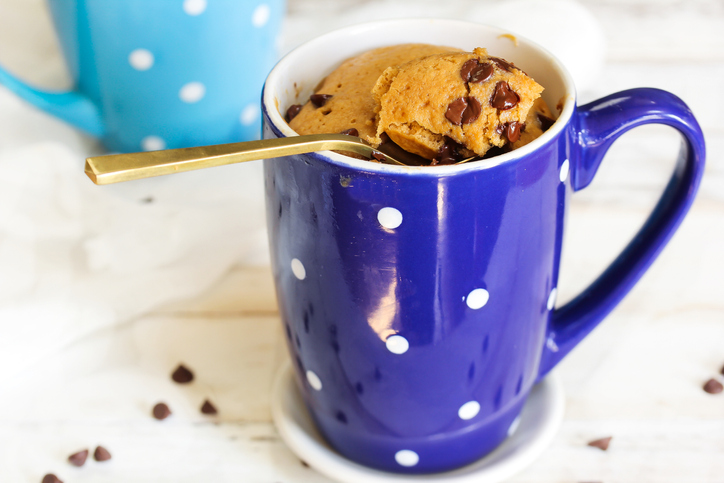 We've decided to test out some creative, easy-to-prepare recipes in the kitchen of our home office to see if we'd recommend them to our travelers. We'll feature a new recipe we've prepared each month in our very limited kitchen and have our employees test and rate. We'll also show you unedited photos of how our food turned out, so you can compare our real-world versions to the ultra-fancy food blogs where we got the recipes.
Chocolate Chip Cookie in a Cup
See the original Chocolate Chip Cookie in a Cup recipe.
Ingredients:
1 tablespoon butter
1 tablespoon granulated white sugar
1 tablespoon of firmly packed dark brown sugar
3 drops of vanilla extract
Small pinch of kosher salt
1 egg yolk (discard the egg white or save for different recipe)
Scant ¼ cup of all-purpose flour (slightly less than ¼ of a cup)
2 heaping tablespoons of semi-sweet chocolate chips
Equipment:
Coffee mug
Measuring spoons
Measuring cups
Spoon for mixing
Instructions:
Start by melting your butter in the microwave. Butter should just be melted, not boiling.
Add sugars, vanilla and salt. Stir to combine.
Separate your egg and add the yolk only to your cup. Stir to combine.
Add flour, then stir again. Measure a scant, slightly less than full, ¼ cup of all-purpose flour.
Add the chocolate chips, and give a final stir. Now your mixture will look like cookie dough.
Cook in microwave 40-60 seconds, start checking for doneness at 40 seconds. Mine takes 50 seconds. Do not cook past one minute, just like a regular cookie, this will continue cooking as it cools. If the cookie is dry or cake like, try less time.
Serve warm.
The Results:
After 50 seconds, just like the recipe said, we had a very convincing looking cookie that smelled heavenly! Here's a photo of how ours turned out versus a photo from the blog where we found the recipe.
The Recipe's Version
The Reviews
We asked a handful of employees to grab a bite of our microwave concoction and give us their thoughts. Here's what they had to say:
Tammy White, Payroll Supervisor
5 Stars
"The cookie had the perfect consistency and tasted just like cookie dough. I might have preferred it with a few less chocolate chips, though. This would be such a fun base recipe to play around with. Maybe try white chocolate chips and macadamia nuts!"
Scott Knox, VP of Marketing
4 Stars
"The cookie was light and fluffy. If you topped it with a scoop of ice cream it would be just like my favorite restaurant dessert."
Gay King, Director of Client Services
3.75 Stars
"I'm not really a sweets person, but I thought it was good. It seemed more like warm cookie dough than a real cookie to me, though."
Kari Bryant, Assistant Account Manager
4.5 Stars
"I thought the cookie had a great taste, but it was a little on the dry side."
Angie Morgan, Director of Marketing
5 Stars
"It tasted like a homemade cookie! Yum! Would be perfect with a scoop of ice cream on top."
Insider Tip
Plan to eat your cookie as soon as it's cool enough. We noticed our cookie in a cup started getting dry pretty quickly as it sat around during sampling.
Have an easy recipe that you love to make? Share it with us! Send your recipes to the TNAA Marketing Department to be featured on our blog.
More Test Kitchen Recipes: