June 14, 2021
Traveler Test Kitchen – One Bowl Mac & Cheese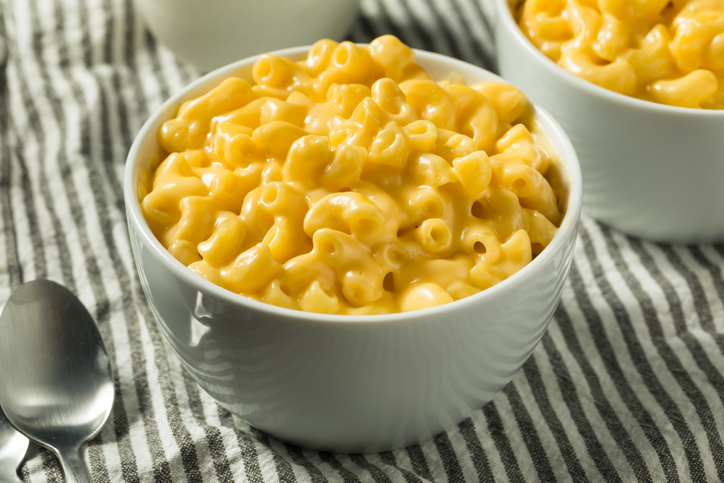 We've decided to test out some creative, easy-to-prepare recipes in the kitchen of our home office to see if we'd recommend them to our travelers. We'll feature a new recipe we've prepared each month in our very limited kitchen and have our employees test and rate. We'll also show you unedited photos of how our food turned out, so you can compare our real-world versions to the ultra-fancy food blogs where we got the recipes.
One Bowl Mac & Cheese
See the original mac & cheese recipe.
Ingredients:
1/2 cup macaroni or shell pasta
1/2 cup of water
1/4 teaspoon salt
1/4 cup milk, any percent
1/4 to 1/2 cup shredded cheese, like cheddar cheese, Monterey Jack, or provolone
Extra add-ins: diced vegetables, shredded or cubed cooked meat, cubed tofu, salsa, dried mustard, chili powder
Equipment:
Deep microwave-safe bowl
Oven mitts or a kitchen towel
Microwave
Spoon
Instructions:
Combine the pasta, water, and salt in a microwave-safe bowl.
Microwave the pasta for 2 minutes: Microwave on high power for 2 minutes, then stir. Watch to see if the water is foaming over the side of the bowl and stir sooner if needed. Use oven mitts or a kitchen towel if you need to move the bowl out of the microwave to do this.
Continue microwaving in 2-minute intervals until the pasta is cooked. Stir between each interval and continue microwaving until the pasta is soft and cooked through. This should take 4 to 8 minutes total, depending on your microwave strength. If the pasta absorbs all the water before the pasta is cooked, add another 2 tablespoons of water.
Stir the milk and cheese into the pasta. Use oven mitts or a kitchen towel to remove the bowl from the microwave. Stir in the milk, cheese, and any extra add-ins.
Microwave in 30-second intervals to melt the cheese: Microwave on high power for 30 seconds, and stir. Continue microwaving in 30-second intervals, stirring between each interval, until the cheese has melted and forms a creamy sauce. This should take 1 to 1 1/2 minutes total. For a creamier sauce, add an extra tablespoon or two of milk and cheese.
Eat immediately: This mac and cheese is best when piping hot from the microwave. If you need to reheat it, add an extra splash of milk.
The Results
After several minutes and some spilled pasta water in our microwave (oops!), our mac & cheese was hot and ready. Here's a photo of how ours turned out versus a photo from the blog where we found the recipe.
The Reviews
We asked a handful of employees to grab a bite of our microwave concoction and give us their thoughts. Here's what they had to say:
Carla Price, Human Resource
3.25 Stars
"Texture was a problem for me on this recipe. The noodles were not cooked as soft as I would like and the cheese was on the gritty side."
Ratonda Scott, Recruitment
2 Stars
"The noodles really needed to cook longer. For a creamier texture, I recommend using block cheese instead. And if you're really feeling fancy, add some cream cheese."
Angie Morgan, Marketing
2 Stars
"I love macaroni and cheese, so it's hard for me to complain, but this microwaved cheese had an odd texture. I wouldn't recommend it."
Kristen Darnell, Clinical Services
2.5 Stars
"This one is not on my list of favorites. The cheese was grainy and the noodles were not thoroughly cooked."
Insider Tip
Our head microwave chef says never trust a macaroni and cheese recipe that doesn't include butter.
Have an easy recipe that you love to make? Share it with us! Send your recipes to the TNAA Marketing Department to be featured on our blog.
More Test Kitchen Recipes: