January 11, 2023
10 of the Best Places to Visit in Washington State
When your traveling healthcare assignment takes you to Washington State, you're in luck. The Evergreen State boasts an abundance of unique destinations and activities for your weekend getaways or day trips. With so many things to do in Washington State, your only problem will be deciding where to go. We've gathered the ten best places to visit in Washington State, so pack your bag and get ready for a Pacific Northwest adventure.
What is Washington State Known For?
Washington State is a well-known mecca for outdoor recreation. This state has several opportunities to get out into the great outdoors any time of year. With over 39,000 farms in the state, it also has a large agricultural industry. Washington is also known for its thriving craft brewery scene (it is home to the No. 1 hop-growing region in the world), and it's also the birthplace of Starbucks Coffee. You've also probably heard of two of the biggest tech giants who make the state their home: Microsoft and Amazon.
Places to Visit in Washington State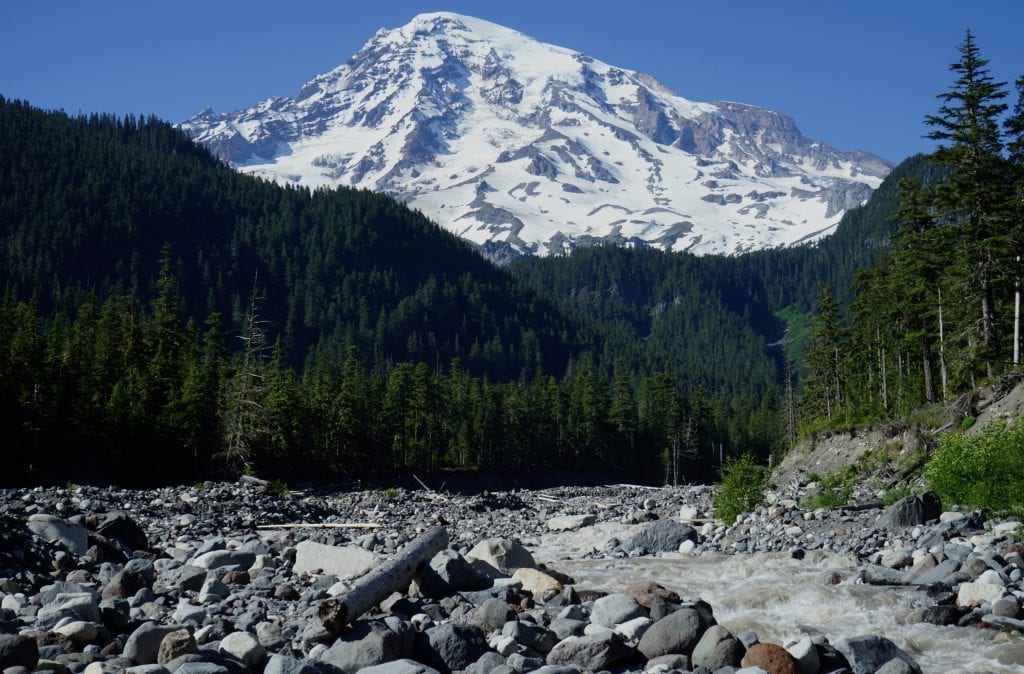 1. Mount Rainier National Park
One of the best-known Washington State attractions, Mount Rainier is the largest mountain in the Cascades. Visiting Mount Rainier National Park is a must for outdoor recreation and breathtaking Washington nature. This 236,380-acre park is known as a hiker's paradise – there are 155 trails for all skill levels in one of the most beautiful places in Washington State. The park is also an excellent place for camping, backpacking, and winter activities, like Nordic skiing and snowshoeing. With three park entrances, it's just a short drive from the Seattle area, Vancouver, and Yakima. Mount Rainier also offers attractions like Northwest Trek, the Pioneer Farm Museum, and scenic gondola rides.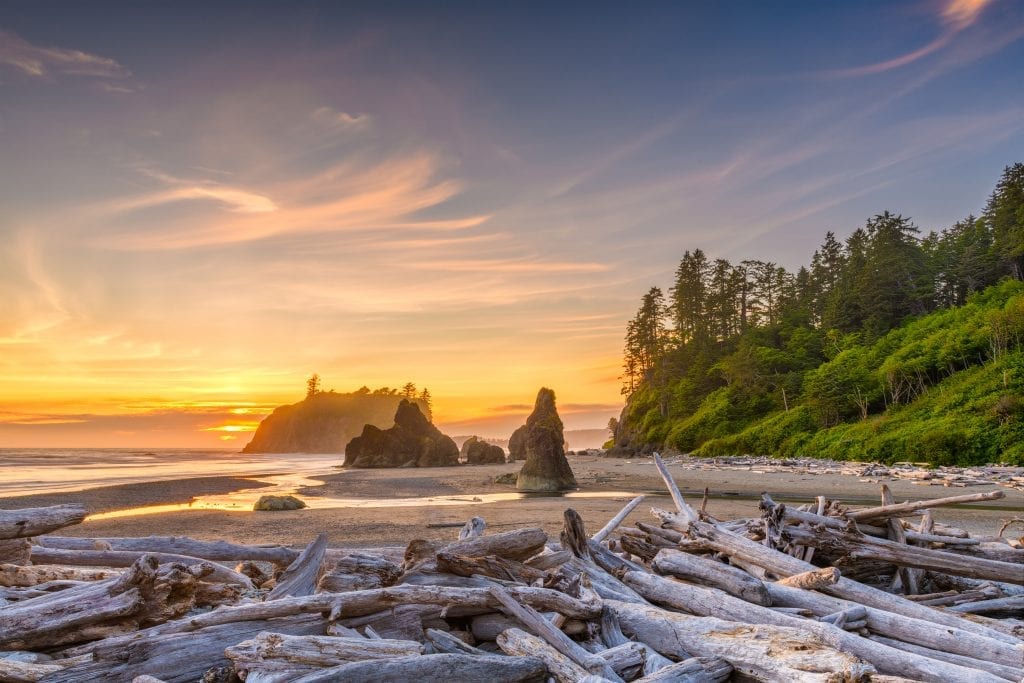 2. Olympic National Park
Another one of the best things to do in Washington State is to visit Olympic National Park. Located on the Olympic Peninsula, the park has over 922,651 acres of rainforest – and they do mean rain: the park receives anywhere from 100-140 inches every year. However, it's well worth the chance of getting wet – the lush beauty that comes with the rain makes this one of the most beautiful places in Washington. Camping, hiking, beachcombing, and sightseeing are all right at your fingertips. Check out Kalaloch Campground for a great spot to pitch your tent, or stop for the day to check out the Tree of Life. Ruby Beach is another great place for seeing sea life during low tide. The Hoh Rainforest has a variety of trails for enjoying its green canopy and taking in the view of Mt Olympus. Top it all off with a visit to the Sol Duc Hot Springs for relaxation and restoration.
3. Seattle
Aptly nicknamed the Emerald City, Seattle is a great place to spend a day or weekend. Wander the waterfront piers and shops for great views of Elliot Bay, shopping, and dining. And for an even better view, check out one of the local Argosy Cruises, take a spin in the Great Wheel, or head to the top of the Space Needle, the most iconic of all Washington State attractions. The birthplace of grunge music and home of the Seattle Mariners also offers a plethora of fantastic museums and cultural experiences, such as the Seattle Art Museum, Museum of Pop Culture, and the Museum of Flight. And don't miss wandering around Pike Place Market. Considered by many to be the soul of Seattle, this market is home to over 220 independently-owned shops and restaurants.
4. Spokane
The second largest city in the state is about 300 miles east of Seattle, and it won't take you long to see why this thriving city is one of the best places to visit in Washington State. Mount Spokane is known for fantastic hiking in the summer and skiing and snowshoeing in the winter. Go climbing, horseback riding, or hiking in Riverside State Park, and take in the beautiful Eastern Washington nature of the  Finch Arboretum. Take a walk through Riverfront Park to see the Spokane Falls and ride the historic Looff Carousel. Spokane also boasts a thriving brewery and restaurant scene and unique shopping experiences.
5. Columbia River Gorge at George, WA
About halfway between Seattle and Spokane is George, WA (yes, really!), and this small-town area packs a big punch for travelers. The area boasts some of the most fun things to do in Washington State. If you are a music fan, there is no better place to see a concert than the Gorge Amphitheatre. Affectionately known as "Heaven's Amphitheatre," this beautiful venue hosts some of the biggest names in music, with a stunning backdrop of the Columbia Gorge to boot. Adjacent to the parking lot is Cave B Estate Winery which offers wine tastings and tours. You can also visit the Ginkgo Petrified Forest, hike the Cave B Waterfall trail, or find a spot along the river to swim.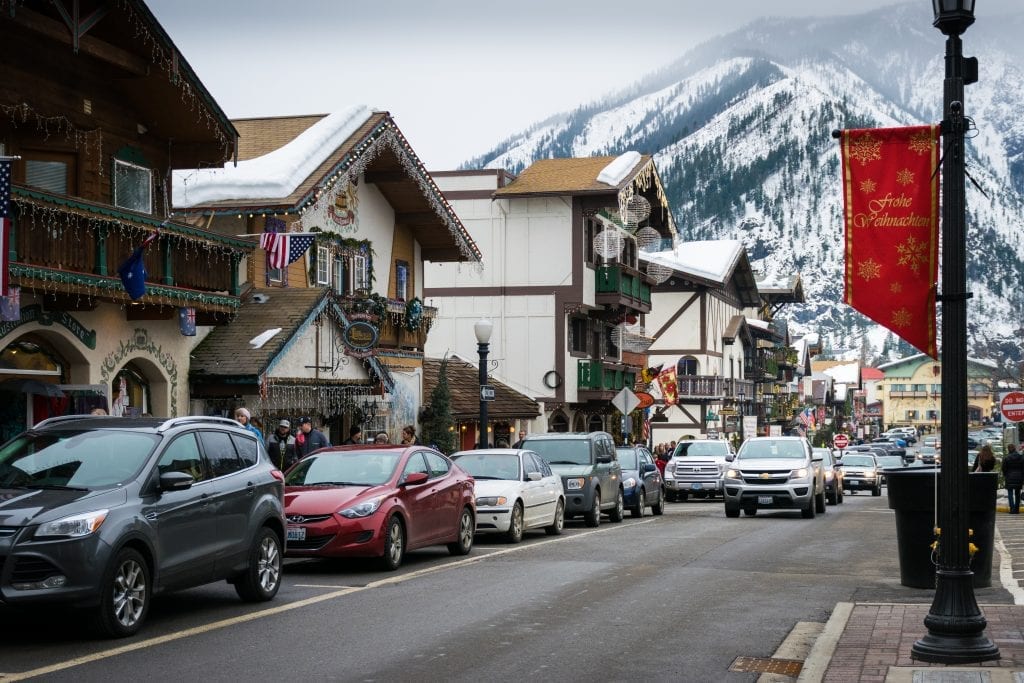 6. Leavenworth
Get your Oktoberfest on in this fantastic Bavarian-inspired town tucked into the eastern foothills of the North Cascade Mountains. The alpine-style buildings of Leavenworth may have you forgetting you're in the Pacific Northwest. While the town boasts amazing German beer and food and several unique shops, there is also plenty of hiking, camping, snowshoeing, skiing, and other outdoor recreational activities, all in one of the most beautiful places in Washington. Plan your visit around one of the many festivals the town hosts for extra fun.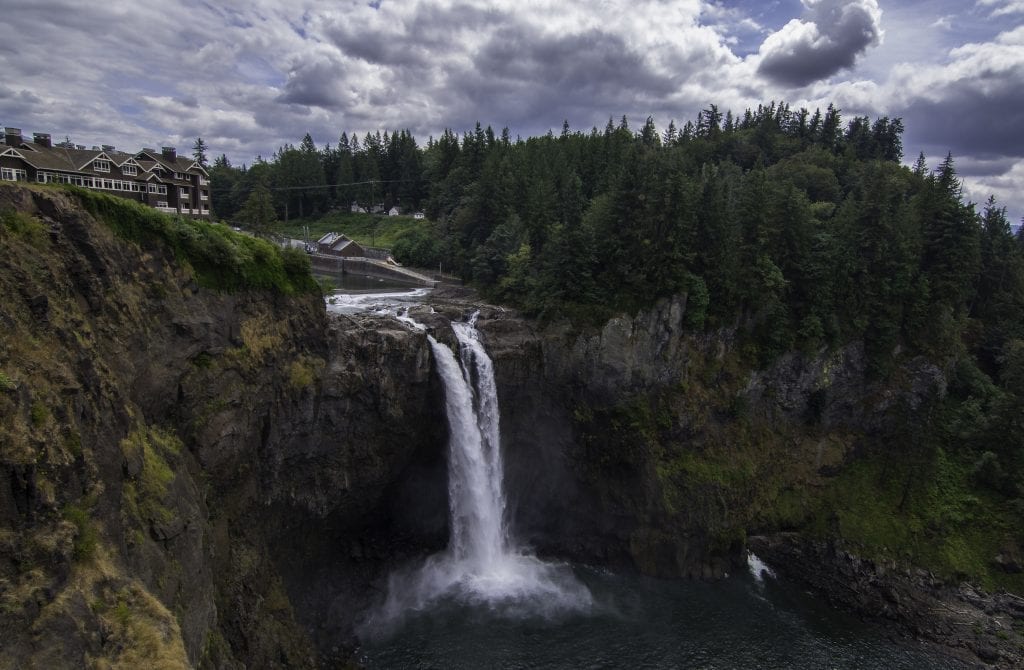 7. Snoqualmie Falls
Located under one hour from Seattle, Snoqualmie Falls is one of the most famous waterfalls in the state. You may recognize this iconic waterfall from the open credits of the hit series Twin Peaks, but fortunately, the only drama you're likely to experience is the stunning 270-foot of these falls into the Snoqualmie River. With upper and lower vantage points separated by only a .5-mile hike, you can enjoy a full view of the falls. The popular Salish Lodge is situated at the top of the falls and is a known go-to spot for upscale dining and spa experiences. Shopping, food, and dining can be found nearby in Snoqualmie and North Bend.
8. Lake Chelan
For the best activities a lake town can offer, head out to Lake Chelan, a bustling community centered around a 50.5-mile-long glacier-fed lake with crystal-clear water. Golf, swimming, hiking, boating, world-class fishing, top-rated dining, and wine and cider tastings all await you for your Lake Chelan adventure. And the fun doesn't stop after summer – there's plenty of outdoor recreation available for the winter months. The Tuscan-inspired Tsillan Cellars is a popular winery for dining and wine tastings. For a fun adventure, take a boat charter to explore Stehekin, a community you can only access on foot or by boat or air.
9. San Juan Islands
Interested in experiencing a taste of island life? Look no further than the San Juan Islands. While hundreds of islands make up the San Juans, Orcas Islands, San Juan Island, and Lopez Island are popular travel destinations for out-of-towners and locals alike. Orcas Island is well-known for outdoor adventure. Visit Moran State Park and hike up Mount Constitution, take a kayak out on the water, or book a whale-watching boat adventure. San Juan Island features the bustling community of Friday Harbor, a quaint seaside town that will capture your heart. Check out Lime Kiln Point State Park to spot Orca whales, or visit San Juan Islands' largest alpaca herd at Krystal Acres Alpaca Farm. If you are into biking, Lopez Island is the place to be. Known as the "Friendly Isle," this small island hosts a charming community of shops, restaurants, a bookstore, a museum, and more.
10. Cape Disappointment
Don't let the name fool you: you'll be anything but disappointed by your visit to Cape Disappointment. This excellent Washington destination got its namesake from Captain John Meares' first failed voyage to find the Columbia River. Located on the Long Beach Peninsula, this park is a great place for hiking or camping in old-growth forests, clam-digging, and taking in the majestic view of the Pacific Ocean. You can also fish for salmon right from the jetty. The park also features the Lewis and Clark Interpretive Center, and you can tour the North Head Lighthouse.
These are only 10 of the best places to visit in Washington State, but there are so many more beautiful places waiting for you to explore! Are you ready to take an assignment to discover more? See the jobs we have available in Washington State.