December 10, 2019
10 Free Things to do in Missouri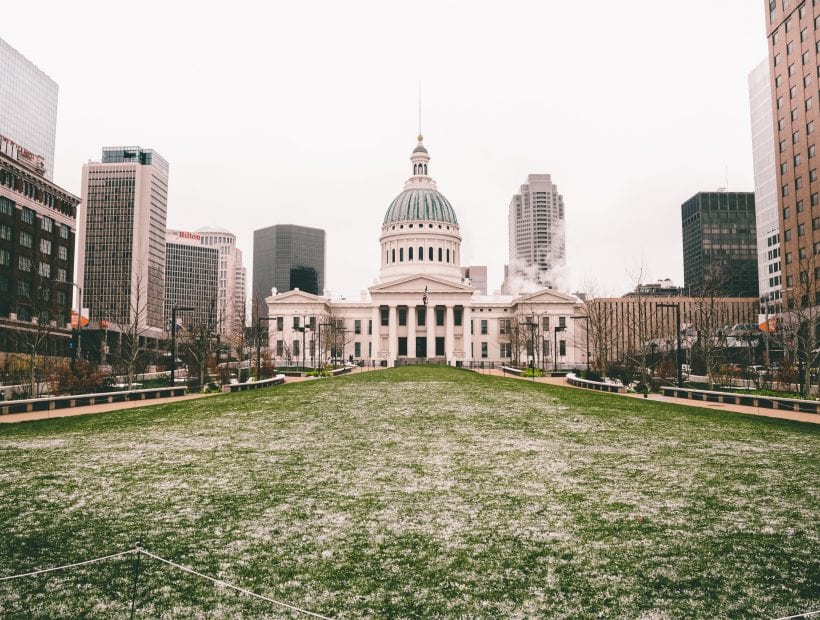 Many people start travel nursing for the financial opportunities it affords. But, any travel nurse will tell you, there's a big misconception around where the money comes from. You will need to factor cost-of-living expenses. Take an assignment where cost-of-living is low. When you're not paying high amounts for gas, groceries, and activities, it's a lot easier to save money. That's why we're loving Missouri assignments right now.
10 Free Things to do in Missouri 
We calculated. We crunched the numbers. Not really, we Googled. According to this article, the average cost to live in the state of Missouri lies between $2,202 and $6,411 per month. So if you're looking for a place to stretch your dollar, this is it. Take a look at all the FREE things you can do while on assignment. So go on: explore, experience, and save in the Show-Me State!
Free Things to do in St. Louis
1. Forest Park
A Park for Everyone: According to the Forest Park website, the park was founded in 1876 (something else major happened in US history that year, right?) and the founders of the park wanted it to be a place that "the rich and poor, the merchant and mechanic, the professional man and the day laborer, each with his family and lunch basket, can come and enjoy his own … all without stint or hindrance … and there will be no notice put up to 'Keep off the grass.'"
View this post on Instagram
Okay, we're cheating a little bit here. Forest Park is home to 5 major cultural institutions, which happen to all be — you guessed it — free.
The Saint Louis Art Museum collects, presents, interprets, and conserves works of art of the highest quality across time and cultures; educates, inspires discovery, and elevates the human spirit; and preserves a legacy of artistic achievement for the people of St. Louis and the world.
Welcome to the Saint Louis Science Center. To all the worlds inside it, big and small. To atoms and oceans, sand and stardust, dinosaurs and dark matter. The Saint Louis Science Center is yours: free to enter, to experience, to shape, to share. Visitor support through our ticketed attractions, such as OMNIMAX® Theater films, James S. McDonnell Planetarium shows, rides, simulators, and special attractions add to the experience.
The Missouri History Museum is a nationally accredited institution focusing on local and regional history. Located in Forest Park, the building is home to a variety of exhibits, programs, and events for visitors of all ages and interests.
The Saint Louis Zoo is dedicated to connecting people to animals. Annually, approximately 3 million visitors get the opportunity to experience 17,000+ animals in the Zoo's care; many of them are rare and endangered. The Zoo is renowned for its innovative approaches to animal management, wildlife conservation, research and education. And as a free zoo, visitors are encouraged to come back again…and again!
2. Anheuser-Bush Budweiser Brewery
Founded in 1852, this brewery is a must-visit. And it's not just for kids. As one of the oldest and largest breweries in the nation, you'll find 3 National Historic Landmarks. Oh, and don't forget those Clydesdales. The St. Louis Brewery offers a variety of tour options from free to the $30 Beermaster Tour which includes several historic spots and a behind-the-scenes look at the brewing of Budweiser. Plan your visit here.
Bonus: Check out Grant's Farm (open seasonally) for a family-friendly experience that includes history, farm animals, and Clydesdale horses.
3. The Gateway Arch
Towering 63 stories over the Mighty Mississippi is a landmark that cannot be missed. The Gateway Arch National Park celebrates the westward expansion of the United States, Thomas Jefferson, and Dred Scott who sued for his freedom in the Old Courthouse. The iconic monument offers both free and ticketed attractions. Learn more at the National Park website. Are you a lucky owner of an America The Beautiful Pass? If so, you get discounted pricing. Plan your visit here.
View this post on Instagram
Free Things to do in Kansas City
4. City Market
The City Market is the largest farmers' market in the region with nearly 600,000 visitors a year and over 140 farmer stalls. You'll find a wide variety of fresh produce, meats, baked goods, flowers, and other unique finds. Plus the largest collection of pre-Civil War artifacts can be found at the Arabia Steamboat Museum.Learn more about the City Market and plan your visit here.
 5. The Money Museum
The Federal Reserve Bank of Kansas City offers a free, walk-in experience. Think all things money, like interactive exhibits on banking and finance, the historic Harry S. Truman Coin Collection (hey, he was a Missourian), and how the Bank processes billions of dollars in its Cash Processing. Plan your visit here.
6. The Hallmark Visitors Center
Hallmark, a billion-dollar brand with a diverse portfolio of businesses, strives to foster a more emotionally connected world. At the Vistors Center, you can walk through the company's history and famous collaborations. Filled with interactive displays that capture the creative spirit of Hallmark, you'll find J.C. Hall Christmas Trees, the famous bow machine, and some of the most popular Keepsake Ornaments® throughout history. Oh, and Barbie® is making a splash there too. And while you're there, be sure to check out the surrounding attractions at Crown Center — like LEGOLAND®, the Kansas City Aquarium, and more. Plan your visit here.
7. Bruce Watkins Cultural Heritage Center and Museum
This living museum celebrates the legacy of Kansas City's early African-American pioneers. Experience the artistic, cultural and social history of African Americans in the Midwest. There's something for everyone, from a children's workspace to Smithsonian exhibits like "Black Wings: Tuskegee Airman". Plan your visit here.
Before we move on from Kansas City, we'd be remiss to not mention all the beautiful parks & gardens — including the dog parks. Find out more about KC city parks here. And if you're into all things free, check out the story of an old bank that became the Central Library.
Free Things to do in Springfield
8. Bass Pro Shops Outdoor World
More than a store, the flagship store for the Bass Pro chain is the "granddaddy of all outdoor stores." With more than 4 million visitors each year, there is definitely more than just shopping to do there. The 300,000-square-foot showroom includes a Tracker Boat showroom, an indoor firing range, cascading waterfalls, live ducks, giant aquariums, and a restaurant. Explore two museums dedicated to outdoor sporting and one ticketed museum. Plan your visit here.
View this post on Instagram
Must-Visit Missouri State Parks
Missouri State Parks are generally free, there may be a small cost associated with camping, lodging, or events.
9. Johnson Shut-In's State Park
* TNAA Staff Favorite Alert* The park is home to many natural landscapes like woodlands, glades, and rivers making it the perfect spot for all outdoor enthusiasts. Calling all backpackers! The park boasts two designated Missouri wild areas; meaning they have no road access, paved trails or park amenities. The signature feature of the park is the shut-ins — a playground of chutes and waterfalls within the canyonlike gorge of the East Fork and Black River. Plan your visit here.
10. Ha Ha Tonka State Park
This park has it all: intriguing history, stunning geological features, and so much to explore. The park is considered a geological wonderland filled with sinkholes, caves, a natural bridge, sheer bluffs, a large spring, and the Lake of the Ozarks. Oh, and the ruins of a turn-of-the-century stone castle. Through the park's trail system and boardwalks, visitors can experience this unique park. Plan your visit here.
Bonus: If you watched the show Ozark on Netflix, you might be familiar with the history which was featured in the show — in the 1920s the property owners fought to stop the construction of the Bagnell Dam but failed. This resulted in Lake of the Ozarks, which divided the estate.
The National World War I Museum and Memorial
While it's not free, the National WWI Museum and Memorial is a must-visit if you're in Missouri. Plan your visit here. It's the leading institution dedicated to remembering, interpreting, and understanding the Great War. And nurses played a major role at front-line units during WWI. Let's learn about a few of the impacts American nurses had during WWI:
22,000+ professionally-trained, female nurses were recruited by the American Red Cross to serve in the U.S. Army between 1917 and 1919
1,500+ nurses served in the U.S. Navy
Helen Boylston was an American nurse whose diary documented the daily tasks of nurses — the frequent dressing changes and antiseptic applications that prevented amputations during this pre-antibiotic era. She also described the social and emotional side of war and nursing, like the ever-present reminders of mortality and how that lead to intense relationships formed between nurses
Laura Huckleberry was an American nurse whose letters to her husband highlighted the lack of rank or commission for military nurses. This helped spur the fight for military nurse commissions
View this post on Instagram
Ready to Take an Assignment in the Show-Me State?