May 13, 2019
Exploring New England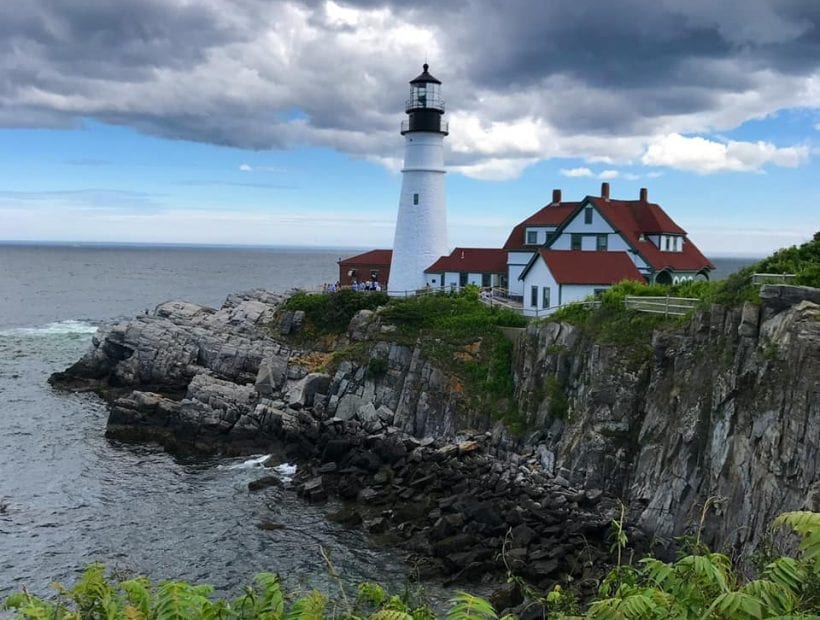 There's nothing like a summer in New England: all the fresh seafood, beaches, and wild beauty. Luckily, you're a travel nurse and don't have to dream about seeing the most breathtaking places in the country. Check out photos and recommendations from our nurses and get ready to pack your bags for your next adventure.
Travel Nursing in Maine
Southern Coast
When you think of Maine, do you think of sandy beaches? You should! Not only will you find beautiful beaches, but you'll also find America's Foodiest Small Town, Portland.
The Portland area features an easy-going, small-town feel with all the opportunities of an urban city, like the flagship L.L. Bean store! While you're there, visit the Casco Bay Islands. Explore the islands by renting a bike, golf cart, or by kayaking to explore the bay. Eating in Portland is the main sport, from food trucks to fine dining be sure to get your lobster rolls and the freshest seafood around. There's also the Maine Beer Trail, so be sure to bring your appetite and sense of adventure when you visit Portland.
Calling all beach lovers! Kennebunk and Kennebunkport are waiting! These two villages have been popular summer destinations in Maine for more than a century. You'll find several beaches picturesque B&Bs and inns, the two villages offer a quaint esthetic. With the Kennebunk River and the Atlantic Ocean available you can easily move from kayaking and standup paddleboarding to deep sea fishing. Check out this photo of Kennebunkport from our nurse, Phyllis!
Mid-Coast
This coastal region has served as inspiration for many great American painters due to its stunning views. Hike a mountain and look down at picturesque islands and sparkling sea. Not only is this area gorgeous, but it's also a go-to region for foodies. From famous lobster huts to farm-to-table upscale eateries, you'll find the coastal villages teeming with quintessential Maine cuisine.
Travel Nurse Recommendation
TNAA Traveler Angie recommends Camden, Rockport, and Lincolnville. The area has a vibrant local art scene and views of fishing boats in the harbor. In Rockport, you'll find hiking trails and the Rockport Breakwater Lighthouse. Before you head out to the lighthouse, read this tour information. Be sure to stop in Camden during Labor Day weekend for the largest windjammer gathering in the northeast. The weekend is not only packed with windjammers and schooners but also tons of activities from lobster demonstrations to build-a-boat competitions.
Acadia National Park
Located about 160 miles from Portland and 50 miles from Bangor, you'll find this stunning National Park. Home to some of the most diverse wildlife on the Eastern Seaboard, the park is open year-round for your enjoyment. Tucked onto the coast of Maine, most of the park's 47,000 acres are located on Mount Desert Island. Make Bar Harbor your base point to explore breathtaking summits, hiking trails, and exclusive-to-Maine beauty. Here are a few of the must-see destinations in Acadia National Park.
View this post on Instagram
Cadillac Mountain
This mountain is home to the first rays of morning sunlight to touch the United States each day, so plan to catch a sunrise here. As the largest mountain on the Atlantic coast, the mountain sees a lot of visitors. In fact, several of our travelers have been to Cadillac Mountain. 
Thunder Hole
This natural inlet puts on a thunderous show for visitors each day. At the bottom of the inlet is a small cave. Air released from the cave combines with waves crashing into the rock to form the landmark's distinct booms. According to visitmaine.com, the best time to go is mid-way between high and low tide, but be sure to check weather reports for real thunderstorms!
Check out visitmaine.com for more information on guided tours and must-see destinations.
The Maine Highlands
Home to mountains, lakes, and woods, this region offers more than 200 waterfalls, countless miles of hiking trails, and snowmobile trails. The famed Appalachian Trail either begins or ends in the Highlands, you decide! From urban Bangor to the unparalleled beauty of Baxter State Park, there's so much to explore in this region.
Travel Nurse Recommendation
Bangor, Maine is home to the famed Stephen King house. Many of our travelers have visited the spooky, photo-worthy residence and suggest it to other travel nurses. Bangor sits on the Penobscot River and is home to several waterfront festivals. But, if you're looking for unspoiled natural beauty, Moosehead Lake is your spot. The lake has everything you'd want: year-round fishing, boating, hiking, golf, whitewater rafting, and even scenic flights. For a guided tour of the lake and its history, take the Steamship Katahdin. Speaking of flights, check out our traveler Ben's plane in Bethel, Maine. You can read more about his flights here!
New Hampshire
This small, New England state packs big fun for travelers with plenty to see and do. In fact, many of our travelers have taken assignments in the Granite State. Check out our New Hampshire travel nurse jobs here.
Notable Beaches
With 18 miles of shoreline, New Hampshire makes the most of its beaches. From a boardwalk atmosphere to serene beaches, the state proves it can do both. Head to Wallis Sands for a family-friendly adventure filled with picnics, swimming, and views of the Isle of Shoals. For that boardwalk feel, head to Hampton Beach as it's open all year. It's also the home to the annual Hampton Beach Catamaran Regatta.
The Lakes Region
With more than 944 lakes, you can plan on spending your off days lakeside. The Lake Region of New Hampshire is a must-visit and where many people choose to play. Lake Winnipesaukee, the largest in the state, offers wooded shoreline and stunning mountains. You can stay in cabins overlooking the lake, or take a canoe to one of the lake's many islands. Stop by the State Parks website for more information on camping, biking, hiking, boating, and so much more.
Let's Talk Food
New England is known for its seafood, but New Hampshire has some interesting food trails just begging to be experienced, like the New Hampshire Ice Cream Trail. We're talking 44 dairy and ice cream parlors throughout the state. Another way to experience the Live Free state? The wine and cheese tour, you can find that map here. And there's still more! A chocolate and martini trail and of course a brewery trail. We can't think of a better way to crisscross New Hampshire than to try out any of these trails.
All photos submitted by TNAA travel nurses. If you travel with us and want your photos featured, email them to us here.