July 19, 2018
Guest Post: What Traveling Means to My Family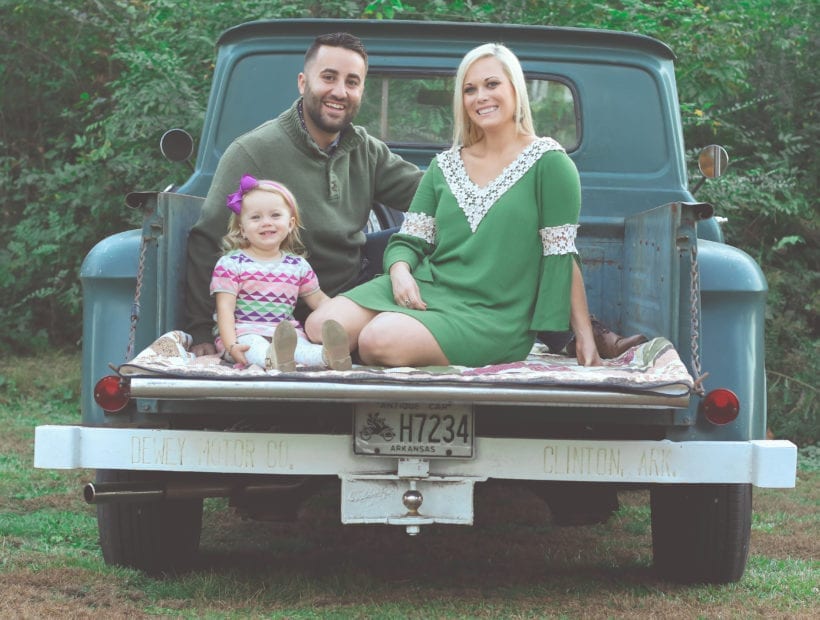 This month, we are honored to have Brittany as our featured traveler. She has been traveling with her family for over two years and we are thrilled she chooses to travel with TNAA! We had the pleasure of having Brittany and her husband in our Little Rock office earlier this month to participate in our Traveler Advantage Program.
We hope you enjoy her story as much as we do!
Written By: Brittany N. Garcia, BSN, RN, CPN, CCRN
What is it like traveling with my family? This is, by far, the most common question I get as a travel nurse. My response to this question is always about the same… it's phenomenal! Webster's dictionary defines phenomenal as: "very good or great: unusual in a way that is very impressive". 
Nothing rings truer than the second part of that definition, "unusual in a way that is very impressive." It is unusual in the sense that most of our friends are raising their families in a more traditional fashion; they have homes, yards, a dog or two, and the typical 9-to-5 job. Growing up in the South, we were raised with very traditional values like beginning a career, buying a home, and starting a family. In fact, that was the life we were living until we decided to pursue travel nursing full-time. It was when we went against all of those beliefs, stepped out of our comfort zone, and hit the road that we began living our lives to the fullest.
Since then, we have shared so many life-changing experiences that will be cherished for the rest of our lives.
Having our daughter by my side while traveling the country has been absolutely extraordinary. Izzy is the only grandchild, so we definitely catch some flack for taking her away from our parents. However, they have been very supportive of our travel lifestyle. Over the past two years, I have met a few travelers who bring their families along for the adventure. I have found that we all seem to share the same sentiment regarding traveling with a family; we wouldn't have it any other way.
On the other hand, I have met some travelers with families that take on assignments solo and leave their families at home, whether it is by choice or by necessity. I can honestly say there is no way I'm strong enough to do that. I respect their strength and commitment to providing for their family in such a difficult way, but I know I couldn't travel without them. Being able to kiss Izzy goodbye before every shift, and again when I return home is something that I could never trade-in.
The luxury of travel nursing allows me the flexibility to work three days a week while leaving the other four days for fun and adventure with my family. Whether we are visiting the Disney princesses for the 15th time at Disneyland or hiking up steep switchbacks in one of our nation's wonderful national parks, she is always happily by my side. My husband, Nick, and I laugh at the fact that our daughter has yet to spend her actual birthday in our home state of Texas, with this trend likely to continue for another year or two.
Izzy has gained so many different life lessons that I believe will help mold her into an amazing, well-rounded adult. Traveling the country with my career has allowed us to expose her to so many different cultures, people, and places, which has definitely been beneficial to her development. Some of the most meaningful and memorable experiences come from our time spent in Southern California. We were able to live with Nick's grandmother while I was on assignment in Orange County and Riverside. Being able to watch Izzy interact with her great-grandparents and learn about her Cuban heritage is something we have treasured. She also has a mild obsession with flowers which she surely adopted from her great-grandmother's love for gardening. We have learned to appreciate the little things in life as mentioned above. Izzy may be too young to remember some of our time as a traveling family, but these are experiences that Nick and I will never forget.
If I couldn't travel without my daughter by my side, I most certainly couldn't do this without my husband. He is literally my ROCK! Without him, this dream life we are living wouldn't have even been a thought, let alone a viable option. There aren't many men that would put their career on hold to become a stay-at-home dad while their wife drags them across the country.
Not only did he do this with a smile on his face, but he has quickly become my biggest advocate and support system. He has transitioned very well into his new role as a stay-at-home dad, house manager, personal trainer, therapist, and occasional punching bag (not literally, of course)! I know it's not easy being married to a nurse, let alone a PICU nurse. He has taken on all of these roles so that my primary focus can be on my work, which I truly appreciate.
Even with all of the amazing places we have visited and things we have seen, I know the most rewarding part of this experience for Nick is sharing this special time with Izzy. During the days that I am sleeping before a night shift, they go out and explore the city or find local parks to play around in and have lots of daddy-daughter dates. I'm definitely a little jealous when I wake up and hear about all the little adventures they had throughout the day. He often jokes and says that we could continue to travel forever if it weren't for homeschooling because he isn't sure that he could get past second-grade math.
Family has always been my primary focus and I feel lucky to have found travel nursing because it has allowed me to put more emphasis on my family. Life is so fast-paced, and I'm grateful traveling has allowed us to disconnect more and focus on one another. Furthermore, I have a travel agency that has continued to make this experience a positive one for us.
They are so prompt, have great customer service, and I feel like they truly care about me and my family. I have been with TNAA now for over two years and have no plans of switching. In fact, I was recently invited to attend their Traveler Advantage Program to learn more about what they have to offer. I honestly had no idea what to expect but can say that I love them even more and was able to see the personal touches and care that they put into their nurses and staff.  I know that my time as a travel nurse will be coming to an end at some point, which I'm not looking forward to but who knows — maybe one day I will have the opportunity to work on the other side and help other travelers and families like us.