July 30, 2019
Meet DAISY Award Honoree: OR Travel Nurse Joni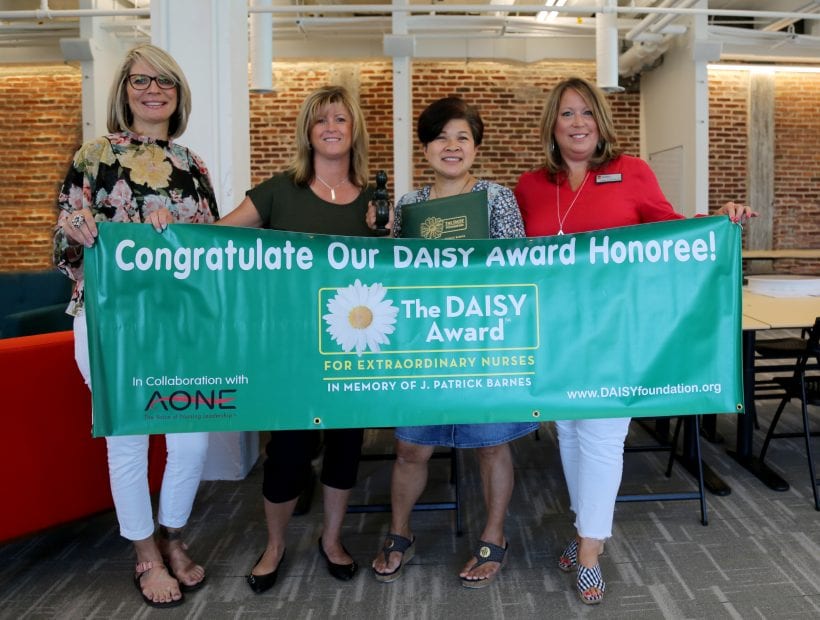 The DAISY Award
TNAA partnered with the DAISY Foundation in 2018. Our clinical team sought out this program because, as a company, we wanted to do more to recognize our nurses and the meaningful work they do. They travel across the country, providing top-notch care to patients and family members. We're so proud to have had the opportunity to award our nurses for their unparalleled care. At TNAA, we are proud to have the best nurses in the industry. We began to look for ways to honor our own for the sacrifices they make to provide their patients with extraordinary care. If you travel with us, you're among the highest quality in the industry, and we hope to honor you someday soon! 
Meet TNAA OR Nurse, Joni
Joni has been traveling with TNAA since 2016, but her storied nursing career began long before that. Joni grew up in the Philippines and knew at an early age that she wanted to be a nurse. After earning her BSN from Far Eastern University in Manilla, Joni came to the United States in 1999. During her nursing career, Joni spent 12 years at CHOP, Children's Hospital of Philidelphia. At the Level I trauma center and well-renowned teaching hospital, Joni's career flourished (read about her accomplishments at CHOP here). In 2015, Joni was part of the groundbreaking, first double hand transplant, you can read about that here! Or watch below.
OR Travel Nursing
As an OR travel nurse, Joni was in Houston, after Hurricane Harvey. In her travel role, Joni offers expertise and knowledge that comes from her years of experience at CHOP. She's also invaluable due to her incredible positivity. Joni looks at her role as a way to be as helpful as possible, whether it's filling in as a "breaker" or just going where she was needed. It's clear when meeting Joni, she is filled with joy and is here to spread that positivity!
In Joni's Words
"Nursing has always been my 1st choice. It's probably the only time that I didn't have a plan B.  I had aunts and cousins who were nurses, and I've always looked up to them.  What attracted me most is the culture of caring that nursing embodies. The mere fact that one's actions based on years of study affects a person' well-being and puts them on the road to wellness and recovery has always fascinated me. To be able to know what to do in certain situations is quite gratifying. The OR nurse life started for me in Junior year of my BSN in the Philippines. I was allowed by the OR Charge Nurse to scrub a thyroidectomy after observing me scrub with her and knowing I was fully capable. That was a eureka moment for me! I dabbled in Med-Surg floor nursing, Trach, and Vent patients but got bored pretty quickly.  I joined a Periop Class, and the rest is history as they say."
Why Travel With TNAA?
"Choosing to be a travel RN with TNAA has been one of my best decisions. Some companies may offer more sometimes, but it's the depth of company involvement in my success when I was starting that was crucial. My recruiter Olivia was always a phone call away. Working in the OR, I would play phone tag with her, but she always persisted until she got in touch with me.  What I love about TNAA is that let me choose where and when I want to go, that's what motivates me most to keep working with them, that I am not just a number or a nurse in a multitude of many." 
Support While Travel Nursing
"I consistently got the emails and check-ins from Clinical Support and QA. Oh, and Payroll (I'm their frequent flyer, ha). With my schedules and other busy stuff, they give me a good nudge in the right direction. Throughout the whole process, there is the underlying culture of "I want you to succeed" that has always been pervasive with my relationship with TNAA, and I am thankful for that."