November 4, 2019
Meet Travel Nursing Couple: AJ & John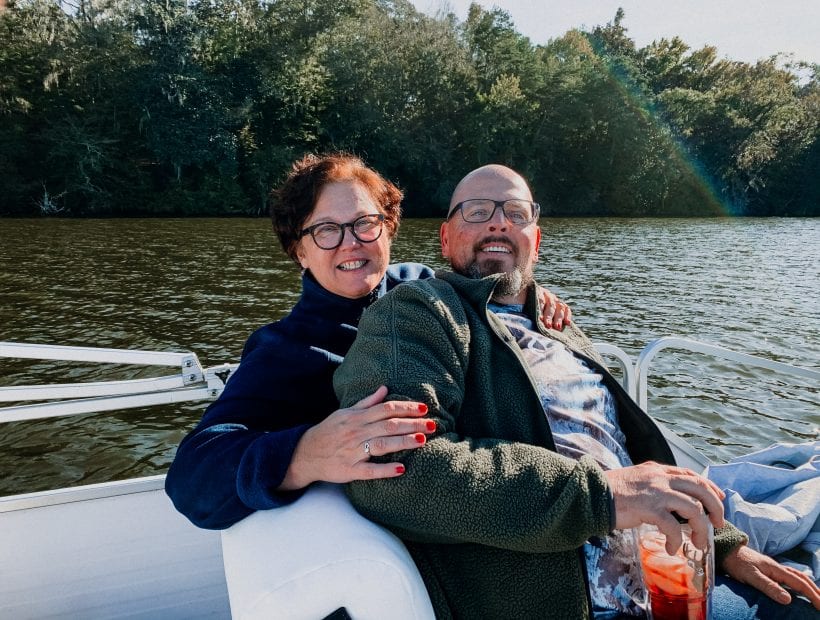 Spotlight on Travel Nursing as a Couple 
Meet the travel nurse couple who spread positivity like it's their job. In September 2019, we invited AJ and John to come to our headquarters in Little Rock. While they were here, they met with executives and department specialists offering feedback so TNAA can continue growing what we do to better fit nurse needs. AJ and John blew through the offices injecting everyone they met with inspiration to live life to the fullest. Their motto? We get paid to do this.
Becoming Nurses
"I decided to become a nurse many years ago after being laid off from jobs because the businesses were closing or my department was transferred. I wanted to find a job where this would not continue to happen to give me and my children stability. I knew nursing could offer that. I have never regretted that decision and have not grown tired of my 18 years of nursing. When John and I met, he was a truck driver and had been for about 15 years. He had enjoyed it but was growing tired of the hard work and grueling hours. He often worked 14 hours a day/ 6-7 days a week. I continually told him he was too smart to work that hard. Not to discredit truck drivers at all, but I recognized that my husband was burned out and had a lot to offer in a new career."
"John says the day he realized he had to make a change was when he came home from work and was too tired to take off his work boots. Finally, one day, he said, "what can I go to school for"?  John loves sports, so I recommended physical therapy assistant, so that was what he initially pursued. One day he came home and said: "I talked to my advisor today, and I'm changing my degree to nursing"! #proudmoment So John quit his job and started nursing school fulltime. At one point, he took the Patient Care Assistant course and worked as a PCA in the float pool on Friday nights while in nursing school; this confirmed for him that he was on the correct career path. His patients and co-workers loved him. As he neared his graduation, we talked about becoming travel nurses once he gained experience. The decision to become a travel nurse almost a year ago has just ignited the energy and love I already had for nursing."
Don't have your BSN? Grow Your Career With our Industry-Leading  RN to BSN Tuition Reimbursement Program.
Why Did You Start Travel Nursing?
I had wanted to be a travel nurse since before I became a nurse. I worked as a tech in the emergency department and would hear travel nurses talking about where they had been and where they were going next. I've always loved traveling, and this just sounded so intriguing.   At this point, all of our girls were out of the house except one that was still in high school, so we had a new goal to start traveling in 2 years after she graduated, and John would have his experience then. It was so exciting at our age to have such a new exciting goal. We would recommend to anyone interested in travel to pursue it!! Young, middle-aged, single, married — we have met families that travel with children. If that is a desire you have, you can find a way to make it a reality; this is true with anything you want in life. Life is too short to sit back and wonder, what if? 
We Get Paid to do This
"The most rewarding part of travel nursing to me is now I get to do it with my husband and best friend.  We work our 3, sometimes 4, days a week, and on our days off, we are Living Life to its Fullest. We go to the beach and relax; we go fishing, we explore new areas, we've made new friends we'll have forever.  We enjoy trying local restaurants that we may not experience in other areas." 
Finding the Best Recruiter for Travel Nurse Couples
"Jordan is the greatest recruiter.  Before applying, I did my research and found that TNAA ranked as one of the top agencies.  I decided to contact them and one other agency. Jordan called me and from that moment, stayed in contact with me frequently about jobs and areas I might be interested in.  He sent my profile to many listings, and I soon had an offer. The other recruiter I was talking to seldom called me and was not as positive as Jordan was when we would talk.  I felt like I was so important to him, and he had the same goals I did in finding the correct assignment for me. When John was ready to start traveling, he understood the importance of us being together and going to places we wanted to experience. Jordan continues to make myself and my husband feel important.  He contacts us weekly through texts and phone calls. I truly feel like I can approach him with any concerns or needs we have. We haven't met in person, but I feel like we are friends none the less."
The TNAA Difference
"When we were contacted regarding TAP, we were so excited and felt very honored to participate. We were honored that Jordan thought enough of us to refer us for the program and proud to represent travel nurses and to be a voice for us all. When we arrived at Little Rock, we were so impressed with the administrators that we met, including the CEO of TNAA. We both feel we have never worked for a company that the administrators were so down to earth and open to us. This feeling continued to grow as we participated in the sessions and learned more about this company that we work for and all that they have to offer us. Moving forward, we feel that we can represent TNAA even better by educating interested nurses in what this company is about and what they offer. When we left, we felt so motivated to share what we had learned and how others can also live life to the fullest!!"