July 13, 2021
Most Instagrammable Foods in Chicago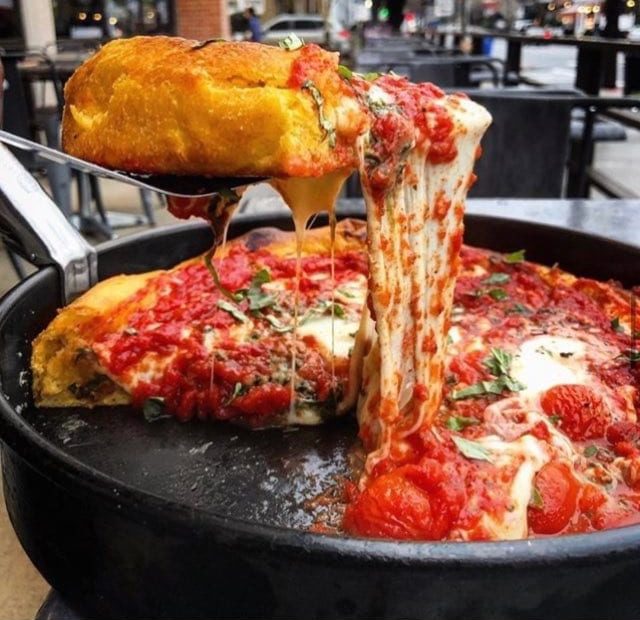 There's a lot to love about the Windy City. Chicago is home to some of the world's best museums and art, hundreds of parks, iconic sports teams and lip-smacking food. 
With more than 7,000 restaurants, Chicago's food scene is a melting pot of culture, and it's sure to keep your tastebuds busy. TNAA compiled this list of the most instagrammable foods you can eat in Chicago because we know you want to experience as much as possible when taking a new assignment. And sometimes, the best way to experience a new place is through your stomach.
View this post on Instagram
The cuisine at Beatnik will take you on a globetrotting adventure. Beatnik's food blends bold ingredients and flavors from around the world in a unique, Insta-worthy presentation. Lose yourself in the ambiance whether you're dining at the West Town location, complete with a lush courtyard and a Mediterranean vibe, or checking out the riverfront patio filled with Indonesian daybeds and Moroccan lanterns.
View this post on Instagram
At Parlor Pizza, you can grab a Neapolitan-inspired pie that's made in a wood-burning oven and adorned with local ingredients. While you're looking over the punny pizza menu, grab a cocktail or craft beer, and be sure to end the meal with a delectable dessert taco. Be sure to snap a picture with one of the many eye-catching photo ops, like Parlor's pizza wings.
View this post on Instagram
This restaurant's claim to fame is all in its name. If you get the Honey Butter Fried Chicken Sandwich, $1 of your purchase will go to organizations that support BIPOC communities. You can also fill your stomach with the honey buffalo chicken sandwich, pimento mac and cheese, fried chicken with french toast, and so much more.
View this post on Instagram
There's something for everyone on Antique Taco's menu, which pairs fresh-pressed corn tortillas with local ingredients. Grab a sweet and spicy chicken taco, potato and poblano taco or grilled steak taco and wash it down with a rosemary or strawberry basil margarita.
View this post on Instagram
Get carried away with a "Song & Dance" or sip a "Stolen Memory" at Scofflaw, a gin-focused cocktail bar. You can enjoy Sunday brunch on Scofflaw's patio, or stop by for cocktails after dinner (and if you're still there at midnight, Scofflaw will treat you to fresh-baked cookies).
View this post on Instagram
If you are looking for a night of luxury, enjoy a wood-fired steakhouse dinner at Maple & Ash. You'll want to take your time when pouring over the restaurant's wine list, named 'one of the most outstanding in the world' by Wine Spectator.
View this post on Instagram
Monteverde puts a new twist on the Italian food experience. The chef mixes traditional Italian dishes with unique flavors and crafts each meal into a work of art. Grab a bite at Monteverde and take a photo of the handcrafted pasta that hangs on display near the restaurant's bar.
View this post on Instagram
Expect an epic cheese pull when grabbing a slice of this Chicago-style deep dish pizza. Gino's East is slinging dough at two Chicago locations – one in South Loop and Magnificent Mile. The restaurant serves up pizza classics and pies with more adventurous ingredients.
View this post on Instagram
Park & Field is redefining the modern sports bar. You'll have access to a fantastic sound system and several flatscreens to view a game at Park & Field, but that's not all. Have your meal on the beer garden patio with access to bocce ball courts and firepits, or check out Park & Field's award-winning interior to watch the game in style.
View this post on Instagram
Biscuits filled with fresh ingredients and spilling over with gravies or jams. Slices of raspberry buttermilk pie, S'mores pie, and other seasonal favorites. Savory bites of Southern tomato pot pie or chicken pot pie. If you aren't already drooling, you definitely will be when scrolling down Bang Bang Pie & Biscuits' Instagram feed.
View this post on Instagram
Breakfast doesn't get much better than a trip to Do-Rite Donuts. With donut flavors like Buttermilk Old Fashioned, Valrhona Chocolate Cake, Pistachio-Meyer Lemon, and Blueberry Crumb, you are sure to satisfy your sweet tooth. The restaurant also boasts fantastic coffee and delicious chicken sandwiches at specific locations.
View this post on Instagram
The first Latin American chef to earn a Michelin Star created Tzuco, a restaurant that features Mexican meals infused with French cooking techniques. You'll definitely want to snap a photo of Tzuco's unique space or one of the beautifully plated dishes before going in for your first bite.
View this post on Instagram
Taste a Chicago classic when visiting Superdawg, which has been around since the 1940s. You can drive in and have a carhop bring out your order or take a seat in Superdawg's indoor dining room. Whatever you decide, you'll want to snap a photo of your meal with the iconic Superdawg figures in the background.
If you've enjoyed this culinary adventure through Chicago, it's time to check out what assignments are open near the Windy City. View our job openings in Illinois here!