March 4, 2019
3 Easy Lunches for Busy Travelers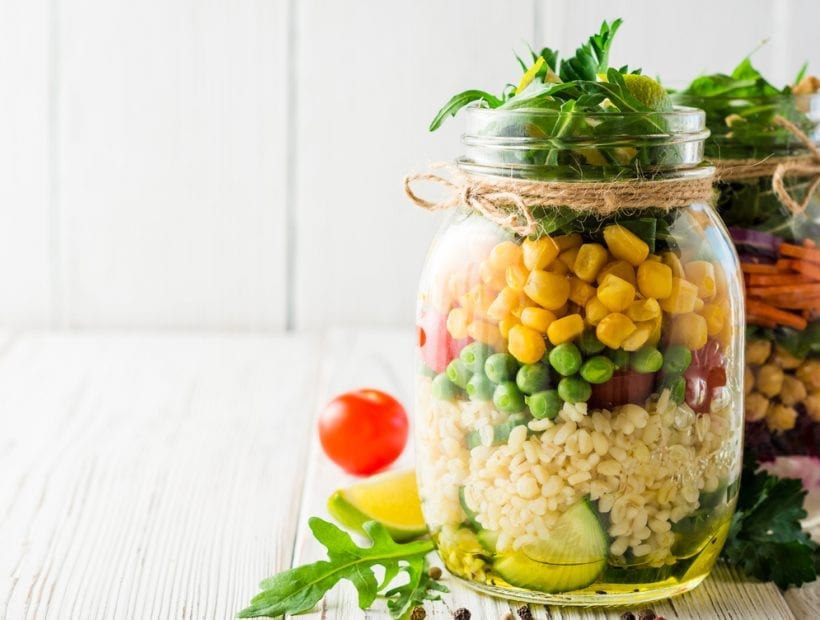 Meals for Busy Travelers
Whether you're an allied traveler or a travel nurse, your job requires a lot of energy. The best way to stay focused and energized? Hint, it's not endless caffeine, it's your food! Hospital cafeterias don't always offer the healthiest of choices and buying food every day can get expensive. Save money by prepping ahead of time — plus, this will also help you from buying overly processed food out of desperation. Here are 3 lunches that are both easy to make and easy on the budget!
Mason Jar Salads
This is one Pinterest trend we're totally behind. These photo-worthy salads are totally customizable, don't take up a lot of coveted refrigerator space, and are made to stay fresh by being as pretty as they are practical. Start with wet ingredients, like salad dressing, at the bottom to keep your leafy greens from getting soggy. Then add crispy veggies, beans, grains of your choice, protein, and leafy greens at the top. When you're ready to eat, shake and enjoy!
Pinwheels
Shift work often means eating quickly. Luckily pinwheels are an easy option when you're short on time. You'll need a tortilla or low-calorie wrap, plain Greek yogurt, deli turkey, and any veggies you'd like to throw in. Roll them up as tightly as possible without tearing the tortilla and let them sit in the refrigerator for an hour before slicing so they'll hold together. Like the mason jar salads, pinwheels are easy to customize and don't require reheating. Win-win.
Stuffed Pita Pockets
Another on-the-go meal we love? Stuffed pita pockets. Greek flavors work really well with these, but feel free to get creative. Drizzle a vinaigrette or your favorite light dressing over veggies of your choice, add protein, and fill your pita pockets. You can also keep your protein separate, warm it and add on the spot or enjoy cold. It's the perfect grab-and-go option for busy nurses.
Traveling can bring a whole new set of challenges to cooking: working with unfamiliar equipment, lack of kitchen tools, or not being familiar with grocery stores in the area. At TNAA, we want to make sure our travelers are set up from the start. Dedicated housing specialists and even a digital concierge service are available to help you find the perfect housing solution for your lifestyle, locate grocery and other stores in your area, and even arrange pet services.