January 9, 2020
Traveler Book Club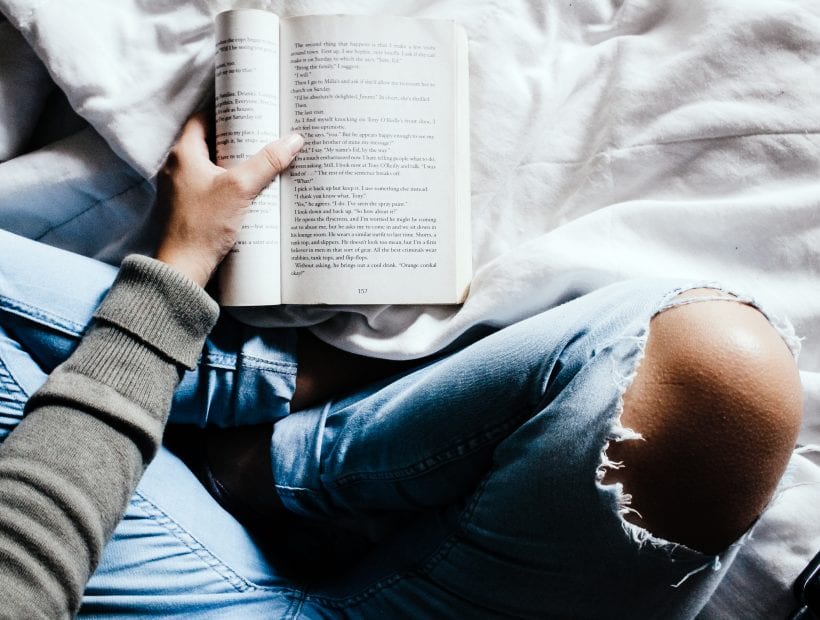 To live life on the open road exploring the country, you'll need a can-do attitude, an open mind, and a willingness to be vulnerable to new experiences. So grab your adventurous spirit and head to your nearest book store or activate your Libby account, it's time to read!
5 Books to Read in 2020
As we asked our travelers to recommend books, we found the same qualities spill into their approach to reading. Because, in a good book, authors transport readers on fantastic journeys, share a glimpse of the most vulnerable parts of themselves, and challenge world views. After a long shift, a tough assignment, or that patient who just won't leave your mind, we hope the books on this list bring you companionship, adventure, and escape.
1. Being Mortal by Atul Gawande
Bestselling author Atul Gawande approaches the toughest parts of working in healthcare by exploring the nature of medicine. Specifically, the book tackles how medicine makes miracles happen — it improves lives, battles infectious diseases, and has transformed birth. But at what cost? Aging and dying are inevitable. As a practicing surgeon, the author explores the quality of life and its juxtaposition with patients' (and their family member's) desires. Where is the line between extending life and extending suffering? — This was recommended by two of our nurses: Tiffany, RN CCRN & Emily, RN MSN
2. This Is How It Always Is by Laurie Frankel
First of all, this novel is a featured pick from Reese's Book Club x Hello Sunshine. Laurie Frankel's book is about family, revelations, and transformations. Through Claude's secret, Frankel tackles change in its beautiful and messy nature. When a child's future doesn't go according to plan, love, support, and secrets bring consequences. Expect to laugh, cry, and challenge your thinking. — Recommendation from Tiffany, RN CCRN
3. Becoming by Michelle Obama
She's a powerful advocate for women and girls, a First Lady of firsts, and a mom in the public eye. In her memoir, Michelle Obama shares the experiences that have shaped her life with unabashed honesty. We've seen her strength in history-making moments, but now readers can explore the triumphs and disappoints of her life. — Recommendation from Tiffany, RN CCRN
For more of Tiff's recommendations, be sure to follow her bookstagram account.
View this post on Instagram
4. Eleanor Oliphant Is Completely Fine by Gail Honeyman
Alert — this one is soon to be a motion picture, so we recommend reading it asap. Eleanor Oliphant, known for inappropriate social skills and limited social interactions, meets an IT guy from her office. Together the pair save an elderly gentleman, and in the process, the 3 begin a poignant friendship that impacts all of them in different ways. — Recommended by Emily, RN MSN
5. The Sun Does Shine by Anthony Hinton
This award-winning memoir is a story of hope, love, and justice. In 1985, Hinton was arrested and charged with murder in Alabama. Throughout his time on Death Row, Hinton's despair and anger transformed into a resolve to survive. And that spirit impacted his fellow inmates profoundly. During his incarceration, the state executed 54 of his fellow Death Row inmates. Yet, Hinton persevered. In 2015, Hinton won his release. If you're looking for a heartwarming story that shines a light on the very best of humanity, this is it. — Recommended by Emily, RN MSN
In 2019, Emily achieved every book-lover's fantasy. She read 52 books in 52 weeks. See her recap on her Instagram.
Whether you're a Kindle reader or you love the feel of a physical book in your hands, we love all readers! If you have a book you love, email us your picks.
Meet Libby
What if you don't want to spend money on purchasing new books and aren't close to your local library? For Kindle readers, Libby brings the ebooks and audiobooks from your local library to your device. Instantly. Oh, and it's free. Start here!