July 24, 2023
Unique Places to Visit in North Carolina
If you're considering a travel assignment on the East Coast, you will not be disappointed by the many unique places to visit in North Carolina! From sandy beaches to scenic mountain highways, your only problem will be fitting everything in before your contract ends! These are just some of the many things waiting for you on an allied health or travel nurse assignment in North Carolina.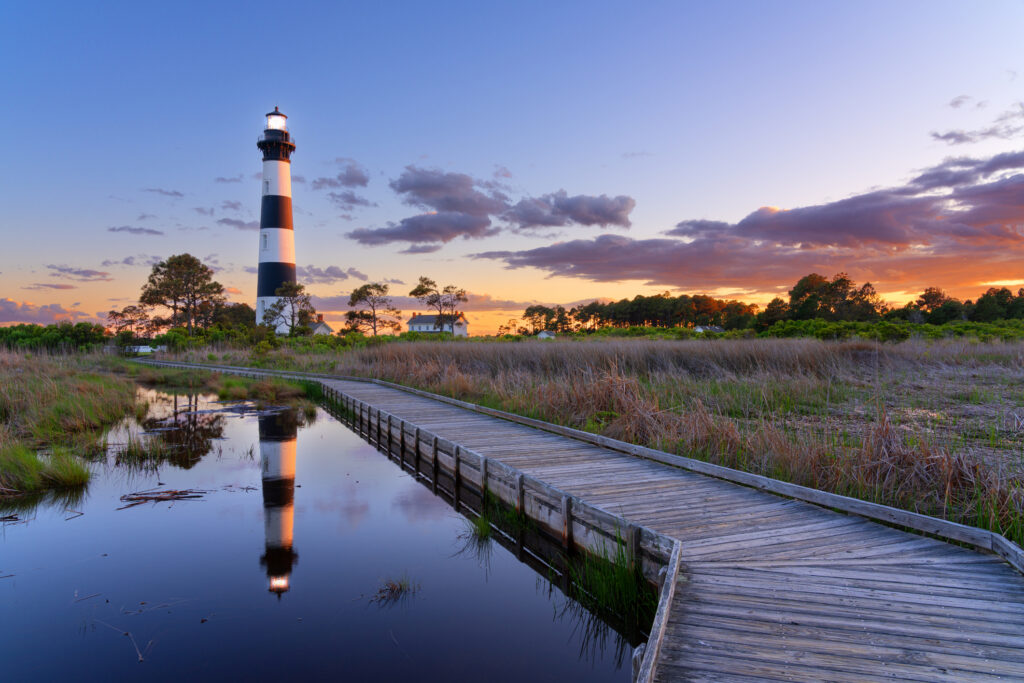 If you're looking for the best beaches to visit in North Carolina, look no further than the Outer Banks. The Outer Banks comprises a collection of barrier islands offering over 100 miles of open beachfront and coastline views. 
While visiting the Outer Banks, you'll get to relax on pristine beaches, enjoy various water sports activities, watch herds of wild horses, take walks down sandy beaches, birdwatch in the wetlands, visit lighthouses, modern shops, and boutiques, eat at restaurants, and so much more. 
The options for adventure are endless in the Outer Banks. You will likely want to extend your contract to spend more time exploring and making incredible memories. 
Located in Asheville, North Carolina, the Biltmore Estate is the largest home in America. George Washington Vanderbilt II had this massive, historic estate of 175,000 square feet built as a summer home for his family and friends. You can take a self-guided audio tour of the enormous estate that covers more than 40 historic rooms. 
Guests of Biltmore Estate can also enjoy wine tasting at Biltmore Winery, take a chocolate tour, enjoy a carriage ride, hike, or horseback ride, or shop at dozens of different stores in Biltmore Village. So whether you're staying for the weekend or just for the day, Biltmore has something to offer everyone. 
The North Carolina Zoo is one of the most unique places to visit in North Carolina. Located in Downtown Asheboro, you can experience more than 1,700 animals on 500 acres of natural habitat.  Other zoo amenities include hiking trails, a butterfly garden, a giraffe deck to feed the giraffes, and carousel rides. 
Are you looking for an event to visit in North Carolina? Look no further than the North Carolina State Fair. Held every October, the fair is an 11-day event showcasing the agricultural community of North Carolina. Vendors from around the state come to showcase livestock, crops, technology, and more. The fair also hosts various musical acts, food vendors, game booths, carnival rides, and exhibitions. With more than 800,00 attendees per year, the North Carolina state fair has something to offer everyone. 
You've come to the right place if you're a sports fan! Raleigh, North Carolina, is home to the NHL's Carolina Hurricanes, who play home games from September to April for the ultimate hockey fan experience. 
Raleigh is also home to six colleges and universities where you can enjoy men's and women's college basketball or football games. Also, take advantage of the United Soccer Leagues North Carolina Football Club to watch professional men's soccer. 
Prefer baseball? No problem! The Carolina Mudcats games even showcase post-game fireworks at Friday night home games! 
And if you have a need for speed, the Wake County Speedway is a NASCAR-sanctioned short track where spectators can see events like bicycle motocross and stock car races! 
Tour Downtown Raleigh
If you're looking for the best cities to visit in North Carolina, put Raleigh at the top of your list. The capital city offers visitors a big city feel infused with Southern charm and historical details. Visitors will want to explore the North Carolina Museum of Natural Sciences or the Library of the Future. To finish the day, spend the afternoon shopping and experiencing a variety of dining experiences in downtown Raleigh. 
If visiting on the weekend, pop by the Raleigh Flea Market, where you can shop for antiques and collectibles, handcrafts, furniture, homemade goods, clothing, jewelry, and so much more! 
North Carolina is one of the most scenic regions in the country. Home to the Great Smoky Mountains, the Blue Ridge Mountains, and the Appalachian mountain range, visitors can enjoy breathtaking views along scenic drives or hikes, rock climbing, camping, and more. While visiting North Carolina, these spectacular sites and activities are a can't-miss opportunity everyone should put at the top of their list! 
Duplin Winery is a hidden gem filled with rustic charm and Southern hospitality in Rose Hill, North Carolina. No reservation is needed to enjoy a wine tasting at the East Coast's largest wine-making facility. Enjoy a guided tour of the facility, and afterward, wine lovers can experience an exclusive wine tasting with ten samples plus Duplin's famous cheese, dip, and homemade crackers. 
Known as the furniture capital of the world, High Point, North Carolina, is home to a gigantic 40-foot dresser placed right in the center of town. First built in 1926, the chest of drawers has a pair of six-foot-long mismatched socks hanging from the center drawer. This unique place to visit in North Carolina is worth the drive for an Instagram selfie! 
Henry River Mill Village was once a thriving mill town that opened in 1905. However, it eventually became a ghost town when the village began losing its charm to modern technology and was abandoned. 
Most recently, the village has been featured as District 12 in the filming of "The Hunger Games." In addition, the abandoned village has been rumored to house paranormal activity. Some visitors have claimed they have seen rocks and sticks thrown at them while passing the largest building in the village, while others have heard the voices of several men talking. 
Whether you're a fan of the Hunger Games movies or looking for a spooky adventure, the Henry River Mill Village is one of the most unique places to visit in North Carolina. 
Ready to Explore North Carolina?
With beaches and mountains to explore and unique places to visit, you're likely ready for a trip to North Carolina. Check out TNAA's job openings in North Carolina and embark on your next adventure!