August 19, 2021
Post-Shift Wind Down: Five Meals to Keep You Performing at Your Best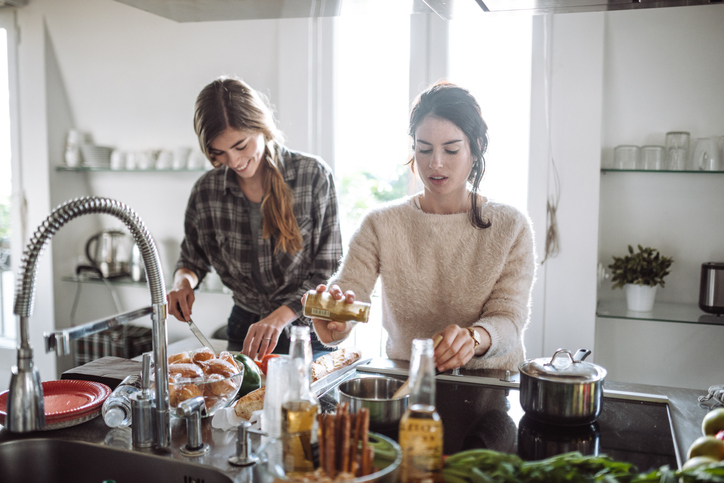 Food is the fuel that gives us the energy to get through the day. When you get home from a long shift, one of the best things you can do for your health is eat a balanced meal. If you nourish yourself with whole, healthy meals, you will be alert, focused, and mentally clear. There are many recipes that make meal prep easy and fast. Here are five meals that are not only easy to prepare but will give you a boost in energy.
If you don't have one already, you may want to invest in a slow cooker or Crock-Pot. If you have a personal-sized slow cooker, be sure you adjust the recipes accordingly.
This recipe from How Sweet Eats is simple, delicious and enough to freeze so you have some for later or bring it to work for the next few days. Think of the power of veggies combined with a light, delicious noodle soup. Yum!
Makes 6-8 servings
Ingredients:
1 sweet onion, diced
3 garlic cloves, minced
3 carrots, peeled and sliced
1 (28 ounce) can of diced tomatoes
2 (15 ounce) cans of cannellini beans, drained and rinsed
3 cups low-sodium vegetable stock
3 cups water
8 ounces of uncooked pasta (the original recipe calls for ditalini (small tube) pasta, but you can use your favorite type of noodle)
12 thin asparagus spears, stems removed and cut into thirds
1 cup of frozen sweet peas
1 (6 ounce) bag of fresh spinach
1/3 cup freshly grated Romano cheese + more for topping
Salt and pepper to taste
Directions:
Add diced onions, garlic, carrots, the can of diced tomatoes, your prepped cannellini beans, stock and water to your slow cooker. Cover and cook on low for four to six hours, stirring once or twice if you can.
About 10-15 minutes before you're ready to eat, add in the asparagus, spinach, peas and pasta. Adding the asparagus now will leave it a bit crunchy when you serve your soup. If you prefer your asparagus softer, add it a bit earlier than the rest of the last-minute vegetables.
Once your spinach, peas and pasta are added, let everything cook on low for another 10-15 minutes then stir in the grated cheese. Taste and season with salt and pepper, or any other spices you'd like to add. Tasting before seasoning is particularly important if you don't use a low or no-sodium stock. A full sodium stock will add a good deal of saltiness to the soup already, so be sure to taste as you season and season in small increments.
Once the flavors are where you like them, serve your soup with a little extra grated cheese on top.
This recipe from The Kitchn helps you get all your Omega 3-s in without too much work. Salmon is a nutritious, lean protein packed full of omegas and good fats. It's an excellent alternative to chicken if you're looking for something lean and a little different. Also, if you hate the smell of fish frying at home, this is the perfect solution.
As an added bonus, this meal can be put in the slow cooker when you get home and you'll be ready to eat in about an hour and a half.
Cooking tip: Buy your favorite dry white wine, that way you can use it in the recipe and enjoy a glass with dinner as you unwind over a healthy meal.
Makes 4-6 servings
Ingredients:
2 cups water
1 cup dry white wine
1 lemon, thinly sliced
1 shallot, thinly sliced
1 bay leaf
5-6 sprigs fresh herbs, such as tarragon, dill and/or Italian parsley
1 teaspoon black peppercorns
1 teaspoon kosher salt
4-6 fillets of skin-on salmon (about 2 pounds)
Lemon wedges, coarse sea salt and olive oil for serving
Directions:
Combine the water, wine, lemon, shallots, bay leaf, herb sprigs, peppercorns and salt in the slow cooker and cook on high for 30 minutes.
Season the top of the salmon (the non-skin side) with salt and pepper and place it in the slow cooker, skin side down. Cook on low until the salmon is opaque in color and flakes easily with a fork. You'll want to start checking for doneness after about 45 minutes to an hour. Let it keep cooking until it reaches your preferred doneness. Salmon can be held on the warm setting for several hours, so if it's done but you're not ready to eat yet, set the slow cooker to warm.
When you're ready for dinner, drizzle the top of the salmon with a good-quality olive oil and sprinkle it with coarse salt. Serve with lemon wedges on the side, or simply spritz with lemon to taste.
For a healthy side dish, pair this meal with a nice salad, sautéed spinach, brown rice or quinoa.
Eating Well's recipe for Sweet Potato Black Bean Chili is another quick, hearty and healthy meal you can make after your shift, which is great for people who have trouble getting out the door on time. It's a comforting meal that will produce plenty of leftovers to enjoy during your next shift. This filling vegetarian chili has just enough heat to make it perfect for a crisp fall day.
The black beans provide a healthy dose of much-needed protein to keep you energized, but you could always add chicken or ground turkey for an extra protein boost. As with most chili, this recipe can be customized with your favorite flavors and add-ins if you want to pack in more vegetables.
Makes 4 servings
Ingredients:
1-3 tablespoon extra-virgin olive oil (enough to sauté some vegetables in a large pot)
1 medium-large sweet potato, peeled and diced
1 large onion, diced
4 cloves garlic, minced
2 tablespoons chili powder
4 teaspoons ground cumin
1/2 teaspoon ground chipotle chile (see note)
1/4 teaspoon salt
2 1/2 cups water
2 15-ounce cans black beans, rinsed
1 14-ounce can diced tomatoes
4 teaspoons lime juice
1/2 cup chopped fresh cilantro
Directions:
Heat a teaspoon or two of olive oil in a Dutch oven or large pot over medium-high heat. Add the sweet potato and onion and cook, stirring often, until the onion begins to soften (about four minutes). Add the garlic, chili powder, cumin, chipotle and salt and cook, stirring constantly, for 30 seconds. Add the water and bring to a simmer. Cover and reduce the heat to maintain a gentle simmer until the sweet potato is tender (about 10 to 12 minutes).
Once your sweet potatoes are tender, add the black beans, tomatoes and lime juice to the pot. Increase the heat to high to get the mixture simmering again, stirring often. Once it reaches a simmer, reduce the heat and let it simmer, uncovered, until slightly reduced (about five minutes). Remove from the heat and stir in the cilantro. For a fresher cilantro flavor, add fresh herbs directly to your bowl with each serving.
If you love Indian food, you will love this buttered chicken recipe from Half Baked Harvest. It's super simple and you can adjust the heat level to your preference. All you do is throw everything in and leave it. Buying naan is the simplest way to enjoy it, but you can also have it with rice.
Makes 4 servings
Ingredients:
1 pound boneless skinless chicken breast, cut into bite size chunks
1/2 onion, finely minced
2 tablespoons butter
3 cloves garlic, minced or grated
1 tablespoon freshly grated ginger
2 teaspoons curry powder
1-2 teaspoons curry paste (this dish is traditionally made with a red curry paste – Thai Red Curry works fine)
2 tablespoons garam masala
1/2-1 teaspoon turmeric
1 teaspoon cayenne pepper (use less if prefer you dishes less spicy)
1/4 teaspoon salt
1 6-ounce can tomato paste
1 14-ounce can coconut milk, regular or lite, plus more if needed to thin the sauce
1/2 cup Greek yogurt
1/4 cup half and half or heavy cream
Directions:
In a large bowl, mix together the coconut milk, Greek yogurt and half and half or cream. Stir in the tomato paste, garlic, ginger and all the spices. Mix everything well.
Spray the inside of your slow cooker bowl with cooking spray or grease it with olive oil. Sprinkle the onion over the bottom of the slow cooker bowl. Add the chicken on top of the onions and pour the coconut milk mixture over the chicken so it's completely covered, then add the butter. Cook on high for four hours or on low for six to eight hours.
When you're ready to serve, taste and season with salt and pepper if desired.
This great recipe lets you make an entire meal – side dishes and all – in the slow cooker all at the same time. It doesn't get much simpler than that when all you want is a healthy dinner after a long shift. Damn Delicious shows us just how easy it can be to make a healthy "set it and forget it" meal. This is a great one to do overnight if you want to take a healthy lunch to work.
Makes 4 servings
Ingredients:
8 bone-in, skin-on chicken thighs
16 ounces baby red potatoes, halved
16 ounces baby carrots
16 ounces green beans, trimmed
2 tablespoons chopped fresh parsley leaves
For the sauce:
1/2 cup reduced sodium soy sauce
1/2 cup honey
1/4 cup ketchup
2 cloves garlic, minced
1 teaspoon dried basil
1/2 teaspoon dried oregano
1/4 teaspoon crushed red pepper flakes
1/4 teaspoon ground black pepper
Directions:
In a large bowl, combine the soy sauce, honey, ketchup, garlic, basil, oregano, red pepper flakes and pepper.
Place the chicken thighs, potatoes and carrots into your slow cooker and pour the soy sauce mixture over the top of everything. Cover and cook on low heat for seven to eight hours or on high for three to four hours, basting every hour if possible. If you're not able to baste it while it cooks, you may want to add a bit more liquid to the slow cooker to ensure your meal stays moist. Increase the liquids in your soy sauce mixture to make more, or you can add a bit of water or stock (chicken or vegetable) to the slow cooker.
When you're almost ready to eat, add the green beans to the slow cooker for the last 30 minutes. This will help retain their crispness.
Eat Mindfully for Extra Health Benefits
Eating a healthy, well-balanced meal is important, but so is how you eat it. Rushing through a meal will give you the nutrients, but not the time to mentally relax, unwind and let go of the day's stresses.
These meals are best enjoyed mindfully, slowly and without distraction so you can experience how nourishing healthy food can be. Mindful eating can prevent binge eating and lessen emotional eating, which is ideal for travelers who deal with stress every day. Enjoy these simple, healthy recipes so you have energy to power through your day – no matter what walks through the door.