November 30, 2016
Mercy Ships: The Journey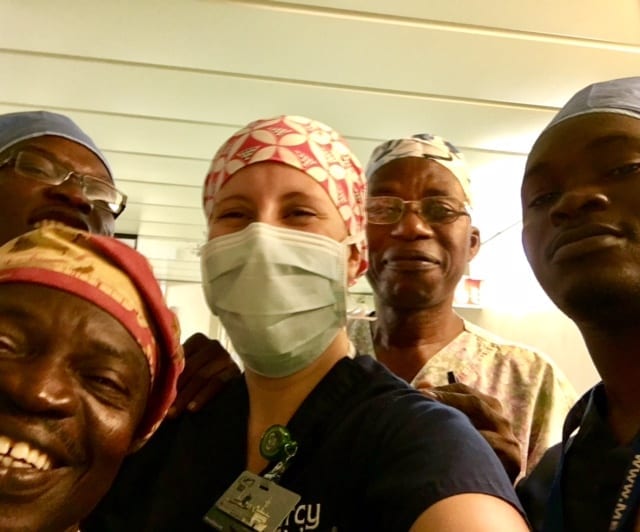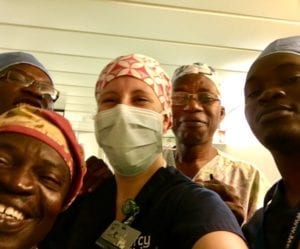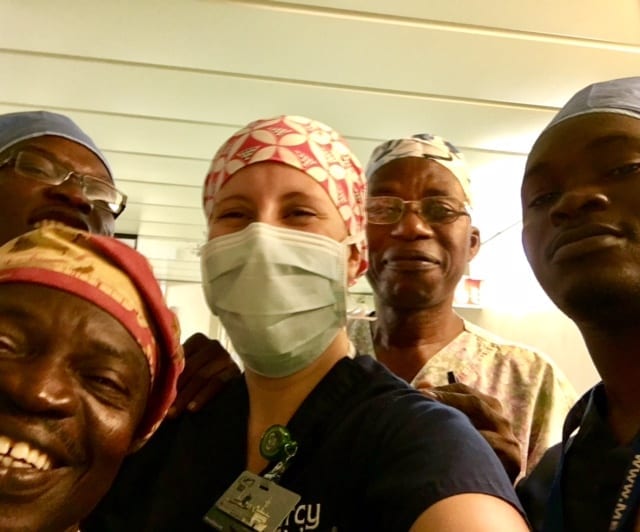 Journey to Transcends Cultural and Language Barriers
We play music in the operating room, but it's difficult to get playlists everyone can agree on, especially in multi-cultural rooms. Through some trial and error, I've discovered certain artists have made the cut. Mumford and Sons. The Lumineers. Queen. Bastille. Imagine Dragons. Florence and the Machine. Fun. And Journey.
The last week on the ship I worked in general surgery with Dr. Eugene and a guest surgeon, Dr. Pierre. Dr. Pierre is from Benin, and came to the ship to collaborate on surgical techniques and create a partnership of ideas with Mercy Ship's surgeons. This is one of my favorite things about Mercy Ships – the mutual sharing of knowledge and ideas with the countries they come to serve. And although the two surgeons were willing to listen and learn from one another, the process was difficult. Dr. Pierre knew some English, but his primary language was French, so we were forced to communicate through a translator. This makes conversing much more difficult, so most of the conversation was focused on surgery. We never got a chance to connect with Dr. Pierre in a less professional, more relaxed manner. Until Journey.
The first day we didn't play music, just to see how things went as far as communication was concerned. By Tuesday, it was strangely quiet, so I decided to play some music. I hit shuffle on my playlist and "Don't Stop Believin'" came on. As always, the song never disappoints. As the surgeons were operating, we suddenly heard Dr. Pierre humming along. Dr. Eugene stopped a minute, looked up, and said "You know Journey?!" Dr. Pierre laughed and simply said…"Yeah." It sounded more like, "Duh," to me. It was the best moment of the week. After that, things were much more relaxed. Leave it to Journey to transcend cultural and language barriers.
Because that song is obviously so powerful, I've decided to use it to process my journey on board Mercy Ships.
Don't Stop Believin'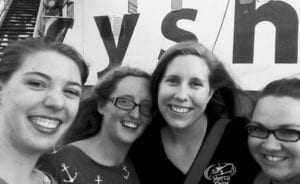 "Just a small-town girl…" was allowed the most incredible opportunity to be sponsored by her travel agency to serve with Mercy Ships for 8 weeks. I love "just a small-town girl" because I want everyone who reads this to understand something: Mercy Ships is full of ordinary people who do extraordinary things simply because they were willing to go. A willingness to serve and to learn is the best qualification for anyone interested in working here.
"Strangers waiting…" to be met. I can't adequately describe to you the connection people have here. Strangers who need help. Strangers who come to help. When those two meet, it's beyond description how quickly bonds are formed. And the sweetest friendships have been made here.
"Living just to find emotion…" isn't hard on the ship. This journey has been a roller coaster of emotions. Where there's great need there is bound to be heartache as well as joy. There have been ups and downs. But it's been thrilling to be a part of. The compassion, the patience, the grace found on here is unlike anywhere else I've worked. It's uniquely Mercy Ships.
"Working hard to get my fill, everybody wants a thrill…" and so surgery goes. It can be long, hard and tedious work, but the feeling after a successful surgery is incomparable. To see a patient transform before your eyes, to see hope and life restored…I can't explain it. It's nothing short of miraculous. And what's more thrilling than a miracle?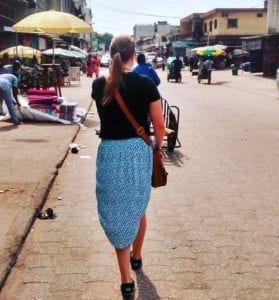 "It goes on and on and on and on…" even after I leave. The work continues. Because need remains. I – all of us – can continue to help. I would encourage you to check out the Mercy Ships website. You can see for yourself what need there is, and where you can help. You are even able to choose where you would like your help to go – towards a surgery, bandages, exams or even healthcare training. I can tell you firsthand, it will not go unnoticed or unappreciated. You can even give gifts in people's names, if you're still searching for a Christmas present for that one difficult person. Socks again this year? How about a surgery instead?
"Don't stop believin', hold onto that feelin'…" is all I can think as I leave here. There's a greater responsibility, once you know about something as important as the work on Mercy Ships, not to forget. To hold on to the joy, the pain, the fear, the hope, the truth. To remember the people, the place, the work, the time.
Remember. It's all about the Journey.
—
In May 2014, Travel Nurse Across America (TNAA) announced a partnership with Mercy Ships, as part of its ongoing philanthropic activities. TNAA sponsored four nurses to volunteer on a healthcare delivery mission in Africa. Mercy Ships, a global charity organization, uses ships – floating hospitals – to provide free surgery and dental care in impoverished countries. Mercy Ships has been in operation since 1978. The nurses sponsored by TNAA worked for eight weeks each on the African mercy ship docked in Cotonou, Benin. Follow the TNAA blog for Mercy Ships updates.