July 7, 2022
Top Things to Do as a Travel Nurse in the Southeast U.S.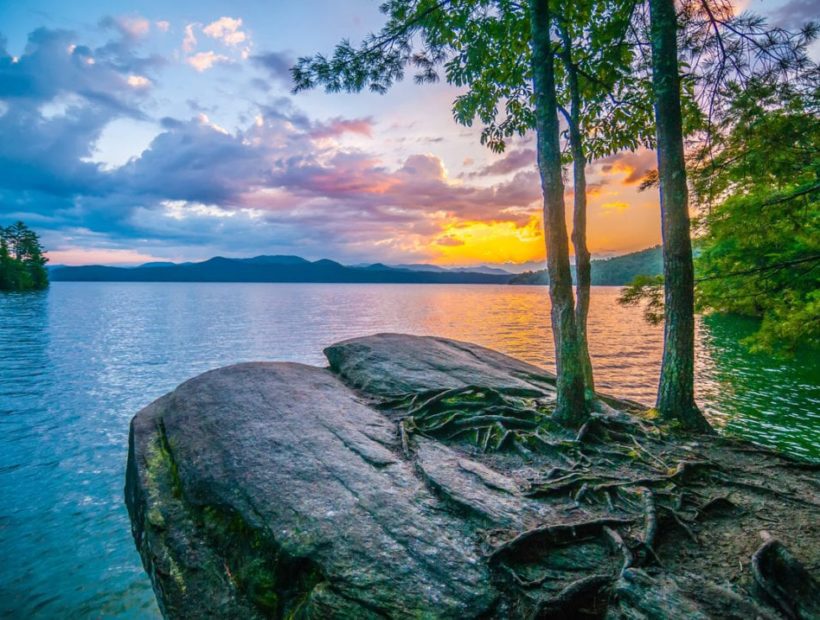 The Southeast U.S. is a great region to visit if you are a fan of beautiful beaches, towering mountains, roaring waterfalls, spectacular views and year-round warmer weather.
Meg and Ty, the traveling nurse couple behind We the Wanderers, helped us complete this list of must-do adventures in the region. Both PCU nurses who travel with TNAA, Meg and Ty met in South Carolina and have been on the road together for 2.5 years, exploring many parts of the Southeast U.S. along the way.
Things to do in North Carolina
View this post on Instagram
The Outer Banks
If you want to explore the East Coast, Meg and Ty suggest visiting the Outer Banks of North Carolina. 
"It's just miles of untouched, untapped seashore," Ty says. "I always tell people it's like the country at the beach."
It's the perfect spot for a weekend getaway as you enjoy seaside villages, national shorelines and views of wild horses. Be sure to also tour one of the area's lighthouses, like the Bodie Island Lighthouse.
The Blue Ridge Mountains
Raised in a small town in the North Carolina Foothills, Meg is an expert on the beauty the western side of the state has to offer. 
An easy favorite is Asheville, a city in the Blue Ridge Mountains. Surrounded by wilderness and waterfalls, Asheville is known for its arts scene and for having more breweries per capita than any other city in the country. It's also home to the Biltmore, America's largest estate.
But, one of the couple's lesser-known favorites in the Blue Ridge Mountains is Panthertown Valley, a hidden gem tucked into the Nantahala National Forest. Meg and Ty recommend hiking to Schoolhouse Falls, a 20-ft. waterfall that you can (carefully) walk behind when there isn't much water flow.
Other North Carolina spots to explore: Jockey's Ridge State Park, Mount Mitchell State Park, the Appalachian Trail
Things to do in South Carolina
View this post on Instagram
South Carolina is home for We the Wanderers. It's where Ty grew up and where he met Meg — on Folly Beach near Charleston. 
While the couple says there is plenty to explore near Charleston, they say go to Hunting Island State Park to get out of the city. This peaceful escape will provide you with a saltwater lagoon, the state's only publicly accessible lighthouse, plenty of hiking trails and a driftwood beach.
"The terrain is crazy because it goes from the wetlands to the swamplands to the beach," Ty says. "You can see the terrain change without having to trek into the swamp like you usually would."
Other South Carolina spots to explore: Charleston, Jocassee Gorges
Things to do in Georgia
View this post on Instagram
There's a lot of nature to find in Georgia when you get out of the Atlanta area. Meg and Ty say Tallulah Gorge State Park is a must-see when venturing to the Peach State. 
"It's a nice escape for anyone who has an assignment in those areas," Meg says.
There are trails for each skill level at Tallulah Gorge. Meg and Ty recommend the North Rim and South Rim trails for a pleasant hike to see beautiful overviews. If you want a bit more of a challenge, they say do the Hurricane Falls Trail, which will have you crossing a suspension bridge and descending a thigh-burning number of stairs before making it to the bottom of a roaring waterfall.
Other Georgia spots to explore: Cumberland Island, Chattahoochee River, Savannah 
View this post on Instagram
It isn't difficult to convince a traveler to take an assignment in Florida. Carrying out your childhood dreams at Walt Disney World and Universal Studios is enough to have anyone packing their bags. But, We the Wanderers have other favorite Florida spots you'll want to explore.
The couple says a trip to Amelia Island is a getaway well spent. On Amelia Island, you can go horseback riding on the beach, discover why eight different flags have flown on the island, take in the natural beauty of giant oaks covered in Spanish moss and so much more. Oh, and if you visit at the right time, you might even witness a sea turtle release.
Other Florida spots to explore: Jacksonville, St. Augustine, Everglades National Park 
There's so much to do in the Southeast that you might not know about! So, as you explore different parts of the country while you #travelwithTNAA, be sure to take an assignment in the Southeast U.S. at some point. And if you're ready to make a move here now, see which jobs we have available in the Southeast!