November 11, 2019
NICU Travel Nurse Career Guide & Requirements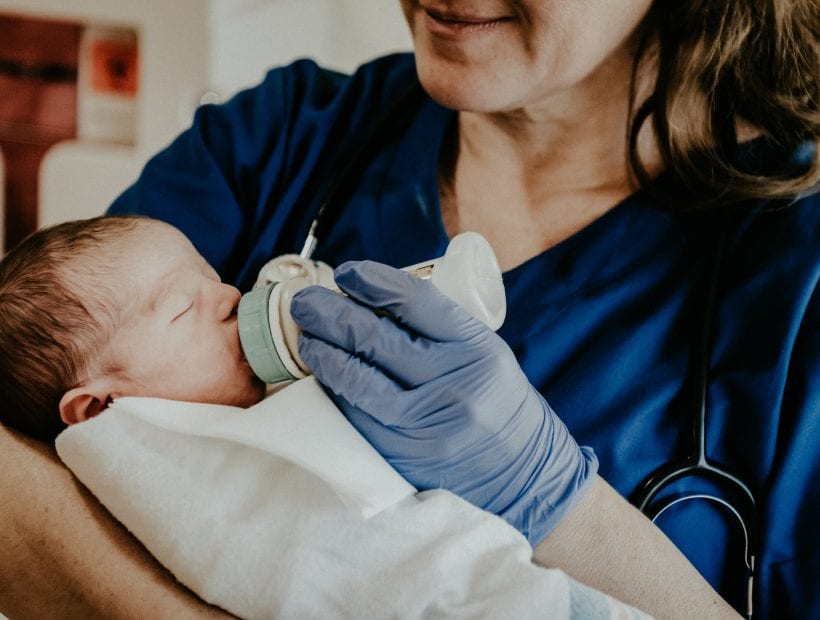 Neonatal nursing is a crucial specialty, and in the NICU, nurses care for newborns who are critically ill. From micro-preemies to feeders & growers, explore what it's like to work as a NICU travel nurse. Whether you're a new grad nurse thinking about travel nursing or an experienced NICU nurse stepping into travel, this guide will give you insight into what it's like working on the floor in facilities across the country from someone who has been in your shoes.

Part 1: What is a NICU Travel Nurse?
Nurses who work in the neonatal intensive unit care work with sick and/or premature newborn babies. Their goal centers around their patients improving in feeding, weight and eventually becoming healthy enough to go home. 
NICU RN, Kelsey
TNAA Ambassador, Kelsey, is a NICU nurse who has worked as a travel nurse in facilities in North Dakota, Colorado, and New Hampshire tells us why she loves her specialty:
"I don't have one particular love, but I love seeing babies grow from extreme prematurity to term infants. You get to know them, and you find yourself treating them like they are your children. I enjoy difficult cases that challenge my nursing skills. I enjoy feeling needed by the parents and being able to talk them through situations and teach them everything they need to know about taking their baby home. But mostly I love the look on parents' faces on the day they get to take their baby home. It is usually a long process, and leaving the NICU is bittersweet, but being able to make them a family makes me proud."
NICU RN, Kayla
TNAA Ambassador, Kayla, is a NICU nurse who has worked as a travel nurse in facilities in Florida, Utah, Nevada, and more tells us why she loves her specialty:
"The best part of working in the NICU? Hands down – those precious babies!!! I cannot even begin to tell you how many miraculous stories and achievements  I've watched unfold during my time working as a NICU nurse. NICU babies are truly incredible; they are such fighters, and watching them overcome all kinds of obstacles and beat all kinds of odds is something I truly love about my job. There is absolutely nothing like what goes on within the walls of a neonatal intensive care unit. NICU babies remind me that anything is possible, and I am honored to be able to care for them!"
Part 2: NICU Experience & Certifications
To work as a travel nurse, you need at least 1 year of experience in an acute care facility. And the NICU is no different. Most facilities want to see that you have had time to develop your skills before you travel as you often will have limited orientation on assignment.
Most NICU nurses hold the following certifications:
BLS, Basic Life Support

ACLS, Advanced Cardiac Life Support

PALS, Pediatric Advanced Life Support

NRP, Neonatal Resuscitation Program
You can beef up your credentials with the following certifications:
RNC, the Intensive Care certification for NICU

Neonatal Touch and Massage

STABLE, focuses focus exclusively on the post-resuscitation/pre-transport stabilization care of sick infants
Part 3: What is it Like to Work as a NICU Travel Nurse?
Our travelers have worked in NICUs all over the country. And walking into a new facility every 13 weeks makes the job of caring for neonates inherently different. We asked Kelsey and Kayla what it was like to go into various facilities to help care for babies.
"I love it! I was worried when I started traveling that I was going to be taking care of infants we call feeder/growers (basically infants who are extremely close to discharge). I was worried I would lose my skills in taking care of complex cases with high-frequency ventilators and nitric oxide and managing multiple drips. But I have been proven very wrong. Meeting parents from all over who find me social media and send my updated photos of their babies makes me so happy." — Kelsey
"I love it. Not only do I get to take care of miracle babies – but I get to do it all around the country! I love that I get to learn what different units do and why. I get to work with NICU nurses from all different places and learn from them while we all care for such a wonderful patient population. At the beginning of a contract, I do find myself working with more of the "feeder/grower population," meaning NICU babies who are learning how to eat and growing before getting discharged and going home. After some time at my assignment, I usually will be given babies who require higher levels of care. I also find myself floating to PICU and the pediatric floor, especially during flu/RSV season. I don't mind floating at all, and in my experience, the floors I float to have given me very appropriate assignments, keeping in mind that my specialty is NICU. The other floors are also usually extremely thankful for the extra help and have been very welcoming and helpful when I float to their unit!" — Kayla
Part 4: NICU Travel Nurse Advice
 Be flexible.

If you're given 4 stable feeder/grower babies and you're not used to that, it's okay. From my traveling experience, I've learned that each unit staffs different and acquity is different in each unit. BE FLEXIBLE. As long as your assignment is SAFE and you are capable of caring for the patients – remember that YOU are there to help with staffing needs. Even though a feeder/grower 4 baby assignment is not ideal, it may be how that unit staffs when necessary. Along the same lines, if you are floated (also not ideal), BE FLEXIBLE. Have a good attitude, smile, and help the unit that you've been staffed to help.

Don't be afraid to ask for help.

You're a brand new traveler. You're not expected to know where everything is or where to find that equipment that you hardly ever have to use. Changes are, you got a couple of shifts of orientation, and when you're on your own — there will be things on that unit that you aren't sure about. ASK QUESTIONS. The nurses, in my experience, are very willing to help and offer advice or show you where things are. But, they don't know that you have a question unless you ASK! At the same time, if you EVER feel uncomfortable in an assignment or feel as though it's unsafe – don't be afraid to ask the charge nurse for a more appropriate assignment. Everyone's goal is to give safe care for those precious NICU babies, and by asking questions, you're helping to make that goal happen.

Don't use the phrase "that's not how I've done it."

I've learned during my time as a traveler that every place does things a little bit differently. We are not there as travelers to tell them how the other 7 hospitals we've been to have done things. Now, don't get me wrong, if they ASK for ways to improve processes or if they ASK how we've seen things done in the past – by all means, feel free to offer your opinion or insight based on your experiences! But, I've seen lots of travelers who have negative attitudes during their assignments or spend their entire assignment with a "Well, this is NOT how I've done it." And honestly, that attitude makes it kind of a negative experience for everyone. Be willing to learn, even if that means possibly setting aside how you've been doing things to follow new policies on your new unit.
Part 5: Who to Follow & NICU Resources
Kelsey recommends networking as much as possible! "Network. Find other people on social media who also work in the NICU or other NICU travelers and reach out. These people will help you with questions and discuss experiences and hospitals they have worked at with you and believe me, it is extremely helpful. You also never know what nursing student is looking up to you and being envious of this career path you have chosen."
Kelsey:

@nicuawareness

@dearnicumama — this page was started by a mom who I set up with other NICU mamas. And now she's creating her own little NICU mom army!

@onelittlecub — former micro-preemie mom!

@marchofdimes

@passportsandpreemies — a NICU travel nurse

National Association of Neonatal Nurses

Kayla

: 

@traveling_nicu_rn — my fellow TNAA Ambassador!

@marchofdimes 

Academy of Neonatal Nursing

Pro tip: go to conferences for NICU nurses to keep your education up-to-date while networking with other neonatal nurses