July 28, 2023
The Healthcare Traveler Road Trip Guide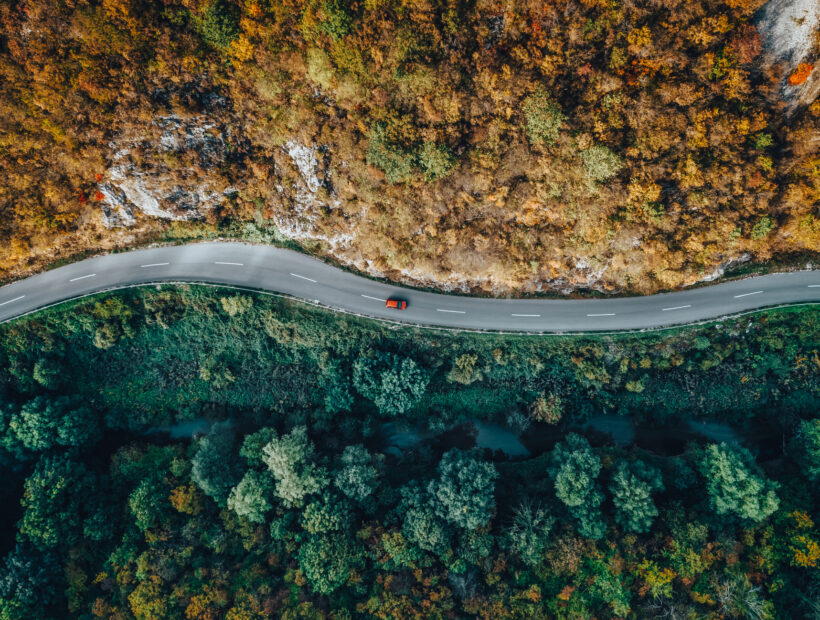 As travel nurses and allied healthcare professionals, you know how vital staying organized is, especially as you hit the road for your next assignment. The last thing you want to worry about is forgetting something you need or having to dig through multiple bins looking for something along the way.
To help you prepare for your next road trip, we've rounded up the travel essentials and tips recommended by seasoned healthcare travelers: the TNAA Ambassadors. From packing tips to being prepared for an emergency, these travel assignment veterans know from experience what works. Read on to help take the stress out of your next road trip!
What to Bring: Packing and Organization
Packing might be the most dreaded part of getting ready for your next travel healthcare assignment, but our ambassadors have some tried-and-true tips to help. See our other packing-specific tips in our Travel Nurse Packing Tips and Checklist post.
Only Take What You Need
Basic things like clothing, personal care items, and can't-live-without home goods should take priority when packing. Overall, the less you can take with you, the better. Research your destination's climate so you don't pack anything unpractical for the season and weather.

Organization is Key
Let's face it: space in any vehicle is limited, and if you have a smaller, more energy-efficient car, even more so. Staying organized can maximize your space and make the ride more enjoyable. Many traveling healthcare specialists find it helpful to have a checklist of everything they keep in each bin, box, or suitcase so they know where to find everything. This also helps them when packing up for their next trip!
Here's the gear our Ambassadors recommend for staying organized:
Packing Cubes: These come in various sizes and keep your stuff organized. They're beneficial when you need to quickly get items in and out of your suitcase without digging or disrupting everything else.
Reusable Shopping Bags: "I've found the large reusable bags from Marshall's or TJ Maxx are excellent for packing — especially for the long haul." — Trish, Med Surg
Toiletries bag: Using a bag specifically for toiletries and personal care items can save you space. Plus, you avoid the dreaded shampoo explosion over your other items.
Keep an Overnight Bag Handy
If you'll be on the road for more than one day, you'll probably be crashing at a hotel or other overnight spot for the night. Keeping an overnight bag ready will keep you from digging everything out of your bins.
Here are a few things we recommend beyond a change of clothes:
Deodorant: "I always keep a mini deodorant in my car because life." — Emily, ER
Toothbrush, Mouthwash, Floss: "The game-changer for me was toothy tabs; you don't have to worry about liquid." — Ally, ICU
Hand Sanitizer & Sanitizing Wipes: As healthcare specialists, you understand the importance of good hand hygiene. But think about what you touch at a gas station or rest stop. "I always try to keep wipes handy for long trips because they're handy for so many reasons!" — Emily, ER
Personal Hygiene: Think of any other bathroom products you may need to pack, from feminine products to dry shampoo. It's all about making your trip more comfortable.
Essential Documentation
Keep a binder or online folder with any documentation or records you may need easy access to when you arrive at your new assignment city or in case of an emergency.
Vehicle Documentation: When traveling across the country, you may need quick maintenance on your vehicle. Did you buy a battery at a nationwide auto store? Did you get tires with a warranty at a national store? Having those documents handy may mean free or discounted service.
Certifications: Scan your certifications and licensure information and save it in a cloud folder. That way, you have it ready if your QA specialist needs something quickly so you can start your assignment on time.
Medical Records: It's helpful to have these handy if you have a condition that requires emergency responders to know about.
Pet Records: Copies of medical records, vaccination records, or breed certification may be necessary when you must stay at a hotel or quickly give to your new landlord. You might also like our tips for taking your pet on assignment.
Be Prepared: Emergencies and First-Aid
It seems like emergencies only happen at the worst possible times. Being prepared can help you handle them smoothly and get you back on the road as fast as possible.
Here are items and advice from the TNAA Ambassadors for being prepared for anything:
General Road Trip Preparation Tips
Plot your trip: Before you hit the road, determine your daily destinations and how long it will take to get to each. It's also a good idea to map out sightseeing spots for your trip. Pre-book any hotels or overnight stayovers in advance. It can also be helpful to know where the rest stops and gas stations are along the way.
Check weather and mountain pass reports: Construction and inclement weather can cause you to re-route or seriously extend your travel time. Look ahead for any road or mountain pass closures so you can plan accordingly.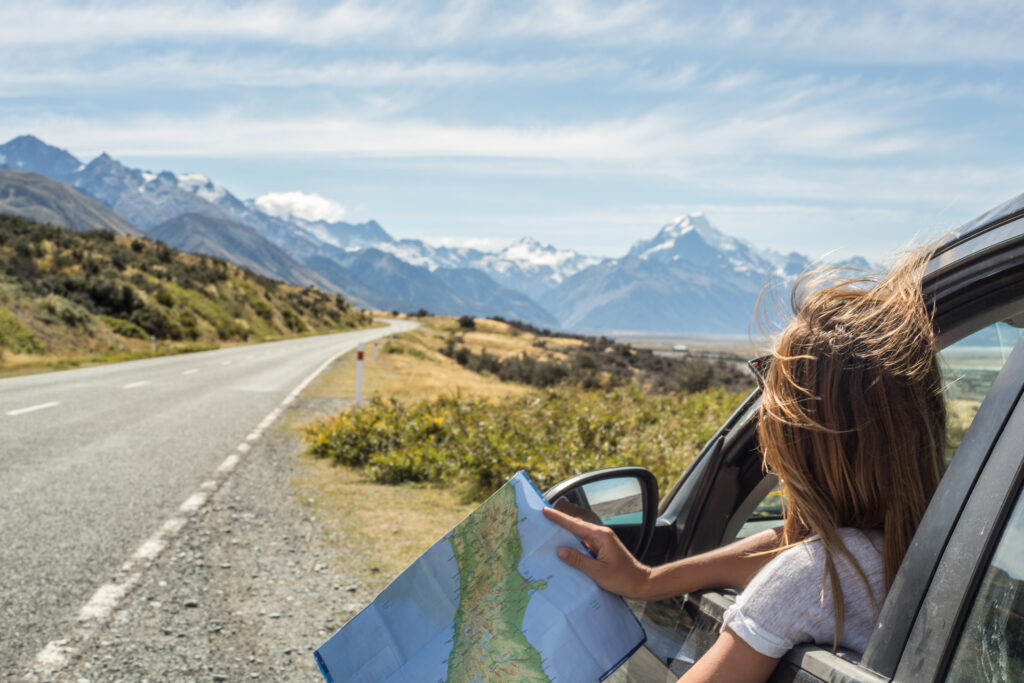 Car Emergency Preparation
In addition to the items below, it's good to know some basic things, like how to change a flat tire or set up flares if you break down.
Roadside Emergency Kit: Look for one with jumper cables, reflective triangles, ratchet straps, seatbelt cutter tool, etc.
Portable Jump Starter: A more expensive option, these are helpful if you ever have a car battery die.
Atlas/Maps: Having an up-to-date atlas on hand can help you avoid getting lost. You can't always rely on Google Maps, especially if you're driving somewhere remote or your phone dies.
Roadside Assistance: With roadside assistance, help during a breakdown or a flat tire is only a phone call away. Many car insurance companies offer roadside assistance on their plans, so check to see if yours does. If it doesn't, consider adding it to your plan or getting it from an independent company like AAA.
Bonus: Take care of your vehicle: You spend a lot of time in your car as a travel nurse. Caring for your vehicle is crucial to avoiding unnecessary breakdowns and costly repair fees. Check out our car maintenance tips to keep your vehicle running safely and dependably.
Other Emergency Items
First Aid Kit: A basic kit can cover most things you'll encounter, like needing a bandaid or an over-the-counter pain reliever. However, our nurses liked to bolster their kits with specific things they need, like allergy medication or antacids.
The Fun Stuff: Road Trip Snacks and Entertainment
When it comes to making a road trip enjoyable, it's all about food and entertainment.
Food and Drink
Water: From gallon jugs to multiple reusable water bottles, all of our travelers told us they keep a lot of water handy to avoid spending $2-$4 on water bottles at a gas station and, of course, keeping hydrated. It's also a good idea to keep extra water on hand.
Snacks: While you can find snacks at most gas stations along the way, many TNAA Ambassadors recommend getting them from places like Dollar Tree, Target, or other grocery stores, to help them save money.

"When road-tripping, I have a massive snack bag: Oreos, trail mix I make because I hate raisins, corn nuts, sweet tarts, and some chips. Oh, and gum is a must." — Ally & Zane, ICU
"This is my free-range snack time. I get the snacks I don't usually buy, like Cheez-Its, chips, a big bag of M&Ms, etc. I also get healthier snacks like trail mix, carrots, or grapes. I keep two reusable water bottles full and a few disposable water bottles, Pure Leaf teas, and soft drinks in a small cooler in the front seat." — Anna Marie, Med Surg

Entertainment
Music: Several of our travelers love XM radio. It's a great way to hear the music you want without searching for a radio station — especially as you cross in and out of range.
Audiobooks: Audiobooks are popular with our ambassador travelers. One of our travelers found audiobooks similar in length to a day's drive, saving her from changing playlists when she travels solo. If you're traveling with a partner, e-readers are a great option for reading on the go. One of our travelers said she gets audiobooks from Kindle Unlimited, which is $10 a month, plus she adds $1.99 for Audible narration.
Podcasts: With thousands of podcasts available on various niche topics, you're sure to find one that suits your interests.
Tech Accessories: Don't forget to pack a power bank! Finding outlets can sometimes be a hassle when you stop, so this is a must for many of our nurses. Depending on your phone's manufacturer, you should also get an aux cord to connect your phone or device to your car's speaker system.
Preparing for a road trip doesn't have to be stressful. By following the tips above, you'll be well-prepared for your next travel healthcare assignment road trip.
Check out TNAA's available jobs to start your next travel healthcare adventure.