October 24, 2022
How Van Life Made Travel Nursing Easier for Meg & Ty
The 'travel' part of a traveling healthcare career looks different for each person. Some travelers embark on the journey solo – no family and no kids. Others pack family and pets into an RV to tour the country.
Meg and Ty, the PCU travel nursing couple behind We the Wanderers, have arguably gone to the next level. They live full-time in a renovated van. While some might assume #vanlife is cramped, Meg & Ty's weekly adventures show this lifestyle doesn't hold them back. Keep reading to find out why van life was the best decision these two made.
How the Travel Nurse Van Life Started
View this post on Instagram
Meg and Ty started travel nursing as a couple in 2019 and soon felt that finding housing and packing and unpacking for their travel nurse assignments and off-day adventures was tedious and costly. The solution to their problems? Pick up the travel nurse van life.
"Before the van, we were spending all of our time on our off days trying to find places to stay," Meg says. "We thought, 'If we had a van, we'd have it much easier going on little trips.'"
So, they went after the dream, researched what they would need, found an empty old FedEx van, and renovated it during a contract in North Carolina. Then, they were ready to experience how to live in a van full-time.
"Finding a new place to stay is completely cut out with the van," Ty states. "There's no stress with that, so we can just focus on having fun."
Adjusting to Van Life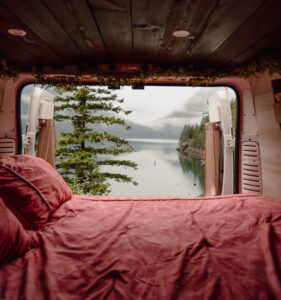 Living in a van full-time does come with adjustments. "It's a very simple life," Ty states. "That's something that needs to be understood before hopping into it." 
But if you can see yourself living minimally, making these adjustments can lead to worthwhile experiences. Here are a few ways the couple prepared for life on the road.
Preparing for Mechanical Issues on the Road
Mechanical issues are bound to pop up at some point. Meg and Ty follow a few safety measures to avoid roadside problems and get quick help when they experience a bump in the road.
First, they stay on top of vehicle maintenance by getting regular oil changes and tire rotations. Then, when they do experience an issue, they use AAA's roadside assistance to get them to a mechanic.
When road-tripping, the travel nurse couple informs their families of where they go as a safety measure. Then, in case of emergency, they have a GPS/satellite phone they can use to contact help.
Organizing and Downsizing Belongings
Determining what you'll bring on the road and what you'll leave behind is an important step to starting van life.
"It's all about space. Every inch matters here, so we try to pack down and only bring the things we know we will be using," Ty says.
When packing for a new assignment, they consider the time of year and climate where they are going. Packing cubes help them compact items and slim down space. Then, any clothes that are necessary to bring that they don't want to be wrinkled go on curtain rods.
Meg & Ty's Van Life Essentials
Even though Meg and Ty had to carefully plan what they would bring into their home on wheels, these are some essentials they can't do without having.
Burner stove – A burner stove allows them to cook and meal prep for work, which helps them save money by not eating out at restaurants.

Portable power station – This allows them to charge phones or use laptops on cloudy days when they don't want to use all their solar energy.

WiFi – Meg and Ty have a wireless router that acts as a mobile Wi-Fi hotspot, giving them access to the internet as long as they have cell service.

Toilet – No explanation needed.

Fridge – For drinks and food (especially Ty's ice cream).

Espresso machine – Meg's must-have to wake up in the morning.
What Makes Travel Nursing in a Van Better?
You might wonder, "Why live in a van instead of travel nursing in a camper?" Both have perks and disadvantages, so if you're considering it, think about what would fit your lifestyle best.
With the van, Meg & Ty can park in more places and drive through national parks and forests without maneuvering a camper in tight quarters. Additionally, the van's solar panels keep them from relying on electric hookups at campsites.
"Not having to worry about packing up everything or worrying about finding a spot at a campground has saved us a lot of time and energy," Meg explains.
Still, there are stressful situations you must consider when living in a van. You have to take extra precautions for safety, whether that's determining what you'd do if someone breaks into your space, having contingency plans during weather emergencies, or preparing for potential breakdowns on the road.
"It's not all you see on social media all the time," Meg reminds us. "Make sure you're okay with being flexible and can go with the flow."
But with that mindset, van life works well for Meg and Ty. They have the consistency of always having home close by, and taking adventures on their cross-country treks is effortless. The van has been with them on assignments in Washington, Kentucky, North Carolina, South Carolina, and Arizona, and there's no sign of them stopping.
Are you interested in learning more about van life? Head over to the @We.the.Wanderers Instagram page, and keep reading TNAA's blog to see how you can be a healthcare traveler at any stage of life.