October 14, 2019
Meet DAISY Award Honoree: PCU Travel Nurse Jenn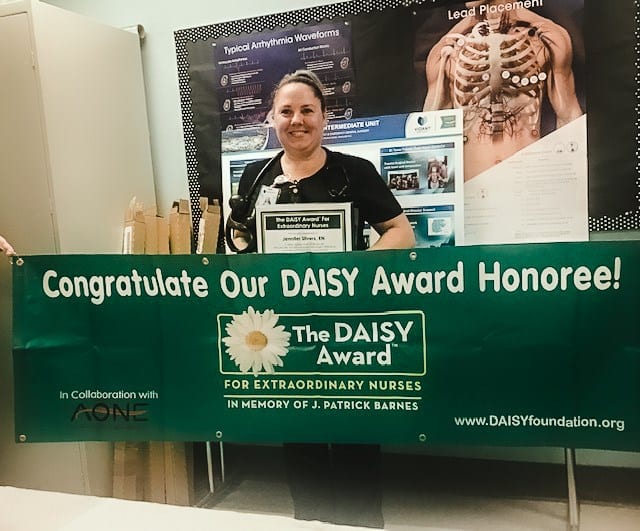 The DAISY Award
TNAA partnered with the DAISY Foundation in 2018. Our clinical team sought out this program because, as a company, we wanted to do more to recognize our nurses and the meaningful work they do. They travel across the country, providing top-notch care to patients and family members. We're so proud to have had the opportunity to award our nurses for their unparalleled care. At TNAA, we are proud to have the best nurses in the industry. We began to look for ways to honor our own for the sacrifices they make to provide their patients with extraordinary care. If you travel with us, you're among the highest quality in the industry, and we hope to honor you someday soon!
Meet Jenn, a PCU Travel Nurse
If you ever have a chance to meet Jenn, you'll notice right away that she has a strong presence about her. Whether it's the confidence that comes from her military background or her comforting nature as a nurse, there's no denying it. Jenn credits her career as a travel nurse to her Army career. Bouncing between duty stations on a near yearly basis, Jenn was expected to hit the ground running once assigned a unit. And many times, she'd be expected to jump in and help literally wherever needed: with medics, lab techs, or other departments. 
"This has really helped when it comes to travel nursing. I don't get nervous or anxious because I was trained to know how to do my job in any situation. I also feel like the Army set me up to be a very self-sufficient nurse. I can handle not having a CNA to help me because of my background, working independently, and on my own, if I needed to. I was also taught to chart on different charting systems and different software depending on where in the world I was at the time. Being stationed in Germany set me up to working with a different culture and opened my eyes up to new ways to do things and work well with others."
Travel Nurse and a DAISY Award Honoree
"I never thought, as a travel nurse, I would ever receive a DAISY Award. But that never extinguished my desire to render top-notch, compassionate patient care. TNAA has not only made my career as a travel nurse easy and enjoyable, but they allowed me to travel all over the United States. This allowed me to spend my time learning aspects of patient care from some of the most incredible nurses, doctors, NPs, PAs residents, and CNAs."
Why Travel With TNAA?
"TNAA has always been in my corner from my very first encounter. From my hardworking and dedicated recruiter Kristen and her assistant Sam to the amazing housing specialists, payroll teams, and all the many QA specialists that keep everything organized for me. The company showcases all of us and allows the world to see all the great things we are doing all over the United States. They also have a team of leaders who value educating their nurses. They envisioned theTAP program, which taught me about the travel nurse industry and invited me to be an Ambassador. All of these people, departments, and experiences played such a great part of me becoming the nurse I am today. And these experiences allowed me to educate myself continually, and others, while making it so easy for me to do the job I so dearly love."
Meet Oswald, Jenn's pup who loves living the travel nurse life.
I know that the sky is the limit for me as a nurse. Thanks to TNAA, and my Army of support, my focus remains on being a great nurse to my patients. Thank you again for opening so many doors for me, and thank you for taking the time to celebrate the differences we make in our patients' lives. I appreciate every one of you and could not imagine traveling with any other company.