February 23, 2023
TNAA's Spring 2023 Nursing Scholarship Winner: Austin T.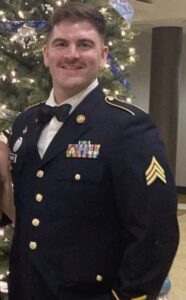 Congratulations to TNAA's spring 2023 Nursing Scholarship recipient, Austin T. Austin is pursuing his degree at Averett University and plans to become an ICU/Critical Care nurse. 
When Austin was twenty, he knew he was bound for a science-related career that capitalized on his passion for helping people. So in 2013, he became a medic with the Army National Guard. 
"As a medic, I had the opportunity to [serve] my community during several natural disasters and spent time helping the people of St. Thomas after Hurricane Irma," Austin said. 
But his journey toward becoming a nurse began in 2016 when he became an Emergency Department technician in a busy urban trauma center. 
"I remember feeling so overwhelmed while also being stunned by how professional, intelligent, and calm the nursing staff was," he recalled. "I was intrigued and captivated by this profession that seemed to be made up of some of the smartest people I had ever met."
Then, one of the staff nurses Austin admired asked if he'd ever considered becoming a nurse. The idea stuck with Austin and solidified during a deployment with the National Guard as he worked with nurses overseas. 
"These nurses were the embodiment of the professionalism that comes with being a nurse," Austin said. "They consistently worked long hours and always pitched in to help, with no job being too unimportant for them. This only confirmed for me that I was on the right path and that the nursing profession was where I felt I belonged."
Balancing Family With a Career in Healthcare
As a devoted father and husband, Austin knows the importance of a work/life balance as he provides for his family financially and cultivates close relationships with them. Austin looks forward to flexibility in his future nursing career, with the opportunity to work various hours and in various settings. Watching his son grow from baby to toddler has only strengthened his resolve to ensure that balance as he pursues his career goals and spends quality time with his loved ones.
"The awareness of how quickly time passes grounds me and reminds me of the importance of balancing family and work life," Austin said. "The one thing above all else we can never get back in life is time."
Where His Career Is Headed
As he continues his education, Austin ponders on his future and a potential travel nurse career, which he says would allow him to provide for his family while seeing and experiencing new destinations with them. 
"This is an opportunity that very few professions have, and the blessing this would represent for my family is not lost on me," he said. 
Austin believes becoming a travel nurse would also add to his nursing expertise since he would have the opportunity to see how the profession operates in different locations. In addition, he thinks it would allow him to provide the highest quality of care to his patients. 
"To me, nursing is the ultimate role that allows you to advocate for and provide a personal level of care to your patients," he said. "I find the ability to connect with patients and their [families] one of the greatest opportunities in healthcare."
Massachusetts is the first destination Austin would hope to visit as a traveling nurse. 
"My wife's family is in Massachusetts, and traveling there would allow her to spend time with them while also allowing me to continue to provide for our family without the permanent relocation."
Apply for TNAA's BSN Scholarship
Austin, we have no doubt that you will take your career in nursing to great heights, and we look forward to watching you thrive in your nursing career!
TNAA, one of the country's top 10 travel nurse agencies, will offer its next $2,500 Nursing Scholarship in the fall of 2023. If you're interested in applying, fill out our scholarship application and be on the way to pursuing your career dreams.