February 3, 2023
What To Do in Georgia on Assignment
If you're thinking of taking an assignment in Georgia, known as the Peach State, there are tons of fun places to visit while you're there. Georgia has beautiful architecture, entertainment centers, and amazing landscapes – all mixed with a dose of Southern hospitality. If you want to know what to do in Georgia, we've got a list of the sites you won't want to miss.
What is There to Do in Atlanta, Georgia?
Atlanta is an exciting and vibrant city! Here are some must-dos when taking a travel nurse or allied traveler assignment in Atlanta, Georgia's capital city.
Enjoy the Underwater Spectacles at the Georgia Aquarium
View this post on Instagram
Explore the biggest aquarium in the U.S. when you visit Atlanta. The Georgia Aquarium's exhibits require 11 million gallons of water. You can view the daily lives of various marine animals, such as whale sharks, sea otters, bottlenose dolphins, and manta rays. But you can get an even closer look at what life is like under the sea when you indulge in an animal encounter, swim or dive with sharks (including whale sharks!), or take a Behind the Seas tour.
Visit the World of Coca-Cola
At the World of Coca-Cola, you'll get to participate in interactive exhibits that give you the inside story of this well-known brand. One of our favorites, the "Taste It!" exhibit allows you to sample different Coca-Cola products from around the world. The World of Coca-Cola also features an extensive collection of memorabilia and artifacts that any Coca-Cola enthusiast would appreciate.
Tour One of Atlanta's Many Museums
The birthplace of Martin Luther King, Jr., Atlanta is a thriving hub for Black history and culture. When you're visiting Georgia's capital city, take a tour of King's birth home. You can also visit the National Center for Civil and Human Rights, where you can learn about the history of the United States civil rights movement and the struggle for human rights happening in the world today.
Another great museum in Atlanta,  the Fernbank Museum of Natural History will bring you up close to some of the world's largest dinosaurs, or you can take in the wonders of nature when strolling through the WildWoods, an all-season nature experience. 
What is There to Do in Savannah, Georgia?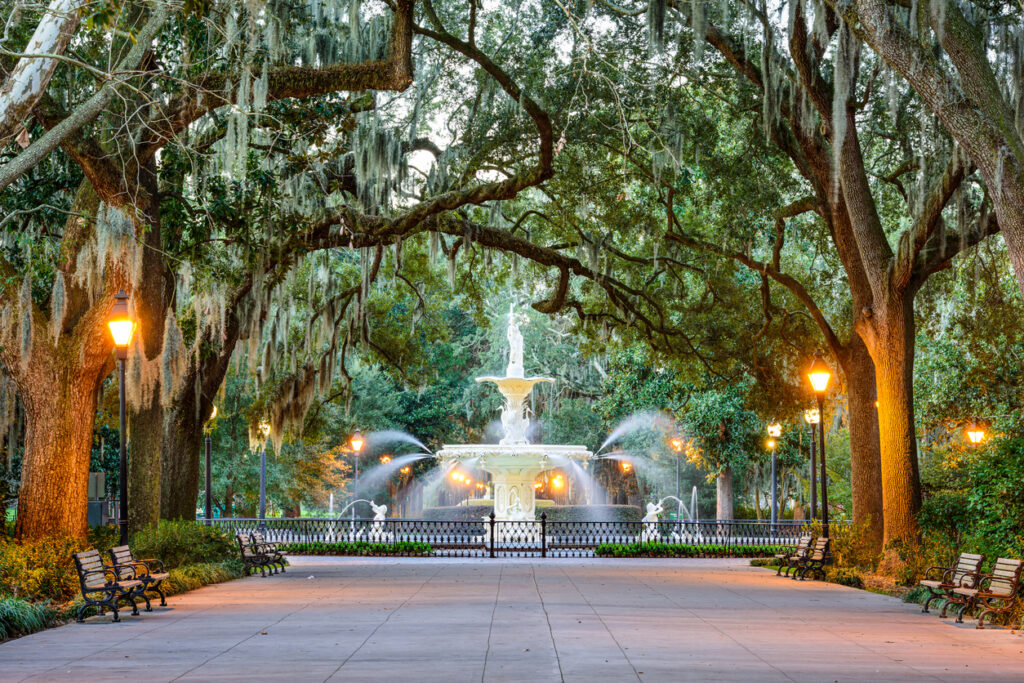 Savannah is a beautiful city filled with charm, culture, history, and Southern hospitality that you won't find anywhere else – making it the perfect place to visit!
Visit Savannah's Plant Riverside District
If you are looking for what to do in Savannah, Georgia, you've got to see the new Plant Riverside District. Formerly a fully functional power plant, this area has been repurposed and now includes luxury hotels, unique shops, rooftop bars, and much more. Sip a cocktail on a Savannah rooftop and watch the sunset over the river.
Spend a Day at the City Market
Originally established in the 1700s, Savannah's City Market is a bustling marketplace that serves as the perfect spot for eating, shopping, art, and people-watching. Spend the day picking out unique gifts for your friends back home (or just for you!), sit down for an award-winning meal, see artists hard at work in the Arts Center, or grab a to-go drink while listening to a band.
What is There to Do in Helen, Georgia?
View this post on Instagram
When you're looking for what to do in Georgia on assignment, this Bavarian-inspired town should top the list. Helen is a beautiful tourist destination that's perfect for a weekend getaway.
Take in the Town
Nestled in the Blue Ridge Mountains, Helen contains charming streets, unique shops, and great restaurants. Grab a treat at the Hansel & Gretel Candy Kitchen or watch experts make hand-blown glass art at The Glassblowing Shop. 
Helen's visitors also have the outdoors at their fingertips – enjoy an afternoon tubing on the Chattahoochee River or be adventurous by ziplining at Unicoi State Park.
Visit Tallulah Gorge State Park
About 40 minutes outside of Helen, Georgia, you'll find Tallulah Gorge State Park, and our travelers say it is one of the top things to do in the Southeast U.S. Take the 3-mile roundtrip on the North and South Rim Trails for an easy hike with beautiful overlooks. If you're wanting a greater challenge, do the Hurricane Falls Trail Loop, featuring a suspension bridge and more than 1,000 stairs you'll have to traverse before making it to the bottom of the crashing waterfall.
Want to know more of what to do in Georgia? Search our job openings and experience the Peach State for yourself.