April 5, 2017
5 Nursing Specialties in High Demand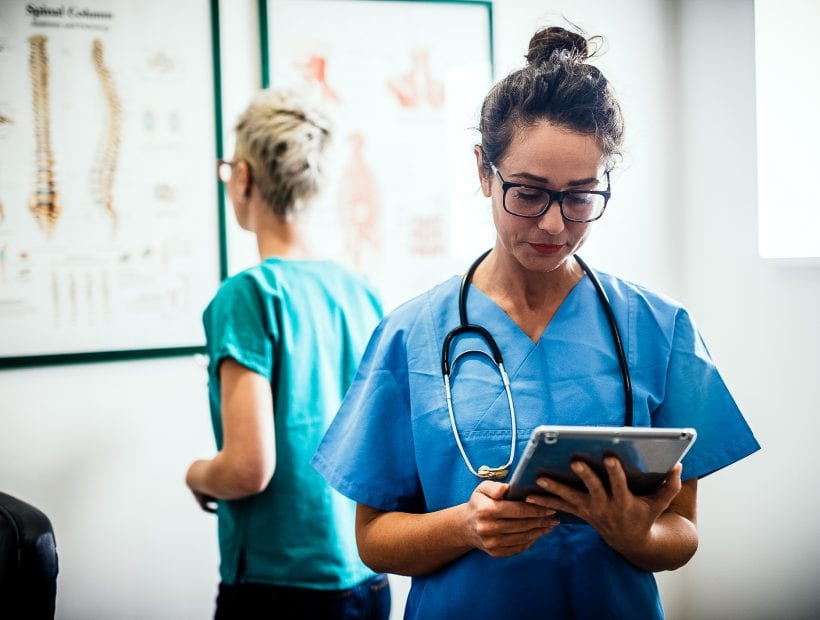 By the year 2024, the demand for nurses is expected to increase by 16 percent, which is much faster than the average for all occupations per the Bureau of Labor Statistics (BLS). This is fueled by people living longer, growing chronic conditions and a growing emphasis on preventive care. To capitalize on this projected growth and to make yourself even more marketable, pursuing an in-demand specialty will give you a greater standing amongst job seekers. Read on to learn more about nursing specialties that are in high demand.
Medical-Surgical/Telemetry (MedSurg/TELE)
Telemetry, or cardiac monitoring, is in high demand. Patients who need intravenous therapy drips, arterial lines, and central venous pressure lines are cared for by telemetry nurses who are specially trained to interpret cardiac rhythms. Nurses in medical-surgical units are highly trained and dedicated to postoperative care to help patients who are recovering from surgery.
Education: RN license with a bachelor of science in nursing (BSN) and must have the Progressive Care Certified Nurse (PCCN) designation.
Salary*: Median annual income of $58,240
Operating Room (OR)
Operating Room nurses are also commonly referred to as Perioperative Registered Nurses because they are involved before, during and after surgery. They work closely with the patient, family and other healthcare professionals to plan and perform a successful surgery.
Education: RN license with a BSN, an Associate Degree in Nursing (ADN), or a hospital diploma.
Salary*: Median annual income for a cardiovascular operating room nurse is $64,000
Emergency Room (ER)
About 30% of nurses in the U.S. are emergency nurses. They can be known as trauma nurses and critical care nurses and they are responsible for treating patients in emergency medical situations alongside other healthcare professionals. An ER nurse faces all types of situations such as gunshot wounds, drug overdoses, car accidents and strokes.
Intensive Care Unit (ICU)
Intensive Care Unit nursing, or critical care nursing, is complex and challenging. ICU nurses use advanced skills to care for patients who are critically ill and in life-threatening situations. If a patient has a heart attack, stroke or a severe medical issue, an ICU nurse is there to give immediate and intensive care.
Education: RN with experience in general patient care, BSN preferred. Certified Critical Care Nurse (CCRN) designation optional.
Salary*: Median annual income is $98,190
Neonatal Intensive Care Unit (NICU)
Neonatal Intensive Care Nurses take care of babies who are born premature and critically ill. They work in the Neonatal Intensive Care Unit (NICU) of a hospital. The NICU nurse works with a physician, cares for the newborn and educates the mother about how to care for and feed her premature or critically ill newborn.
Education: RN with critical care neonatal nursing certification exam through the American Association of Critical Care Nursing
Salary*: Median annual income is $63,000
The nursing shortage, which is expected to increase by 20% over the next 5 years, means nurses are in high demand. Hospitals across the country need your help, which makes being a travel nurse even more valuable. Nurses who are experienced and specialize in an area of growing demand will have many choices for where they can work and will be able to earn more money.
*This number represents an average salary for a staff nurse position in this specialty and does not reflect travel nurse salaries available from TNAA. To learn more about the pay and benefits available in your specialty, fill out our application and get connected to a member of our recruitment team.