February 11, 2020
Travel Nursing 101: How to Be a Travel Nurse & More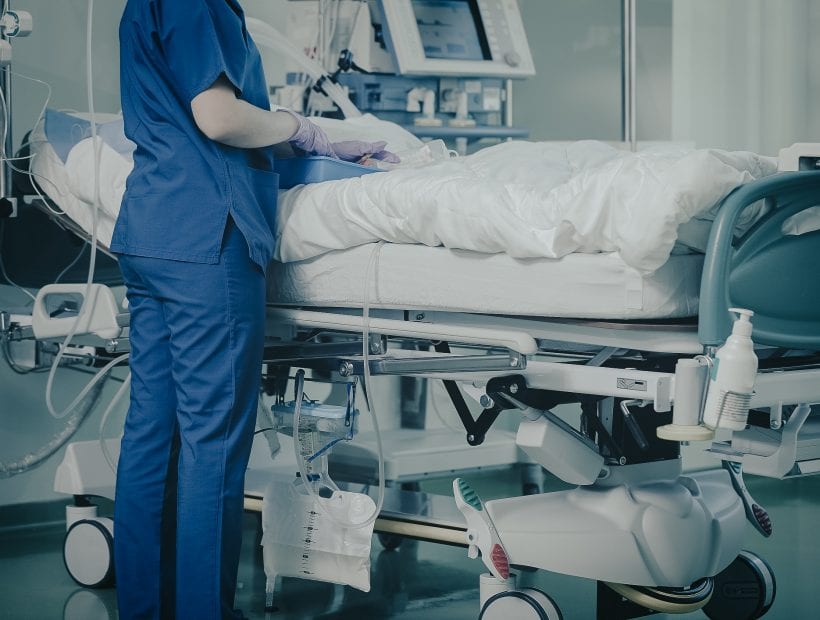 Getting Started in Travel Nursing
The nursing field offers this unique career path that allows you to travel the country while expanding your nursing skills. What's better than that? Whether you're just starting to explore the world of travel nursing or about to head off on your first assignment, it can be daunting to navigate this nuanced industry. And by nuanced we mean crazy but awesome. To make sure you start off on the right foot, we put together this guide covering all the basics of travel nursing.
This guide covers a lot of information. Use these links to find what you're looking for faster.
Part 1: Travel Nursing 101
It's important to always remember that travel nursing is all about filling a need. There's a nursing shortage — have you heard? The demand for registered nurses will grow by 15% from 2016 – 2026. From aging baby boomers to nurse burnout, the need for highly-skilled and experienced nurses continues to rise. Oh, and there's also seasonal needs and expected leaves (like maternity leave) to factor into the equation. Enter travel nurses.
What is a Travel Nurse?
Licensed and experienced, travel nurses work as contingent staff to maintain quality patient care standards during staff shortages. In plain English, they fill the gaps on the schedule, typically for 13 weeks at a time.
Highly-Skilled

: You'll need to be confident in your skills and ready to hit the ground running. Travel nurse orientations are notoriously brief, and you'll be expected to hit the floor quickly. 

Adaptable

: Things will not go as planned, from housing to expectations. Good travel nurses can not only adapt quickly but know who to contact at their agency to ensure they have the proper support.

Adventurous

: Making new friends, learning new cities, and working with new equipment — it all comes with the territory. So make sure you pack your sense of adventure.

Independent

: The life of a gypsy nurse often means being away from friends, family, and sometimes special moments. When you get home after a shift and are alone, you'll need to remember that you're independent. 
Why Choose Travel Nursing?
There are so many reasons nurses choose this career path. We believe it's because it's one of the best careers out there. We see nurses hit the open road for financial freedom — paying off debt, building retirement, or being able to afford the life they want to live. Many nurses want to develop their experience, from working at a prestigious hospital to working with the latest tech. And sometimes, travel itself is the motivator.
Part 2: How to Become a Travel Nurse
After determining your motivators and some research, you've decided you want to clock out for the last time on your staff position. Welcome to the most fun, challenging, and rewarding job you've ever had. But first, let's break down how to get started.
Travel Nurse Requirements
It's the big 3. You'll need a combination of experience, education, and documentation to make your move. Experience is often the most talked-about element, and that's because it's vitally important. Travel nurses typically jump right into a unit with little orientation, so your skills and confidence need to be sharp.
Education: It all starts here. Registered nurses must first hold a nursing degree from an accredited university before taking the NCLEX-RN® and applying for a license. So, like any nursing career, you'll need either your Associate's Degree in Nursing (ADN) or Bachelor of Science in Nursing (BSN). Learn about bachelor's degrees, continuing education programs, and more by reading our Nursing Education Guide.
Experience: After passing the NCLEX and meeting licensing requirements, you can practice as an entry-level nurse. In general, the hospitals we work with require travel nurses to have a minimum of 1-2 years' recent acute care experience in the specialty in which they wish to work. For specific specialty requirements, check out our Specialty Guide and then find your specialty for an in-depth look from travel nurses who've worked on those units.
Documentation: During our application process, you'll need to provide references and documentation of licenses and certifications. Rest assured, we'll walk you through each step. Bonus — TNAA will help you obtain and pay for the licenses you need. Read our Licensing Guide for more information.
The beginning of your travel nurse journey likely consists of a lot of research. From online groups to word-of-mouth reviews, you've probably heard plenty of recommendations. It's essential to determine your motivators for traveling and define what you need from an agency. 
Part 3: Working With an Agency
There are a lot of agencies out there — like nearly 300. And while they all do share some commonalities, they are definitely not all alike. So how do you choose an agency? First, let's break down the role of your agency.
What's the Purpose of Travel Nursing Agencies?
Think of a travel nursing agency as a one-stop-shop for everything you need, from finding assignments to assisting you while you're on an assignment. Sounds simple, right? Of course, it's a little more nuanced than that. If we break it down to its most basic, there are 2 main aspects to consider — think of their role as 2 sides of the same coin.
You are their employee.
In this capacity, their role is that of an employer providing things like health insurance, payroll, and legal protections. Remember your time as a staff nurse, your hospital carried liability insurance, offered options and protections if you suffered a workplace injury, offered health benefits, and took care of compensation. Some agencies offer all the perks of perm nursing — hello, we're super proud of our benefit programs! So, while other agencies might not consider you as a full-time employee and therefore may opt to cut some of those.
You are their customer.
In this capacity, the agency takes on a more customer-service related role. While there is a business-to-business aspect of this industry, you are their customer. Throughout your journey with an agency, they will be concerned with your experience and should strive to ensure you want to remain with them. This is why you will see stand-out benefits and perks — one of our core values is obsessing over our nurses' experiences with us.
What Should an Agency Offer?
We referenced it earlier, but it's crucial to determine your motivations. What do you want to get out of travel nursing? That will dictate what agency offers are most important to you and ensure you have a successful travel career. 
Check out our tips for maximizing your travel career on The Gypsy Nurse. It's all about determining your motivations and how to find an agency that complements those driving factors.
At TNAA, our offerings stem from our core values. Putting nurses first and obsessing on their experience is not only deeply important to us, but it drives everything we do. 
We believe in treating our nurses like family. Our goal is to think of everything you could need while on assignment. Read more about TNAA company culture (and why we continue to win awards for it). 
We believe in providing opportunities to grow your career. We do this by finding assignments to help you reach professional milestones. We also want you to be able to further your career with continuing education opportunities and an RN to BSN tuition reimbursement. Want to learn more about these programs? We break down all of our career-enhancing programs in our Education Guide.
We believe in protecting you while you're far from home.

We pride ourselves on offering benefits that cover what really matters — mental, physical, and financial wellbeing. To learn more about our benefits, check out this blog on all we offer.
Travel Nurse Recruiters 101
While choosing the right agency is crucial, it's difficult to overemphasize the role a travel nurse recruiter plays. Finding the right recruiter for you can be daunting — especially with so much noise about recruiters in online communities. Plus, some agencies are now ditching recruiters altogether. But before we dive into why our travel nurse recruiters are the best in the industry, let's explore the role of the recruiter.
They're your career coach. 
We like to think of our recruiters like academic advisors, but way better. TNAA recruiters have market knowledge. They understand the industry and how to leverage that to your benefit. Maybe your goal is to travel to Hawaii or work in a prestigious teaching facility. As a first-time traveler, it's about strategy and experience to help you reach your goals and handle the unexpected hiccups that come with life on the road. 
Your recruiter should know how to get you where you want to go, literally. Back to our Hawaii example: you could hit submit on an app for years. Or, you could work with a TNAA recruiter who can help you get the relevant travel experience necessary for that 300-bed stroke unit on the Big Island. See, part of that market knowledge includes knowing what facilities are looking for and how to make your file jump out to hiring managers. Or, maybe you want to work on a different unit. Our recruiters are prepared to help you get there and be transparent with a plan.
They're your career concierge.
Part of the job is making the complex simple. Our goal as a company is to make your life as a travel nurse easy. On the most basic level, your recruiter will simplify the application process, submit you for jobs, and help with paperwork along the way. You can expect to build a real relationship with your recruiter, and that extends into ensuring you understand your options and how those impact your goals. Wait. What? For example, your recruiter will give you feedback on things like cancel rates, call-offs, and help you choose a contract and pay package that meet your needs.
Part 4: Landing Your First Job
You've spoken with a recruiter and feel confident that they understand you, your goals, and where you want to be. So what's next? Now they work on securing you an interview. A great recruiter will help tailor your file, so it gets to a nurse manager, charge nurse, or hiring manager. They'll also coach you so you'll be prepared to ace your interview and get offered the job. But your interview with the facility is a two-way street, and you'll want to make sure that the facility is a good fit for you too.
What You Need to Know About Travel Nursing Interviews
It's important to remember that travel nursing is all about filling a need. Typically, facilities will hire the first qualified nurse who interviews and can start quickly. Unlike perm staff hiring processes, time is of the essence, and travel nursing jobs need are filled as soon as possible.
Knowing what to ask for your first interview can be daunting. Consider this guide a high-level overview of what to ask. But rest assured, your recruiter will be your biggest asset. In the meantime, here are a few quick tips:
Be quick: Again, speed matters. The first qualified candidate who answers the phone when a nurse manager calls has a great shot at getting the job. Unlike perm positions, the nurse manager is looking to fill the job quickly, they will not hold multiple rounds in search of that just-right candidate. If you're unable to have your phone out (work, we get it), make sure you take the time to check your messages and call back ASAP.
Do your research: Look up the facility ahead of time. Did we mention that speed matters? Don't expect a nurse manager or hiring staff to have a lot of time to chat. You can find out bed numbers, teaching designation, traveler reviews, and call-off history from the internet and your recruiter. Spend your time finding out about the unit, the culture, and contract expectations.
Prepare in advance: Ask your recruiter for typical questions (we've included some in our download above) and have answers prepared. Knowing how to answer common questions will make you sound confident and experienced. Plus, it will allow you more time to ask your questions.
For even more tips, check out this blog on The Gypsy Nurse and this advice from our travel nurses.
Reviewing Your Contract
For first time travelers, this can be especially daunting. This is one reason it's important that you have good rapport with your recruiter. Here's what you need to know about that crucial contract:
Confirm the details: During your interview, you discussed things like shift, days off, floating, and more. Double-check to ensure those things are included.
Review with your recruiter: For first-time travelers there can be a lot of confusing details in a contract. After you confirm the details, your recruiter will review it with you and point out things like holidays for the unit or call-off policies.
Part 5: Travel Nurse Pay Packages
Staff nurses in a hospital are typically paid at a set salary based on their education level and experience. However, the travel nurse world is a world all its own, and that includes how they earn income. A variety of components make up a travel nurse pay package, such as hourly pay, non-taxed stipends, travel reimbursements, and more. Let's break down the basics of travel nurse salary and what to look for in a pay package.
It's important to understand the role taxes play in travel nursing. Any travel nurse will tell you; there's a big misconception around where the money comes from. Most travelers will tell you that the tax-free stipend is the best way to profit from travel nursing. To understand the financial benefit travel nurses can enjoy from the non-taxed portion of their pay, we pulled together some helpful tax links to get you started.
Key Components of a Pay Package
Hourly Equivalent: A travel nurse pay package generally consists of 2 main components: the regular, taxable hourly rate and the non taxed reimbursements (referred to as stipends, subsidies, per diems, or allowances). Your hourly rate is a combination of taxed and non taxed portions.
Non Taxable Per Diems: It's important to note that in order to qualify for these reimbursements, you need to be eligible. Okay, what? In short, the IRS deems things like housing and meals to be 'tax-free reimbursements' if you meet their eligibility requirements. Read more about those here. Per diems are set by the GSA (General Services Administration) and refer to allowances that federal employees are reimbursed for expenses incurred while on official travel. But isn't all travel nursing official travel? < if you asked this, you might not have clicked on the tax links yet, so here they are again because this concept, like an ACLS algorithm, is nuanced.
Taxable Income: This is where you'll find your taxable hourly rate. Similar to your perm job, this portion is where things like social security contributions and more originate.
Benefits: More and more agencies offer benefits similar to perm employers. So unless you carry private insurance or are insured through your partner, medical benefits can factor into your overall pay package.
Note: Sometimes the taxable hourly rate can seem low. A pay package may be structured in a more tax-efficient way. But like everything, there are pros and cons to each scenario. Is it better to have the taxable hourly rate higher or the non taxed? The answer is dependent entirely on your personal situation and goals — so be weary of over-generalizations when it comes to pay.
Other Financial Considerations
Upfront Costs: Travel nursing requires a lot of different licenses and certifications. The costs of which can really add up before you even hit the road. While many travel nursing agencies pay for some of these expenses, others don't pay for anything. We arrange and pay for physical exams, immunizations, and more that you may need to start working. To see a list of everything included, click here! Bonus — we'll provide up to $1,000 to cover your trip-related mileage and fees.
Bonuses: Many agencies offer bonuses like extension bonuses when you stay on for another contract period, rebook bonuses for agency-loyal travelers, and referral bonuses. Consider how these add to the overall attractiveness of your pay. But be aware, bonuses are taxed at a higher rate.
Extras: While these extras may or may not impact your hourly equivalent, they are important aspects to determine if an agency provides solid travel nurse pay. Consider how your agency is setting you up for future success with education and financial options. TNAA offers free continuing education, a tuition reimbursement program, and a generous 401(k) benefit.
Consider the full picture when comparing compensation between agencies. Uncover the full scope of benefits to make the best choices for your financial wellbeing.
Part 6: Important Links
We could talk for days and days about this industry and still have more to say. This guide has been prepared for informational purposes only and is not intended to provide tax or legal advice. That being said, we believe that education and transparency build a more confident travel nurse. We promised you links, and here they are!
Tax Links
Taxes are inherently complicated, and it's always best to seek tax advice from certified tax professionals. However, we've compiled some basics you and your tax accountant should know for you to be eligible for non-taxed reimbursements (aka the tax-free money and/or the stipend).
Housing
We do travel nurse housing differently. We believe that if you choose to 'take the per diem' you should still have access to the best housing options in the industry. Read our Housing Guide to learn about housing per diems and how we make housing better for our nurses — we're talking about programs you won't find anywhere else like payment assistance, vetted leads, and pet-friendly options.
Licensure
There's a lot of information out there on how to obtain your nursing license in each state. But what does a travel nurse need to do to get licensed? Read our Licensure Guide where we're breaking down the Enhanced Nurse Licensure Compact, temporary and permanent licenses, and how we've simplified the process for nurses who choose to travel with TNAA.
Orientation
Before you can hit the unit, you'll need to complete orientation. The more assignments you complete, the more you'll realize that each unit will be a little different. There is no one-size-fits-all when it comes to travel nurse orientation. While it can be daunting to look at everything needed, TNAA support staff brings unparalleled market knowledge to ensure you're able to start your assignment on time. Check out our Orientation Guide for all that, plus advice from our current travel nurses.
Travel Nursing FAQs
We're answering your most frequently asked questions.
Can I take travel nurse assignments close to my house? Can I drive back and forth to my house and still receive non taxed per diems?

How long can I stay in an area?

My file was submitted for an assignment, can I call that hospital or facility to check my file?

Can I apply for a compact license?

What is orientation like?

How far in advance do I need to start searching for a job?

Can I take an assignment on a unit I've never worked on?