June 20, 2013
Nursing and Social Media: Understanding the Do's & Don'ts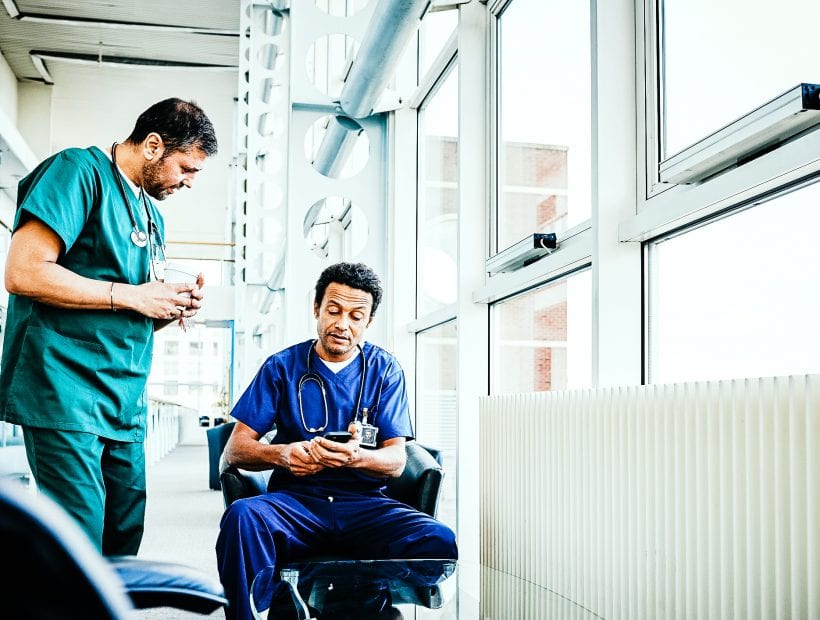 From breaking news to connecting with loved ones, social media is an integral part of our daily lives. The dangers of social media are well documented, from personal to professional. Yet, we firmly believe that social media is a powerful tool that can be used to forge real connections, enhance the nursing profession, and be a means for self-expression. While we champion the benefits of social media, it's crucial to remember that the legal and ethical risks are real — as are the consequences that come with breaching professional standards on social media.
Social Media Do's & Don'ts for Travel Nurses
Do Keep Up With Research
Between long shifts, the emotional strain of caring for patients, and your personal life, you'll need to find time to stay up-to-date on emerging industry standards and research. Between LinkedIn, Facebook, Twitter, and Instagram trusted medical agencies can push relevant content quickly. Recently, the CDC has used its Twitter feed to keep healthcare personnel informed on a new virus. Nurses have instant access to epidemiological research on COVID-19 from JAMA Network's social media channels. These sites not only keep nurses abreast of issues, but they also make industry experts accessible. We're sure the phrase "evidence-based" is etched in your mind; you know how to identify credible sources.
Who to follow: groups, organizations, and people sharing credible research
What to look for: safety alerts, drug alerts, and nursing trends
Tip: Find niche organizations to not only receive industry updates, but also to get deeper into your specialty. Most specialty organizations frequently update followers about conferences, emerging research, and best practices.
Do Build Connections & Express Yourself
We love the connection and collaboration that comes with the variety of social networks available, from engaging with fellow clinicians in private Facebook groups to daily sharing on your Instagram stories. Nursing can carry enormous emotional weight. Many nurses choose blogging and social networks to share their experiences. This type of vulnerability and accessibility bonds users, it builds followers, and it engages a community. We spoke to one of our ER travel nurses, Emily, on why she shares her experiences on social media.
"I think it's hard as nurses to share what we do on a daily basis. People don't get the kind of trauma we are exposed to on a daily basis. I think people that know me sometimes just get funny stories because I don't like talking about the hard stuff. When you talk about the hard cases you had in real-time, it turns into me comforting other people about the trauma I'm going through, when really, I just want to try and escape it myself. So I think writing about some of the things all at once makes people aware of what we do, and keeps me HIPPA compliant by giving generalized stories without specific details. I want people in my life to realize what I do, but I don't want to have to be a counselor to them when I come home from work. That's why I shared this on Instagram."
Building Your Brand
Whether nurses use social media to network with professionals or to share your experiences with friends and family, what nurses share online is a direct reflection of them in real life. Photos, posts, videos, or links — they all connect back with a simple Google search. Your life story, or some version of it, exists online. And employers can find it.
Take Ownership: It's important to be aware of what's out there; perform a simple Google search on yourself.
Curate Your Brand: Define who you are online by crafting your presence on popular social platforms since they'll likely be among the top search results.
"When Facebook first launched, you had to write your special message to someone on their wall; and it took us a little while to recognize that whatever you wrote could be seen by more than just that one person. Now, we have multiple platforms, private messages and hand-held technology allowing screenshots to capture your written thoughts before you have time to backtrack. Social media is a tool, and all tools come with learning curves. It is important to know what platform works for you and use it in a way that represents your personal and professional being. Part of what makes social media so valuable is its ability to connect different personalities with opposing views and drive conversations forward. However, not everyone understands context clues. Think about potential audiences before you post, and make sure you feel confident that what you are saying represents your personal identity in a way that would make yourself, your family, your friends, and your boss or coworkers proud of you." — Noressa, TNAA Digital Marketing Manager
Social Tips From Our Nurses
At TNAA, we employ a team of Registered Nurses, just like you. Their job is to support our nurses, whether it's helping you prep for a facility exam or reminding you of best practices. No matter where you are in your travel nurse journey with TNAA, you have clinical support — your own go-to support system for anything that arises on the job, nurse-to-nurse.
TNAA travel nurses are the best in the industry. We maintain valuable relationships with facilities because they know our nurses are top-notch. 
When it comes to social media use, our team encourages nurses to stay connected; however, it's important to proceed with caution when it comes to your digital footprint. Here are their top tips:
Keep it Cool: The number-1 thing you can do is to wait and think about what you're posting before you post. Don't post in the heat of the moment. Allow yourself time to process an issue with a clearer head.
Keep it General: We know that emotions run high in hospitals, both for clinicians and patients. If you share negative thoughts, feelings, or comments, keep it general. Avoid anything that can be tied back to a specific facility or patient.
Keep it Professional: You can express your opinions, but remember, you're representing yourself as a trusted healthcare professional. Think about how your post could be perceived by a patient, hiring manager, or coworker.
Social Media Best Practices for Travel Nurses
First and foremost, nurses have a responsibility to their patients; protecting a patient's treatment and privacy is imperative. It's also imperative to note that content published on social media platforms can oftentimes take on a life of its own, shared with reckless abandon. Inaccuracies often become misconstrued and taken as fact.
Don't share photos, videos, or content disclosing PHI

Don't make disparaging remarks

Don't take photos or videos on personal devices

Report confidentiality or privacy breaches

Follow organizations that promote industry best-practices